How to get to Angkor Wat? Not on a bicycle. Tips and tricks for first-time visitors to Cambodia.
There are plenty of options on how to get to Siem Reap, most people opt either for a direct flight, flight to the Cambodian capital – Phnom Penh or just like us – by bus from Thailand's Bangkok. Read more also about how to avoid our biggest mistakes and why not to go on a bicycle to Angkor Wat.
How to get to Siem Reap from Bangkok? – A detailed description.
From Bangkok, you cant either hop on a direct bus for 750 bht which comes only up until 9 am in the morning as far as I know. Then, there is another, more complicated, cheaper option, which we had to try, of course. All buses in the direction to Cambodia depart from the Nothern bus terminal Mo Chit 2 in the north of Bangkok. The border control point is between Thailand's Arunyaprathet and Cambodia's Poipet, but do not buy the ticket only to Arunyaprathet, but to the market which is 15 minutes on foot from the border or 2 minutes on overpriced tuk-tuk for 80 bht per person. We decided to walk with the other two nice Taiwanese.
After a quick border check on the Thai side, we went out to the wildness of Cambodia. The international are was already full of beggars, taxi drivers and sellers of anything you can imagine. We learnt later that the border from the Cambodian side is so chaotic, that you don't really know where to apply for a visa and can walk through as you wish. Well, if you are not white, then someone will grab you and take you to the visa office. We knew from the internet, that the police officers will probably try to ask for a bribe, so we were quite pleasantly surprised, that they asked us only for 100 bht per person, which we didn't pay, because we knew that we should not. The price is 30 USD, don't pay anything more and in any other currency.
Between the Poipet border and Poipet bus station a shuttle bus should be coming regularly, but we haven't seen any. Locals will take you there for 1 USD/pers., but it's again about 15-20 min on foot, so we walked. If you've never been to a third world country, this might be a big experience for you, but if you are not afraid of dust, scooters and pro-active people, who try to sell you something on each step you make, you can make it.
Bus "station" was brow-raising like almost everything we have seen in Cambodia up to that point. There was only one window, which looked like a ticket counter, but it was closed. Locals, who didn't speak English, pointed at the bus and showed on fingers that the price is 5 USD and the bus is coming in 2 hours. We were sceptical, because the bus was supposed to cost 8-10 USD. Who knows where they would take us, so we decided to talk to the guy who followed us all the way from the border and spoke some English. He offered us a taxi for 12,5 USD/pers. We took it down to 10 USD and in a moment, we were on our way to Siem Reap.
We were surprised from the beginning. They drive on the right side in Cambodia (not like in most of the countries in SE Asia), but the drivers sit in the car sometimes on the left sometimes on the right side. Our one was on the wrong side, which made us a bit nervous since he couldn't see anything when overcoming cars. But Hubert, the boy from Taiwan was his co-pilot, so it was ok, haha. When we stopped at the petrol station, our driver opened the trunk and some Cambodians appeared around the car. We thought our backpacks were stolen, but fortunately, the fuel tank was in or under the trunk. Ufffff.
Where to stay in Siem Reap?
In Siem Reap, we have booked Firefly Guesthouse The Berlin Angkor. We got wet wipe and ice tea right after the arrival and had a beautiful big room with bathroom and towels folded into the flower shape. It was like in a dream. Or at least like a 4* hotel, where you pay only 10 USD per night. We opted for this one originally mainly for its offer of free bike rental and its only 3,5 km from Angkor Wat, but I can't recommend it for this. I'll let you know why, just keep reading. 😉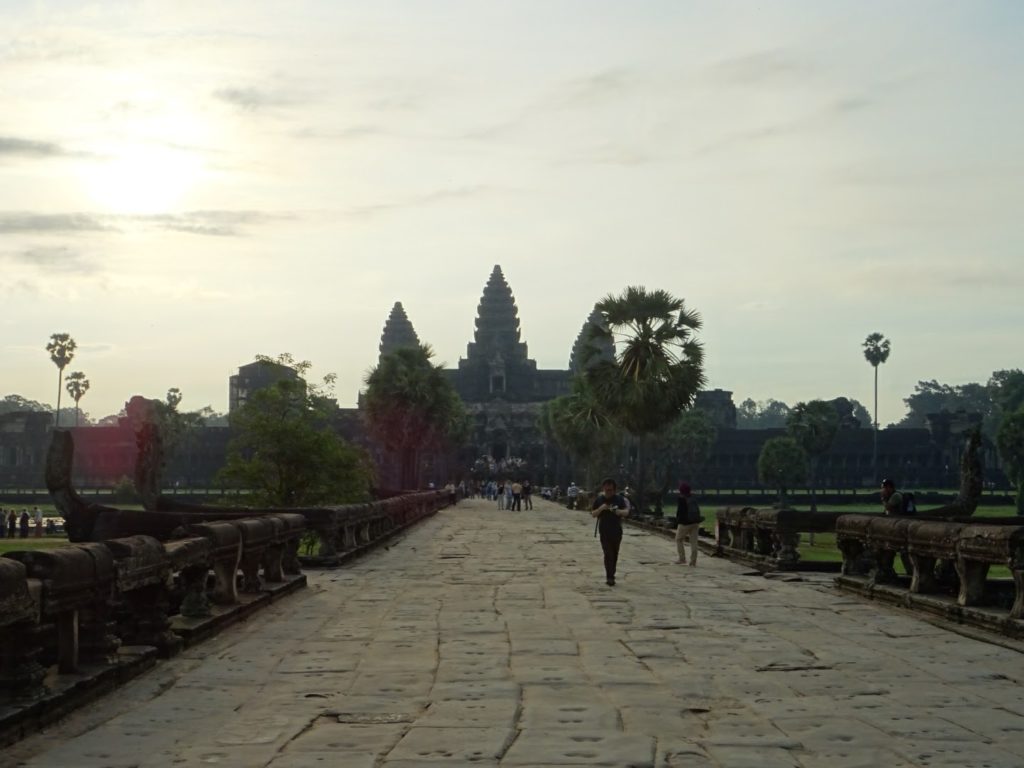 How to see the sunrise over Angkor Wat? – Do not take a bike!
Everyone says that the sunrise above the Angkor Wat is worth it. Even the ticket counter opens at 5 am, so we set off at 4:30 with a map and bicycles there. It's important to queue in the right queue. One day tickets are being sold on the right side, three-day tickets in the middle and on the left side are weekly tickets. The price is currently (since February 2017) 37 USD for one day ticket. You can also pay with a credit card, but if I were you, I wouldn't count on it. Then it is about 8 km from the ticket counter to Angkor Wat itself, which we didn't know and didn't expect. We had a map, where it looked like 500 meters. Well, if you are not a superman, you won't make that 8 km in 15 mins on a bicycle. Especially not on a local one. Our bicycles were rusty and when riding along the plane, it felt like riding uphill. If there was any hill, we would probably leave the bikes there and just walk for the rest of the time. Míša's tyre but after a km or so, so it was even worse for her. We were more than happy to find a place where they can repair it. After that, Míša was riding that bike like a superwoman (understand 8 km/h), while Diana still tried to go in at least as fast as people walked. We missed another sunrise, just like in Phu Chi Fa (more here), so maybe next time.
I can't say that the Firefly Guesthouse would be scammy, they actually offer to pay for repairs on the bike, if you come back with the receipt. Which is in fact harder than it seems. We were doing a pantomime in the shop and guess what! We ended up with some torn paper from a milk box with "My name is Tara 1 USD". We didn't know whether we should laugh or cry. I have to admit, It was kind of cute, especially since the boy obviously couldn't write anything else in Latin alphabet.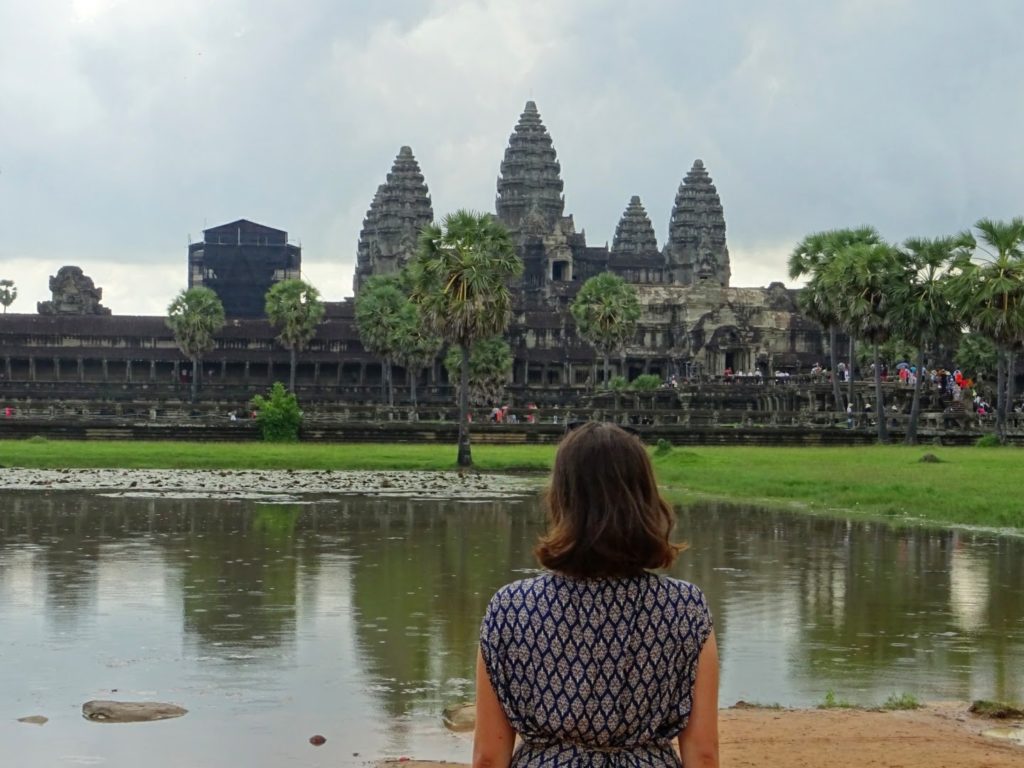 Angkor Wat is beautiful, I admit, but it didn't take my breath away. (Maybe because I missed the sunrise and visited Ayutthaya and Sukhothai couple of days earlier (more about it here). We like Angkor Thom, which is about 2 km from Angkor Wat, a lot more than the famous Angkor Wat itself. The ticket is the same for both of them, but there are significantly less people! If you want a more thorough comparison of Angkors, Sukhothai and Ayutthaya, you can look forward to the article which we are working on 😉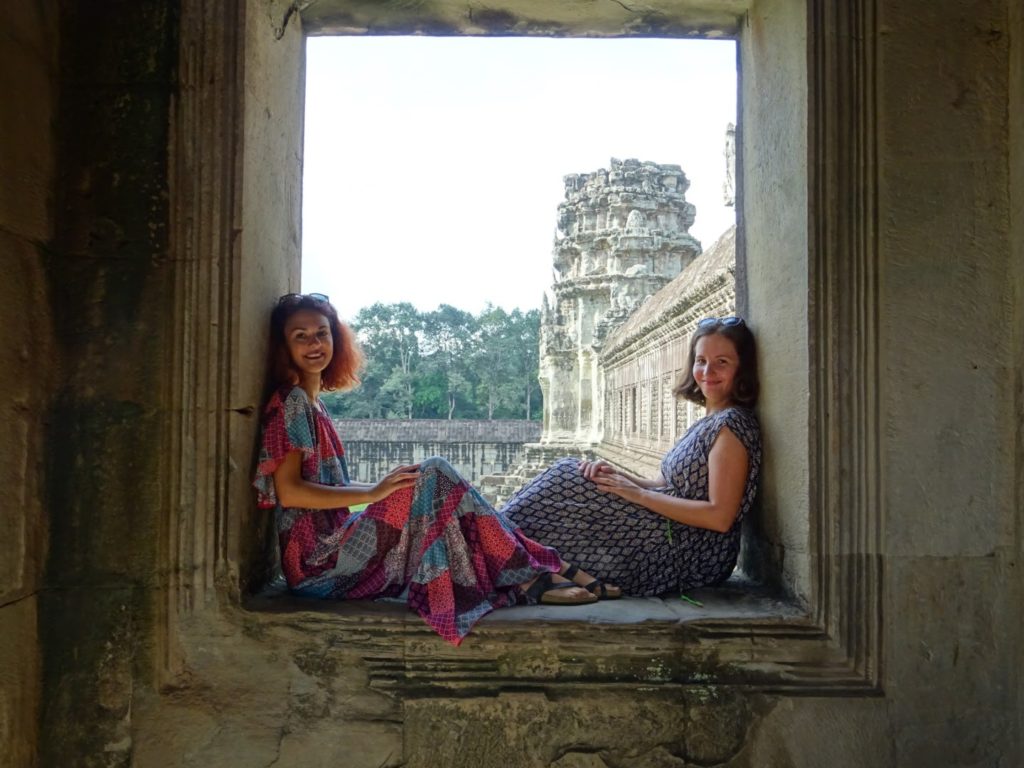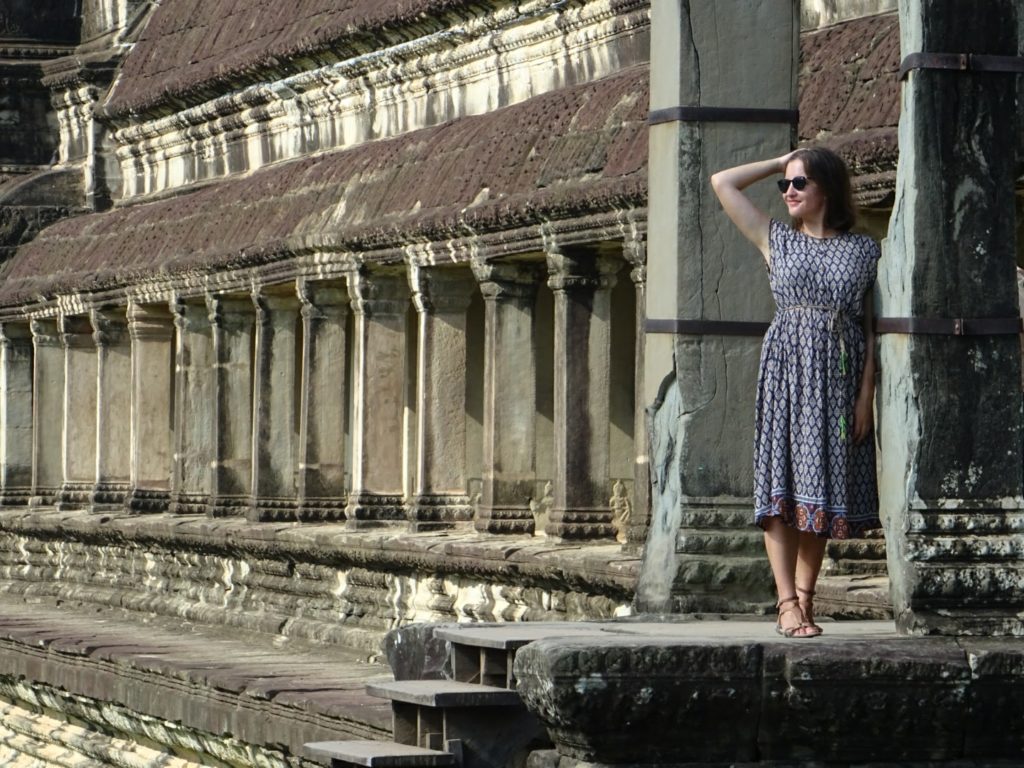 We took tuk-tuk on the way back as we didn't have the strength to ride back. Yes, the two bikes can fit into a regular tuk-tuk. And a rollercoaster ride was included in the price too! I mean, at least it felt like it, when we were riding on completely broken street in front of our guesthouse. Anyway – count with 8 dollars for both ways on a tuk-tuk.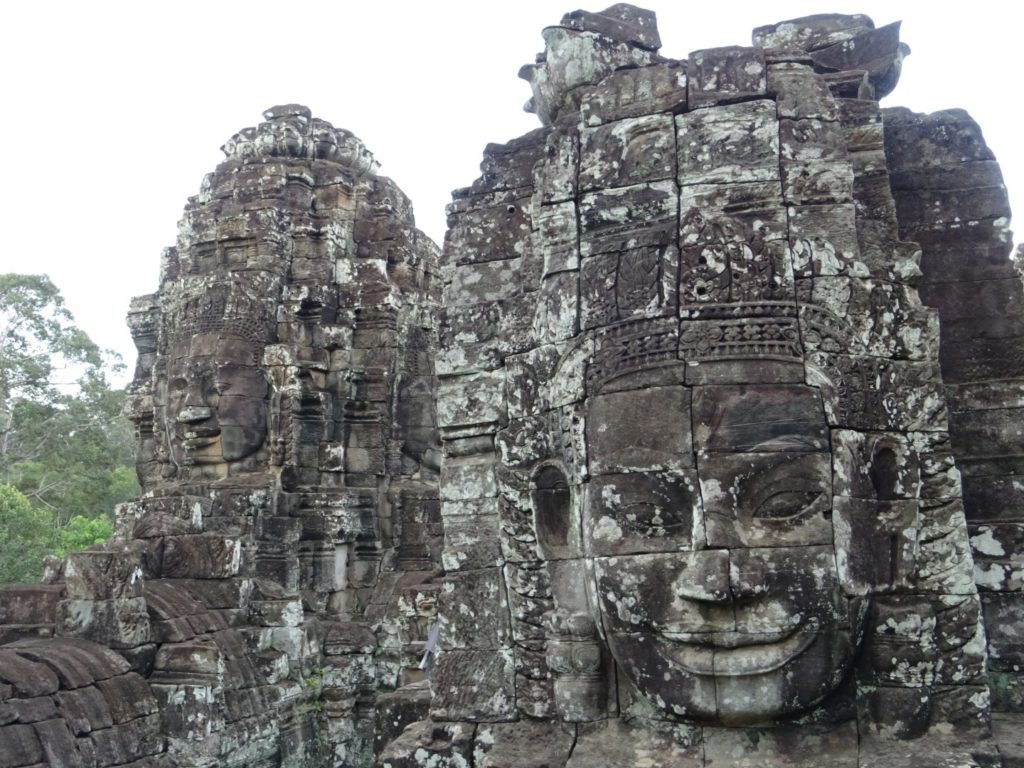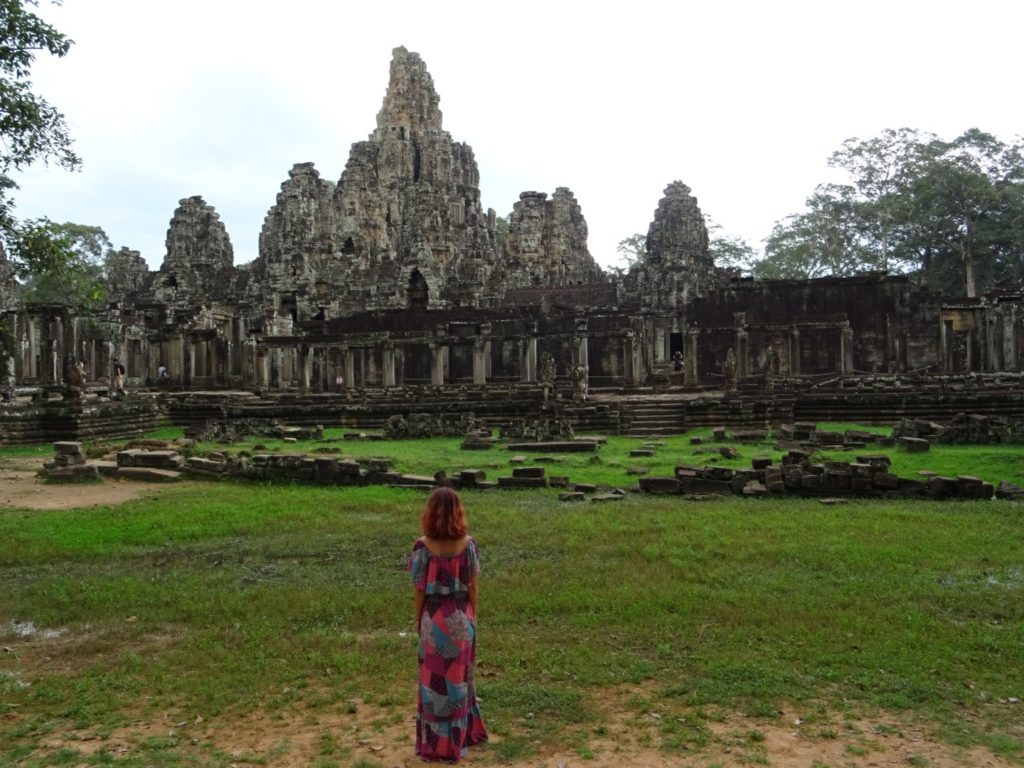 Tips from the Cambodian border, Siem Reap and Angkor Wat:
Set off for Cambodia early in the morning, even if you don't want to use the direct bus. Buses come at those times:
The journey takes approx. 5 hours, but 2 hour delay is quite usual. At the border, count with at least one hour, probably more. The border closes at 10 pm, but if you need to get to Siem Reap, you should go before the sunset, because then you need about 2-3 hours to get to Siem Reap.
Pay only 30$ for the visa, not more. Then make sure that they wrote your name correctly, because it seems to us, that they miswrite it on purpose and then try to bribe you 200 meters away, where you need to get another stamp.
Taxi can be sometimes cheaper than a bus, when going a long way.
Tickets for VIP buses (minivans) buy at least 24 hours prior to departure through the internet, because then they'll pick you up in your hotel with no additional charge.
Do not go on a bicycle to Angkor Wat. Or at least not for a sunrise. You won't make it.
SHocked that we paid in USD? Cambodia 90% dollarized, which means that you don't really need Cambodian riels. You'll get them anyway, don't worry. They don't use any coins, never ever. So leave cents at home, smaller amounts than dollars are paid in riels. One dollar usually counts for 4000 riels as its easier to count, but when they have calculators, they use 4100 or even 4200 (this one usually to put you off from paying in riels, as one dollar is somewhere around 4050).