Bangkok with a local. Tips for shopping, public transport and a lot more
We were travelling on the cheap side for most of our itinerary and we didn't want to change that. One of the options is Hotwire, where you pick a part of a city and how many starts the hotel should have and that's it. After the payment (which is usually about 50% less than it would be if you knew the name of the hotel), you get to know where are you going to be accommodated. Another option is waiting until last minute and then buying the room through apps like HotelTonight, but check first the destinations, they cover. Bangkok is not on the list. Cancelon.com is selling rooms of people who cancelled their rooms, which means that you can get a good price, especially last minute too. The option we went for is a reward program. Most websites have some. At Hotels.com you get a free night for every 10 nights you spend through them. Agoda will give you some percentage of your stay back in points or miles (whichever you prefer) and it's generally the cheapest one in Asia. For us, Booking.com worked out the best. Why so? Booking is giving out a big amount of links through which you can get up to 50% discount, which is sent back to your account after you check out from the accommodation. So, we had a chance to be in amazing Pinnacle Lumpinee, which offers more than a very good service.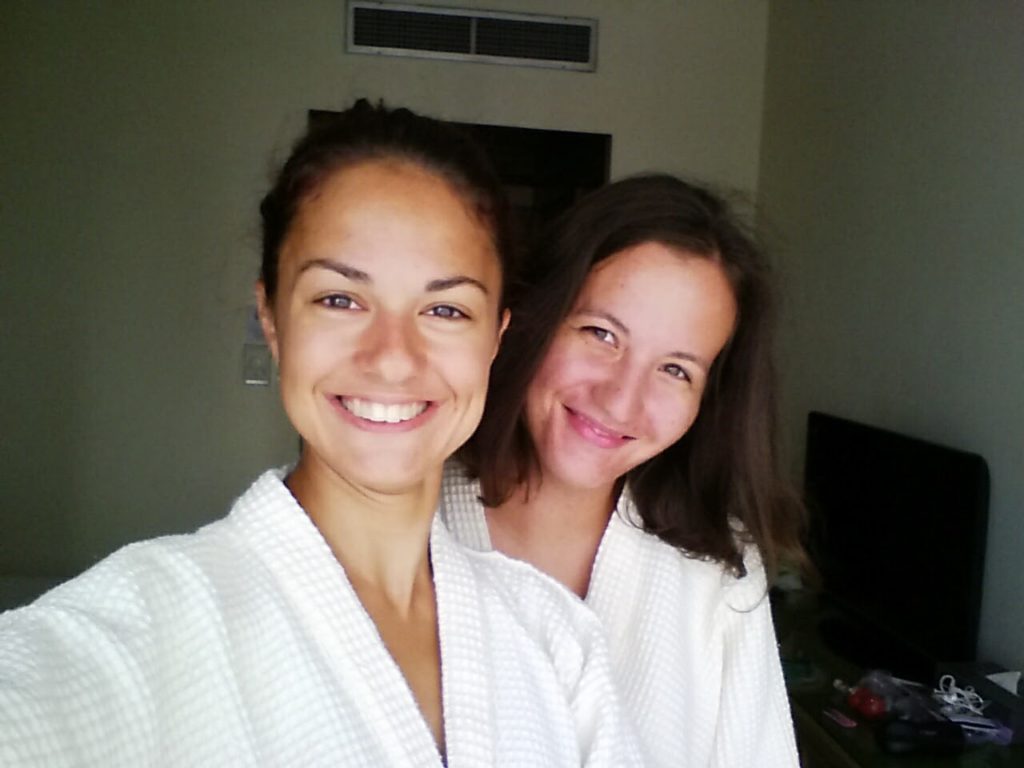 How to get around Bangkok and how much does it cost?
The fastest and easiest option is a Skytrain and the underground. You pay according to how many stops you go, but considering it's Thailand. It's expensive. Not in the western measures though. We used it mainly when travelling to the other side of the city, because they are the only option if you don't want to spend ages in the traffic jam.
The second comfortable option, but significantly more expensive one are taxis, Uber and Grab. Popular one is also sth called GrabBike which is basically "motorcycle-taxi", but it's not very good when there are 2 or more people or someone with a luggage.
Good connection is also via water by a ferry, it costs 14 bht and the schedule is a lot easier to understand than when travelling with buses. The last option, which is the least comfortable and reliable are buses. They are the cheapest though. In fact, if you find one with a blue sign in Thai on it, you don't have to pay at all. They are gratis and come time to time on every line, you just have to wait sometimes for half an hour or so, the rest of the buses costs between 6-9 bht per ride, depending on the size of the bus. Small ones are usually for 9 bht, big ones for 6,5 bht and songthaew for 7 bht.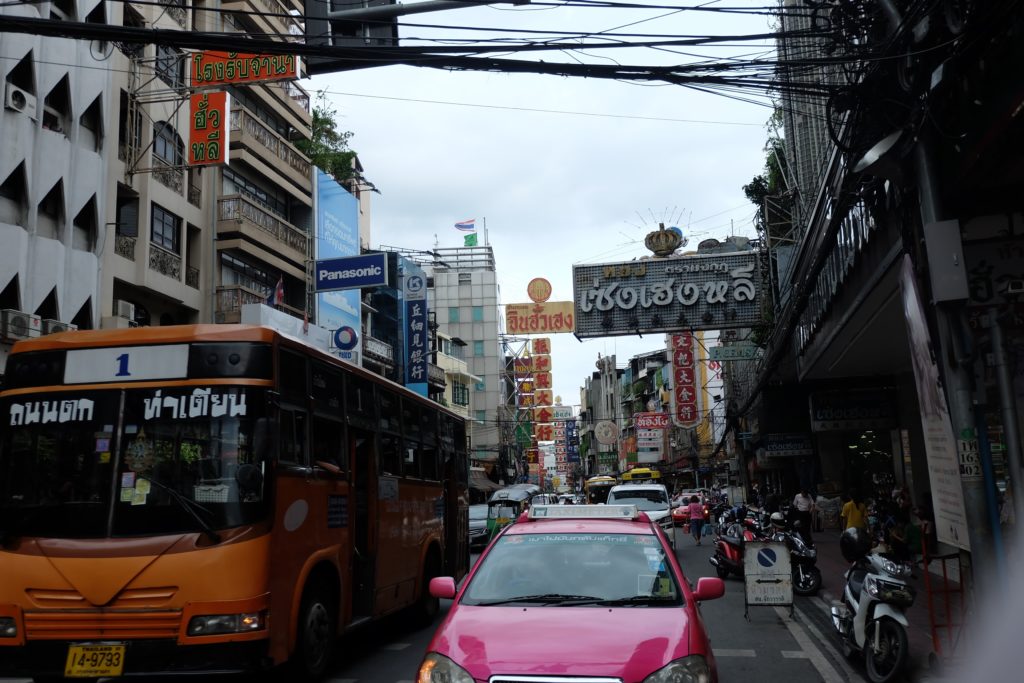 If you just need to change the airport in Bangkok between Don Mueang and Suvarnabhumi, then you can use (if you have a valid flight ticket) special bus for free, just bear in mind that they don't come at night (the first one comes at 5 am) and it takes a fairly long time. It took us about 1,5 hour but in a traffic jam, it can be 4 or even more hours!
Where to go shopping in Bangkok?
On the first day, we had only afternoon, so we decided to go shopping and it went bad, as usual. We went around a couple of streets and ended up in Terminal 21 shopping centre, which is actually worth visiting if you have time as every floor is destined to some city and decorated in that theme – from London to San Francisco. Second day went a lot better, we went to (supposedly) one of the biggest markets in the world – Chatuchak market. You can spend hours here and you probably won't be able to see even half of the market. You can buy almost anything here, but be careful, you need to haggle, of course.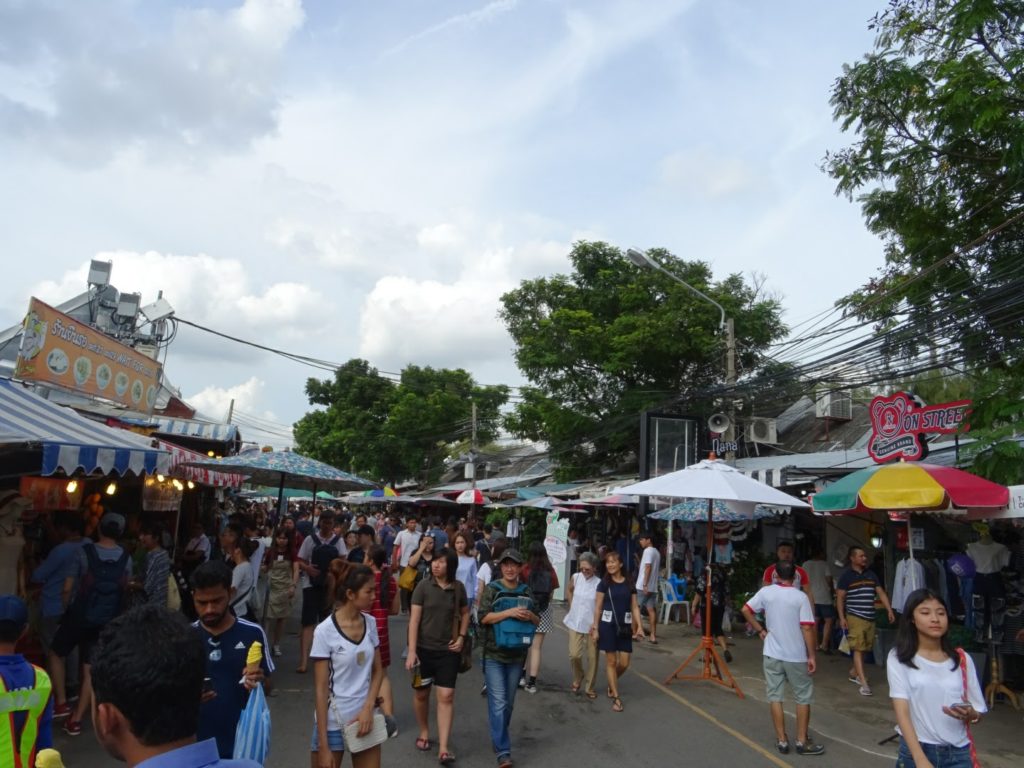 In the evening, we went to China Town, which is pretty lively in the evening and I'd recommend it not only for shopping but eating as well. We came back on the last day again, with our lovely friend Nan, with whom, looking for things for a lot easier. You can find anything here, it's just hard to find it if you are not a local and don't speak Thai. I wanted some fabric for my mum, which was "Mission Impossible" during the first 2 days, but with Nan, we bought them in 10 minutes. Hurray! Nan took us also to Asiatique market, but I'm going to tell you more about that later on.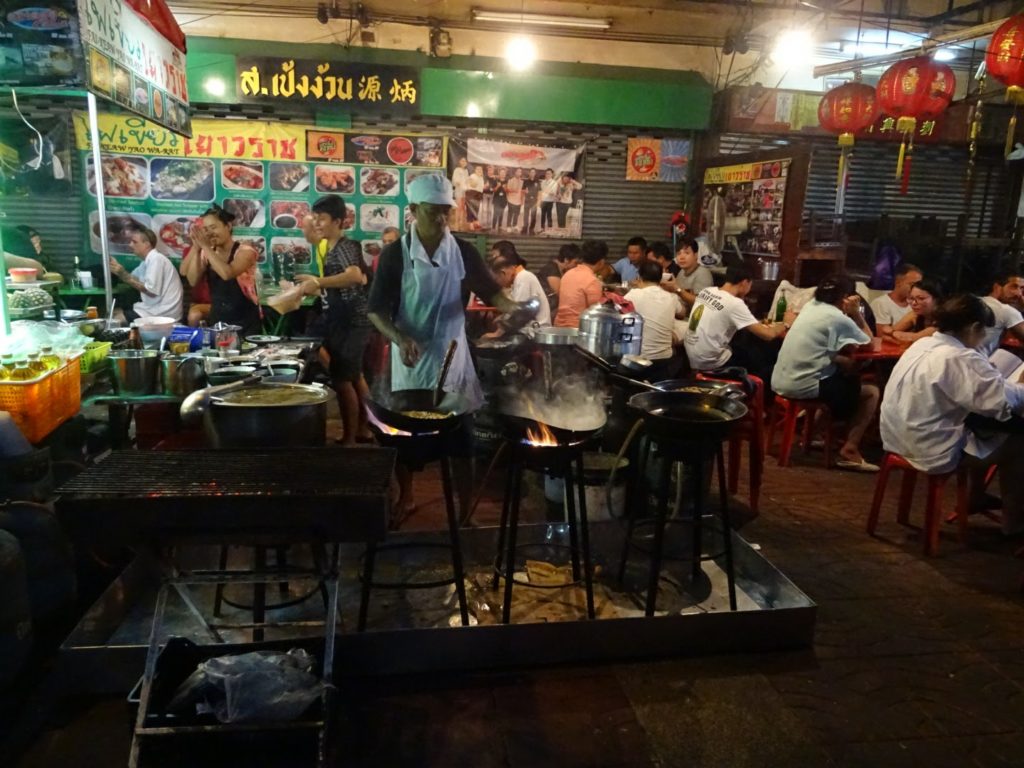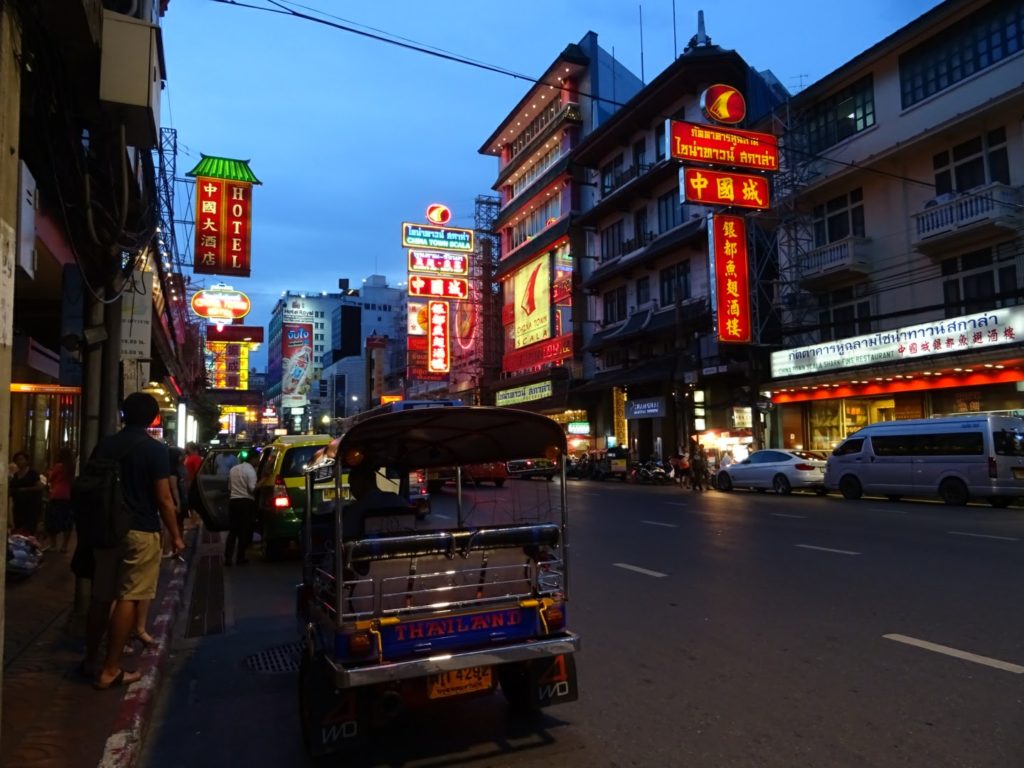 Where would local take you?
Our last and third day in Bangkok was more than well spent mostly thanks to Nan – our friend, Thai girl who has spent a year in the Czech Republic a couple of years ago (AFSeffect <3). We knew we wanted to see the Grand Palace the temple of lying Buddha, which were the only things we haven't managed to see during our previous trips.
Nan picked us up at the hotel and brought us typical Thai sweets (one of them being sticky rice with some fish haha) and then she not only walked us through the Grand Palace but also explained us a lot of things about local culture, their beloved king who died last year and took us to places where other tourists usually don't go…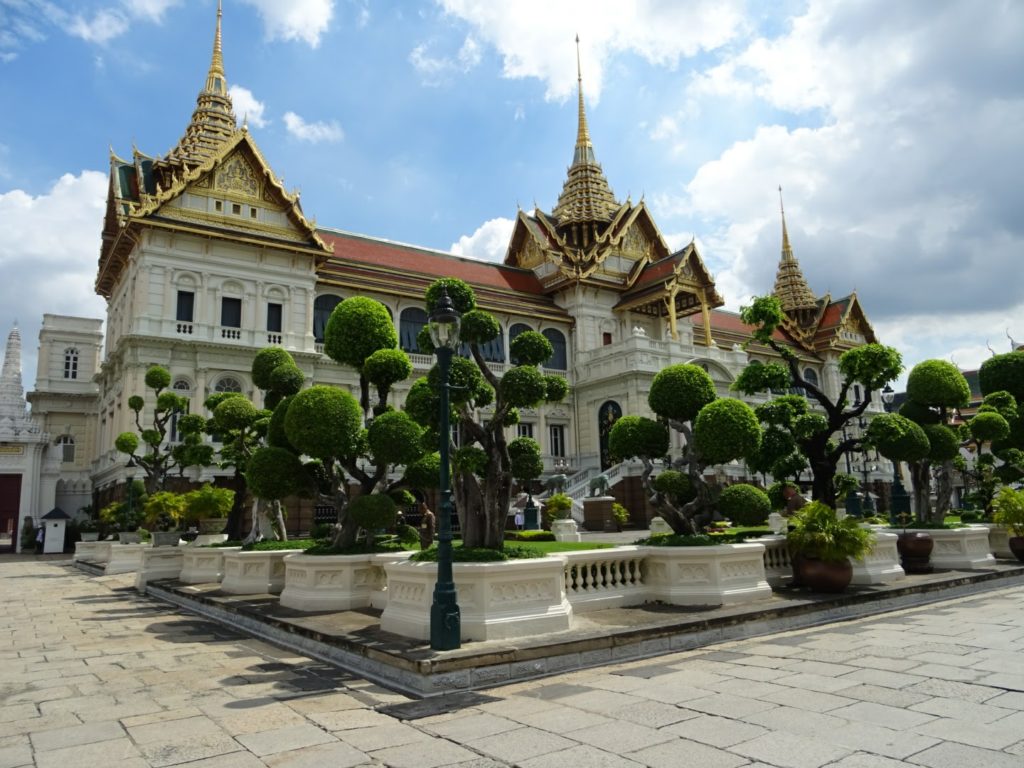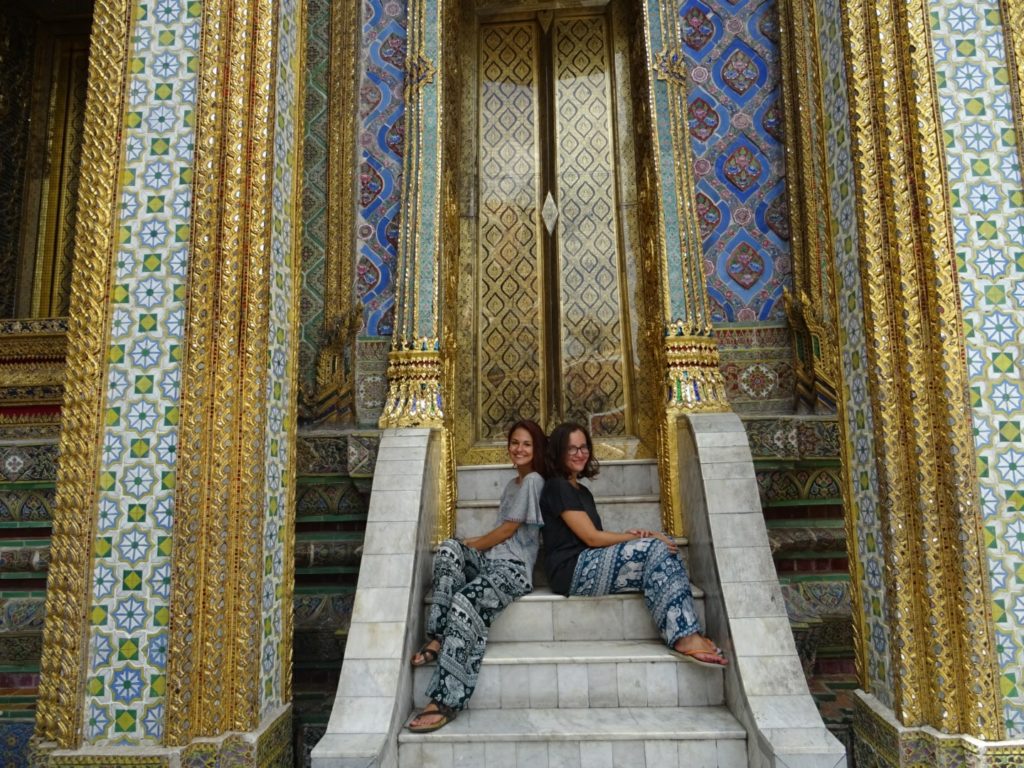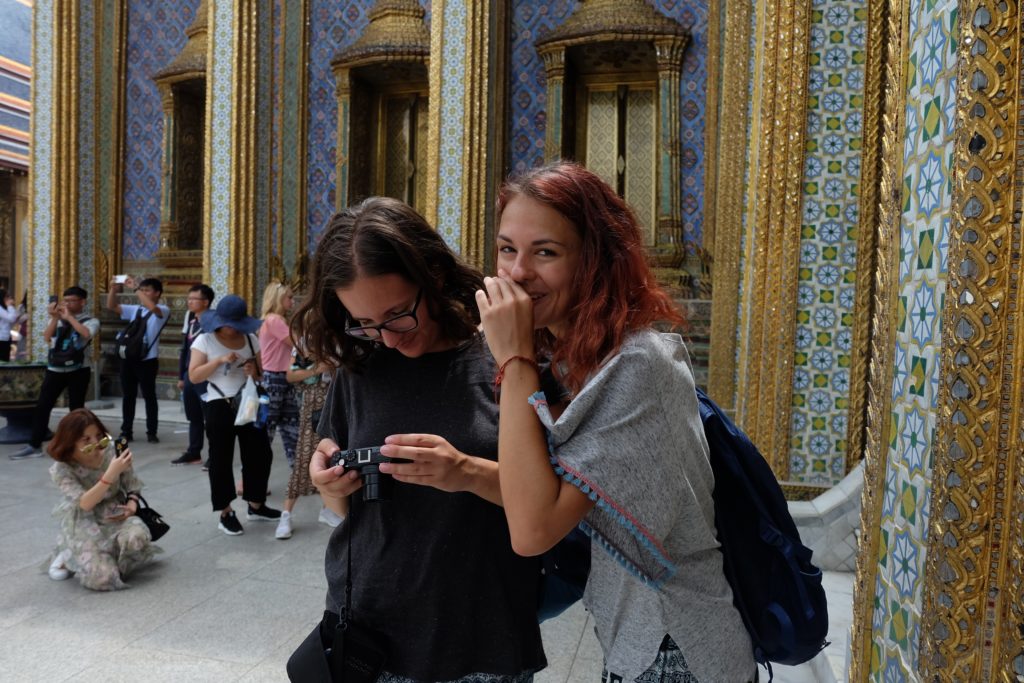 Since it was our last day in Thailand, we didn't have any hotel room to have a rest, so Nan took us to her place, where we had the chance to meet her kind dad and taste homemade mango sticky rice. Yummy. Nan decided to take us in the evening to the market at the riverside – Asiatique. It was a big adventure, because she took us there with a car. Transport around Bangkok is crazy on its own, but when you know that someone who doesn't have a driving licence is driving… you feel even worse. But it wasn't as bad as it sounds, she actually drives better than me and Míša.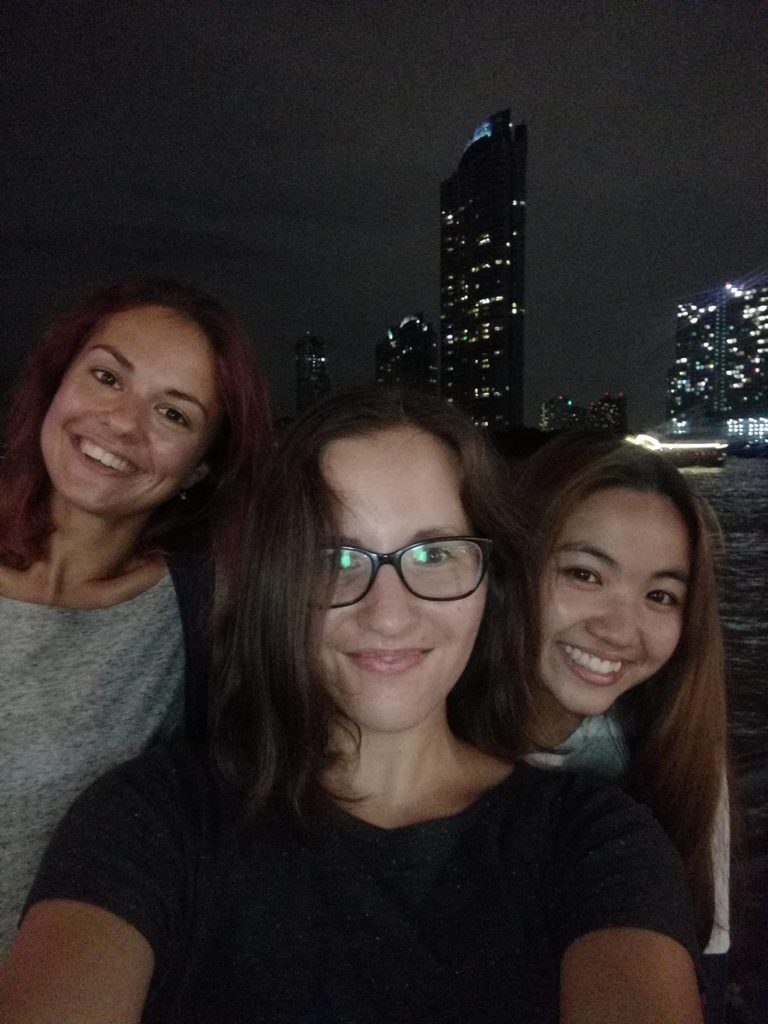 The market was beautiful and I surely recommend it, but most of the things were in a different price range than we were looking for, so we ended going to  7eleven, where we bought last-minute presents for our families and snacks for the trip back home. Nan said we should try durian chips and pocky with typical Thai flavour, fried banana chips or dried mango, for example. Unexpectedly, she gave us many of those things as a present, when we were leaving – so kind of her! We felt a bit ashamed we didn't have anything Czech with us after all those weeks of travelling. She was in fact so kind, that she took us back to our hotel to pick our things up and then to the airport express, which took us to the airport in less than half an hour.
Way back home (Bangkok – Dubai – Bratislava – Prague – (Kladno))
Suvarnabhumi airport failed again. We waited for about an hour to check in our luggage and then about 20 mins at the desk for god-knows-what reason. We got to the visa control only 45 mins before the boarding and the queue was so long we were almost sure we can't make it on time. Unfortunately, the airport worker didn't speak English. What did you expect? It's only the place where most of the tourists are! We made it through visa checks, but had to run through the whole airport. We were super stressed and our gate was exactly at the very end of the terminal. Our flight was delayed – great. We were running for no reason and no one could tell us earlier. Amazing.
My favourite part of the way back was the train ride between Bratislava and Prague, because we had the whole section of 6 seats only for ourselves. As we were craving for European food, we ate probably most of the food they had. And our steward really funny and kind too – a nice bonus. In Prague, Míša's parents came to pick us up which was a luxury we couldn't refuse.
Knowledge from Bangkok:
If you go to the Grand Palace, take trousers and shoulder-covering T-shirt.
Don't get stuck in the traffic jam and don't overpay for transport and accommodation – follow our tips 😉
Have your read all of our articles from our Asian summer trips?