With one foot in Laos. Chiang Rai and magical mountain Phu Chi Fa
Looking for an adventure in Thailand or just an escape from crowded touristy places? Chiang Rai and Phu Chi Fa is what you are looking for. Don't be afraid to go off the beaten path!
Chiang Rai
In Chiang Rai, you'll most likely get off the bus at the bus station in the city centre. It's basically dusty and muddy car park, where more tuk-tuks than buses parks. Chiang Rai is pretty small, so don't worry about tuk-tuks and cheap songthaews (10-20 bht), you can most likely walk to your accommodation. We can recommend Baan Bua Guest House, where we have stayed. It's an oasis with a beautiful garden in close proximity to the city centre. You can't find better for this price!
White Temple
We have decided to go to the famous White Temple (Wat Rong Khun) the very same day we arrived. It's approximately 15 km from Chiang Rai and you have several options on how to get there. You can either opt for a travel agency, tuk-tuk/taxi (150-300 bht according to your haggling abilities), songthaew (40-60 bht per person) or local bus. Local buses, as well as songthaews and tuk-tuks park at the bus station, where you got off previously. Local bus costs 20 bht per person and you should look for a blue old bus. Do not expect anyone speaking English. We are enclosing a timetable from August 2017: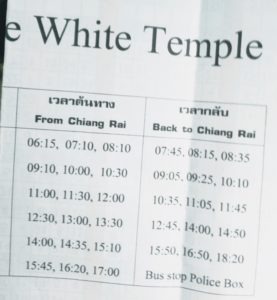 The bus will get you close to the temple, but leave you at the main road/highway. You'll see the beautiful temple right away.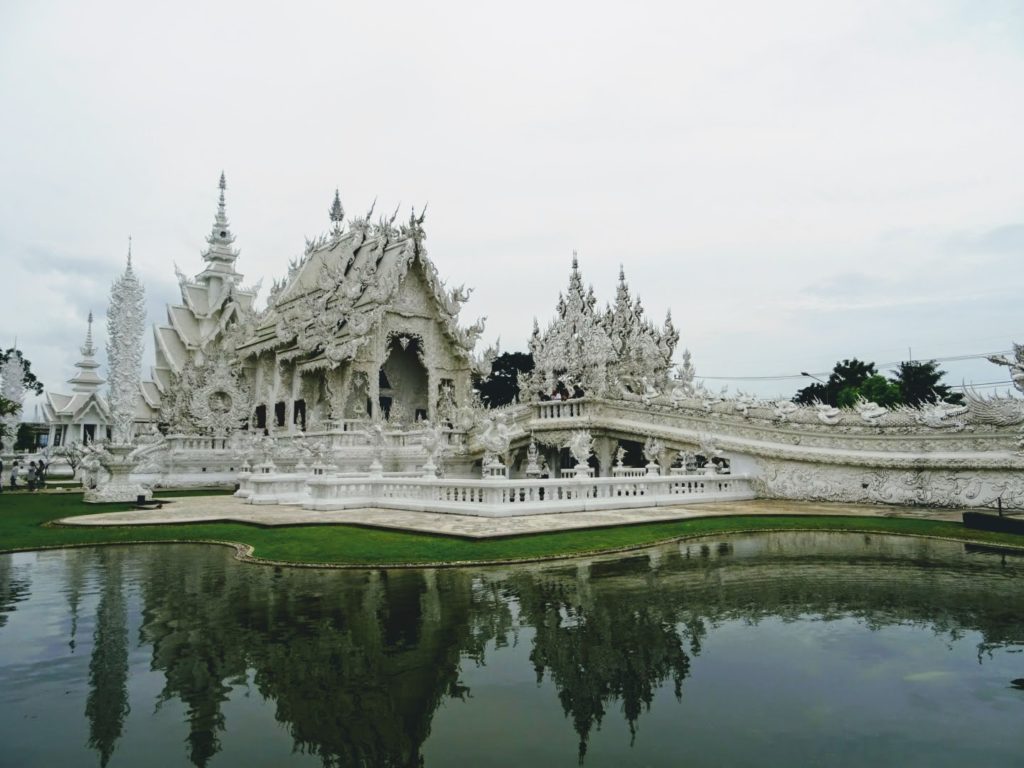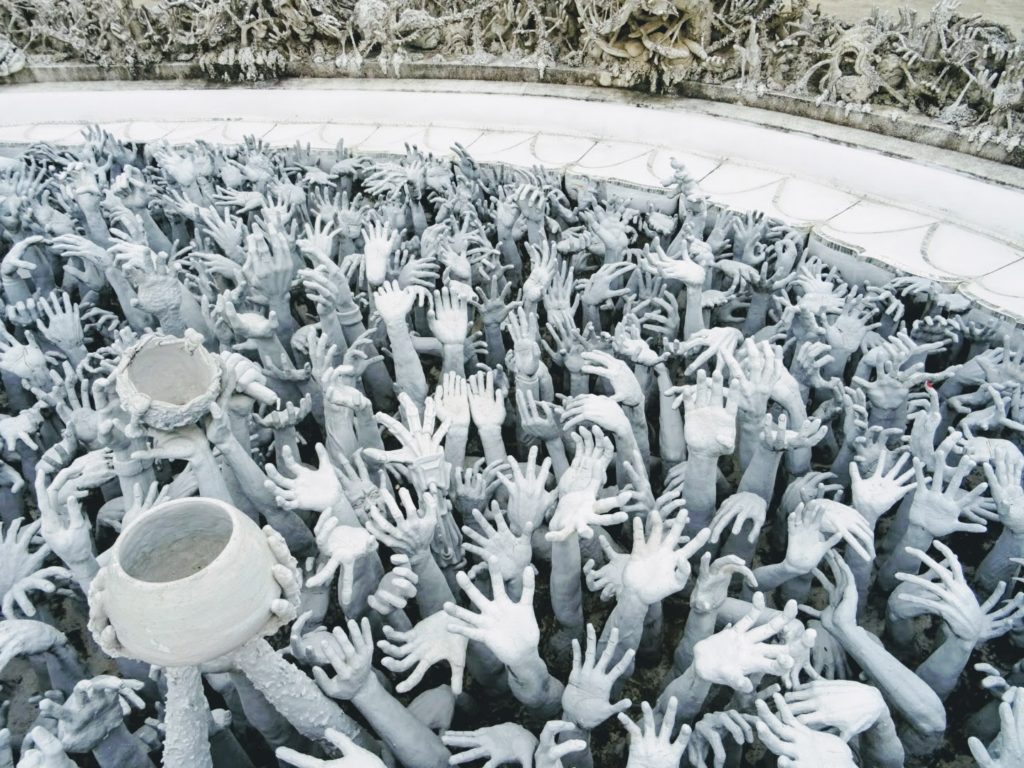 There is an entrance fee of 50 bht to the temple for all foreigners (yes, that's normal, foreigners are discriminated). The temple is the best to look at from the outside, so if you want to save as much as possible then it's not necessary to go inside, although… you will miss the most beautiful toilets in the world: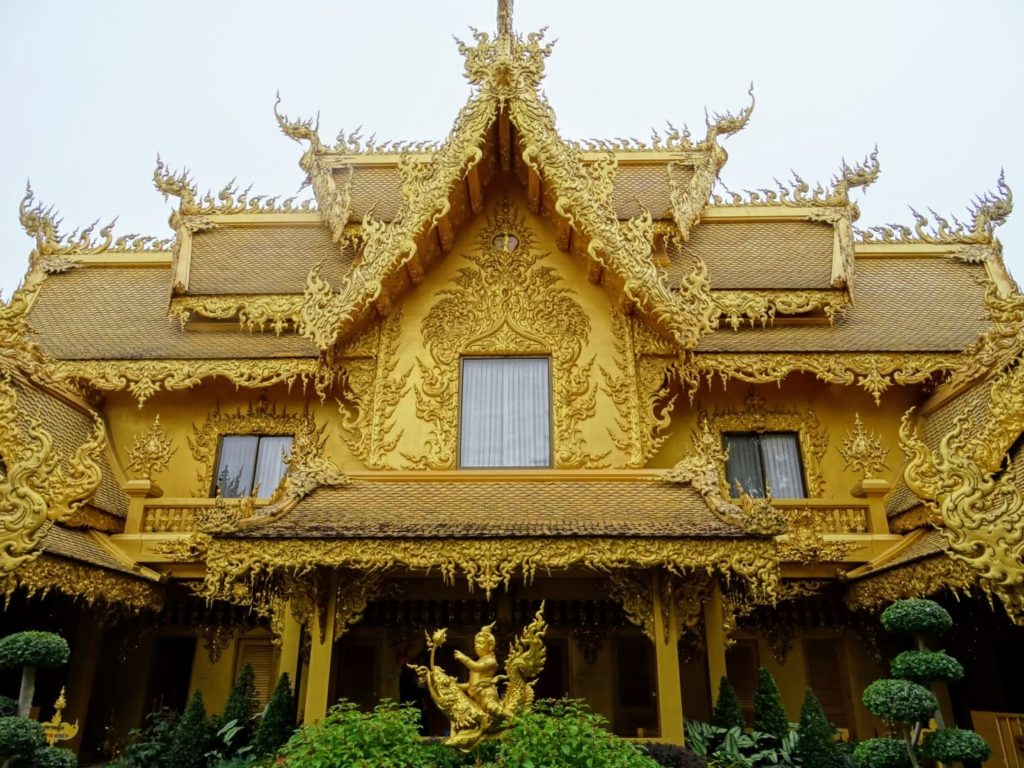 In the evening, we went to look at the biggest tourist attraction in the town – the golden clock tower.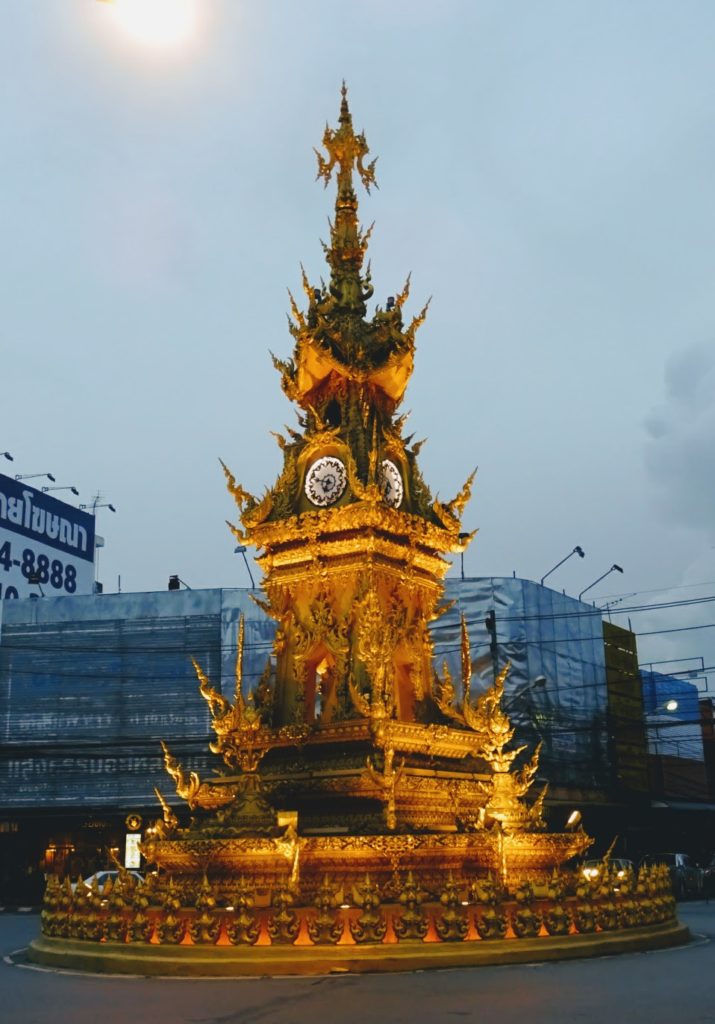 Originally, we were planning to go to the Karen Hill Tribe village the next day, who is famous for women wearing heavy rings on their necks to make them look longer (Karens are often referred to as the Longnecks), but after the experience with "human zoo" in the Hmong tribe village near Chiang Mai (read more about it here), we have decided not to support it and go cycling around Chiang Rai instead.
We set off from our guesthouse in the morning expecting to find a bicycle rental on every corner, but apparently, ecotourism is not anything they would know about in Thailand, so no one really understood us why would we want to cycle, if we can go on a motorbike. But it wasn't all bad, at least we finally bought myself a new mug! Kind of small, ugly and with Hello Kitty on it, but it satisfied my cravings for tea. In the end, we gave up cycling, but decided to go for a walk instead.
Singha Park
We picked Singha Park – a farm/zoo/plantations about 15 km away from the city. We took the local bus to the White Temple again and then walked for about 5 km. We saw local villages, rice fields and were the biggest weirdos in the whole area. I don't think that anyone has ever seen a white person in these places and locals usually don't walk further than 200 meters if they need to go farther away, they use tuk-tuks/cars/scooters or so. Less than a km from our destination – Singha Park, it started raining, so we were actually really glad we didn't take the scooter or bike there, because then we would have to go back all wet on it. The minizoo with zebras and giraffes was closed, but surprisingly the ticket for the mini tram (well, its a bus, but they call it tram) was only 50 bht and included water and tea. Not bad.
The ticket included a guide as well, but unfortunately only in Thai. The visit was totally worth it! We have seen tea plantations, melon greenhouses, alleys full of fruit trees and in the end, zebras and giraffes from afar.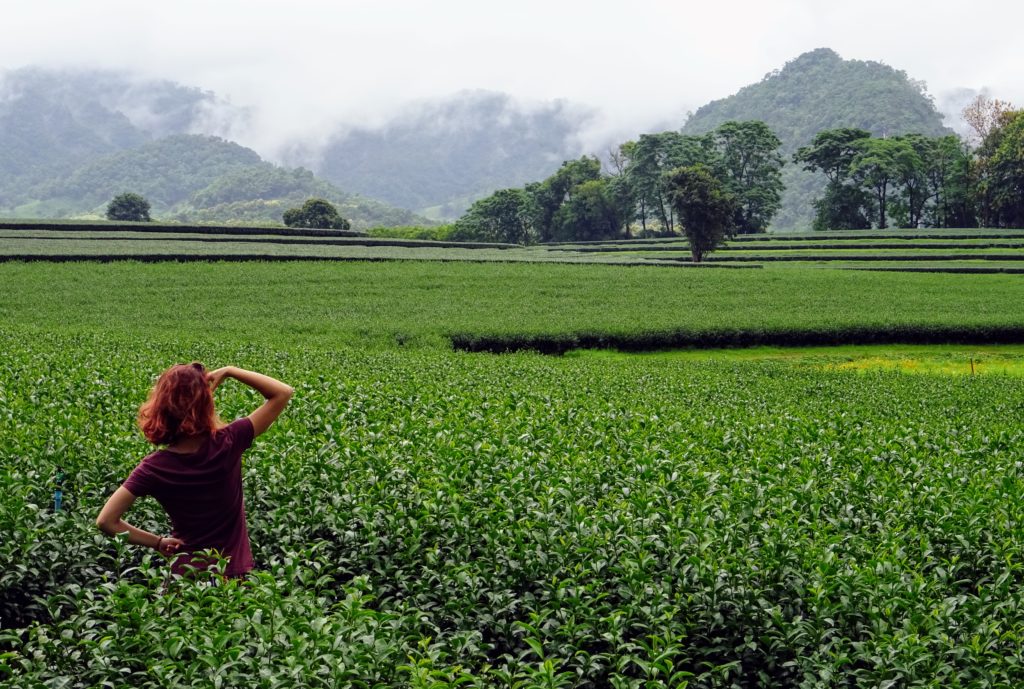 It was raining a lot in the afternoon, so we decided to come back with our Malaysia-approved method – asking locals to take us back and this time, we were super lucky and the first family, we asked, took us!
After coming back to  Chiang Rai, we still had time, so we decided to go for a nice coffee and hot milk with honey in Míša's case to the local cat café – Cat 'n' a cup. It's close to the bus station too! They have cats of all kinds of breed and supposedly all saved from the streets of Bangkok. We loved it there, although the airconditioning could have been adjusted to more than 18 degrees and I would appreciate/suggest to have someone in the café who would make sure the children (and not only them) are not bothering the cats. The cats don't have where to hide, so when one lied next to me I decided to save her from kids trying to poke her with a straw.

Phu Chi Fa
We have decided to go to the mountains, finally! Our choice was Phu Chi Fa (or Phu Chee Fah), how to get there? In the season (approx. October – march), there should be a direct minivan from Chiang Rai, but otherwise you need to go to Thoeng (34 bht) and then take a taxi. We didn't want to resign, so we decided to find out whether there is not an option for a bus to get there. There should be, but as a white person, who doesn't speak any Thai, you don't have much chance to use it.
A really nice guy in Thoeng decided to take us the local market from where some bus was supposed to go. We didn't understand each other properly, so we expected him to walk us there, but as I said earlier – Thai people don't walk around. So we had to get on a scooter. Yes, all of us three, our two big backpacks and one smaller one. In Thailand, this is considered normal and we probably had plenty of space for another person or two. Our feet were fluttering in the air and we were scared our shoes will fly away and since I was kind of fluttering behind Míša's backpack at the very end of the scooter, I was scared about my life too. I felt the straps of my backpack were closer to the back wheel than I would like and I was thinking whether we would only battered or dead straight away if the strap gets in the wheel.
At the bus station in Thoeng, no one spoke any English, but at least we understood each other somehow, at the market from where we were supposed to go to Phu Chi Fa, no one understood anything. That was the time when we had to start using our imagination, pen and paper. We had to draw everything. After about an hour, we agreed on 200 bht per person and departure in two hours. While waiting for the bus/songthaew an old Thai lady and fish sat next to us. Well, lady with a fish, but the fish was still alive. This is how you do it without a fridge. You buy fresh fish and put it to the washtub until you want to eat it. I felt a bit sorry for it as it was sadly looking at me and opening its mouth for the whole time.
The driver decided to take us to his friend, who lived outside of the village. He offered us an amazing deal – room for 1000 bht/night, so we happily said goodbye and went to the nearest house in the village, where we got a nice room with a great view, hot water and bathroom for 300 bht. We couldn't wait to go to the mountains, so we set off right away. You can either take a songthaew (probably only in season) for the first 2,5 km (if you are not a big fan of hiking) or just walk. It's not the easiest walk, but if you don't have any health problems you should be able to walk it up all the way. From the parking where the would take you, it's only 800 meters more. The views are breath-taking and it was one of our favourite experiences in Thailand. We also had the chance to take about two steps to Laos and take a couple of pictures with the boundary stone. We took probably about 3 pictures before we got into a cloud. We have enjoyed the calmness, views and serenity at the top as we were the only ones there.
We have agreed (or at least we thought we agreed) with our landlord on the 2,5 km ride up to the parking lot the next morning for the sunrise. We couldn't be more excited! We were drinking beer at out terrace (yes, we had our own one) and we have treated ourselves with eggs made in hot water kettle haha. Yeah, European food is probably the only thing missing, otherwise we probably wouldn't want to leave this place/Asia ever.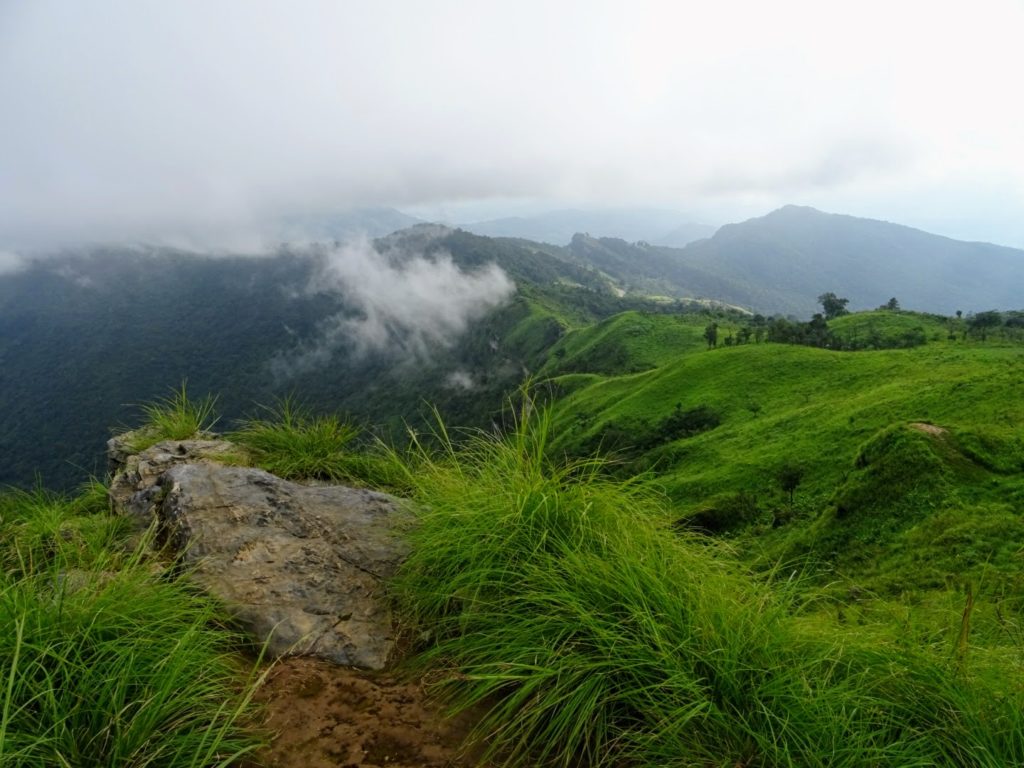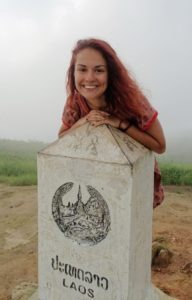 At 4:45, our alarm rang and I thought I'm going to die, but with Phu Chi Fah in mind, I got up and was looking forward to the sunrise above the mountains. Well, it was another moment to our "fail" series. After 45 mins we understood, that we didn't understand and no one was about to pick us up. We went back to bed and didn't see our landlord ever again.
We exchanged a couple of messages with the guy who took us to Phu Chi Fa, because he was supposed to pick us around midday and take us back to Thoeng. The guy knew we don't have any other option, so he asked for a lot more money than we agreed to pay and we decided to find our own way back. Not that we wouldn't have the money to pay for it, but it was a matter of principle. We don't like being blackmailed.
We walked to the village with a feeling that we have to find someone who will take us to Thoeng for the price we paid to get to Phu Chi Fa, but the village was dead. Noone anywhere. So we realized we have to hitchhike. It was for the first time in our life. Good thing about Thailand is that everyone stops. No one understands, but people stop and try to help you. The first people who took us into their car took us to their home. We were confused, but later on, we realised they can't read the Latin alphabet. Next people, who could at least read "Thoeng" wrote it for us in Thai. After about an hour a first time going in our direction stopped and we got into a car with a monk. We were squeezed with two other women in the back of the car and received monk's business card with some mysterious phone numbers on it. Where did we go from Thoeng? Wait for the following article!
Knowledge from Chiang Rai and the mountains:
Always carry a paper and pen with you. Sometimes one picture is more than a thousand words.
Not all Thais are nice, but many are, don't have prejudices!
Sometimes, the best places are off the beaten path. Don't worry and go to where most people don't go. It's often worth it.
When was the last time you went somewhere off the beaten path and where was it?