How to travel low-cost in Taman Negara and Cameron Highlands and what to avoid?
I and Míša were really excited about the trip to the rainforest because we were getting tired of the bustle in the metropolises and we wanted to experience some adventure. And we got plenty of that! Find out what to do and what to avoid in Taman Negara and how to save in Cameron Highlands. Importantly, how to get between these two locations cheap.
How to get to Taman Negara?
The allegedly oldest forest in the world, the Taman Negara, can be reached either with a travel agency, for 80-90 RM from Kuala or on your own axis for 25 RM. We have chosen a combined journey. To Jerantut on our own for 18 RM and then by cruise ship (otherwise it is not possible) for 50 RM, given that your travel agency will pick you up at the bus station, the comfort is almost the same as when choosing a travel agency from Kuala, but you save up to 22 RM (200 CZK!). A cheaper version is a bus from Jerantut, which runs 3 times a day and costs only 7 RM, the journey takes roughly an hour and a half, less than a boat and a local bus is an experience on its own.
It is certainly good to choose the route by a ship in at least one direction if you are not trying to save money and time, because on the way you have the opportunity to see water buffaloes, anacondas and some crocodiles! Use the repellent, otherwise, you will get eaten by the insect before you get there, and I recommend putting a raincoat over the backpack because the backpacks are placed in the front of the ship and the water is splashing on them all the time.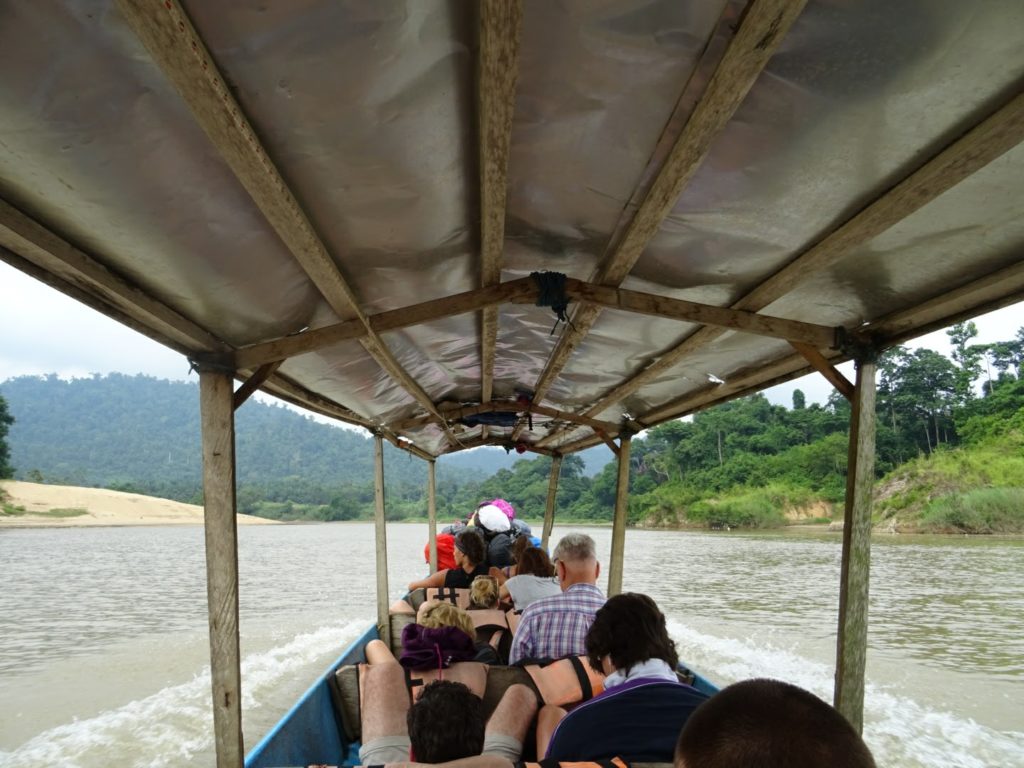 What to see in Taman Negara and do you need a guide?
They will try to persuade you to pay for a guide in the travel agencies in Jerantut and Taman Negara. Sure, if you want to hike 20 km and sleep in the rainforest, then it is necessary, but if you want to walk the usual Canopy Walkway (the longest in the world!) and climb up Bukit Teresek, then you will handle this, 10 km long trip on your own easily. There are signs around the walk and there is more than enough people heading in the same direction. You will cut down the price from 40-50 RM to 7 RM for one person (2 RM for the river transfer, 5 RM the entry fee to Canopy).
If you believe that you would like to walk more than 10 km, believe us, you will be more tired than you expect because of the humidity reaching 96% and the difference in altitude around 350 metres. If you want to refresh after the walk, don't forget to pack your swimsuit, because there is a small beach on the way from Bukit Teresku, around 800 metres in front of the end of the trip, where you can have a bath in the river. I tried the water and I didn't get any rash, but I wouldn't try it in case you have a sensitive skin as Míša has.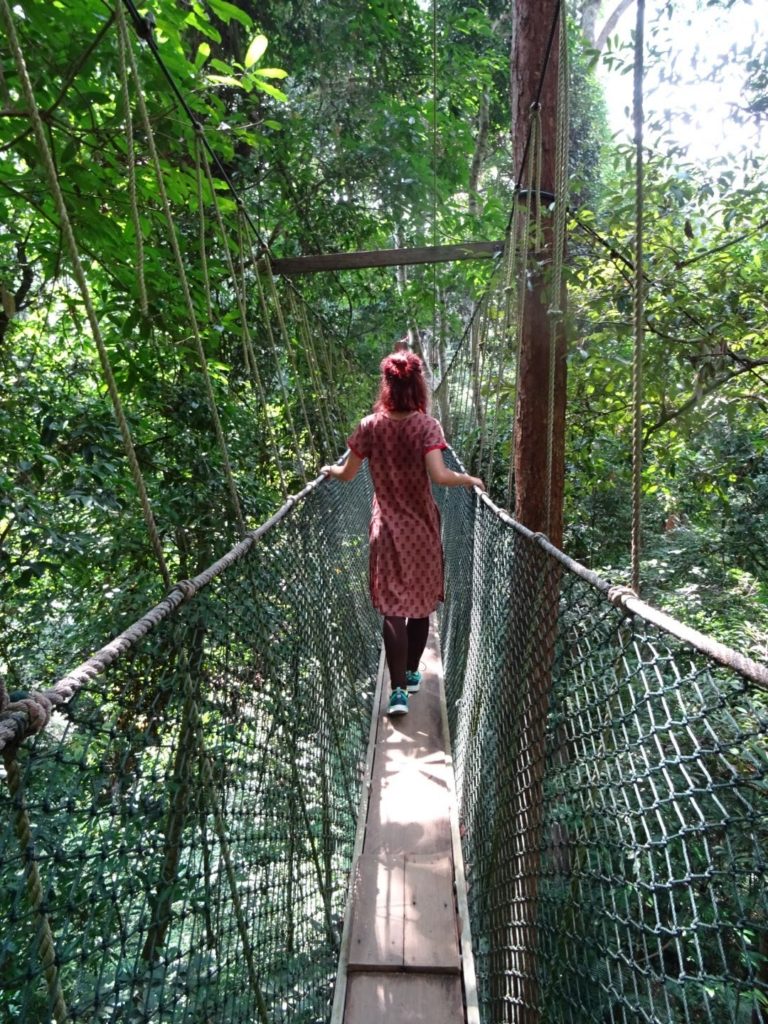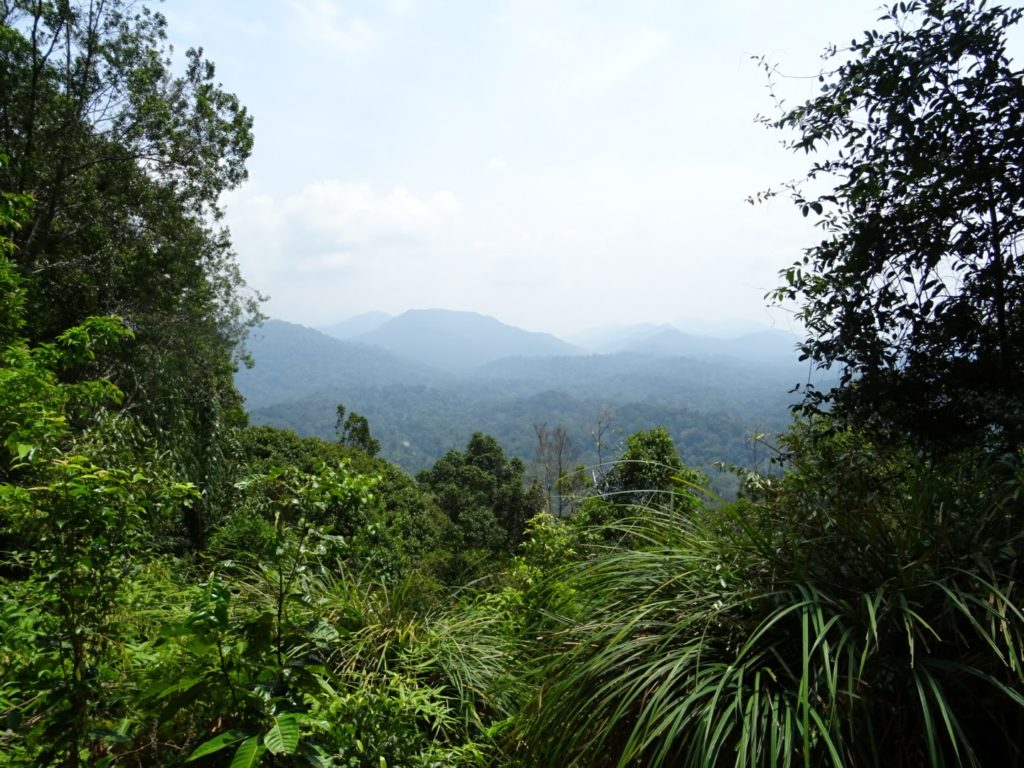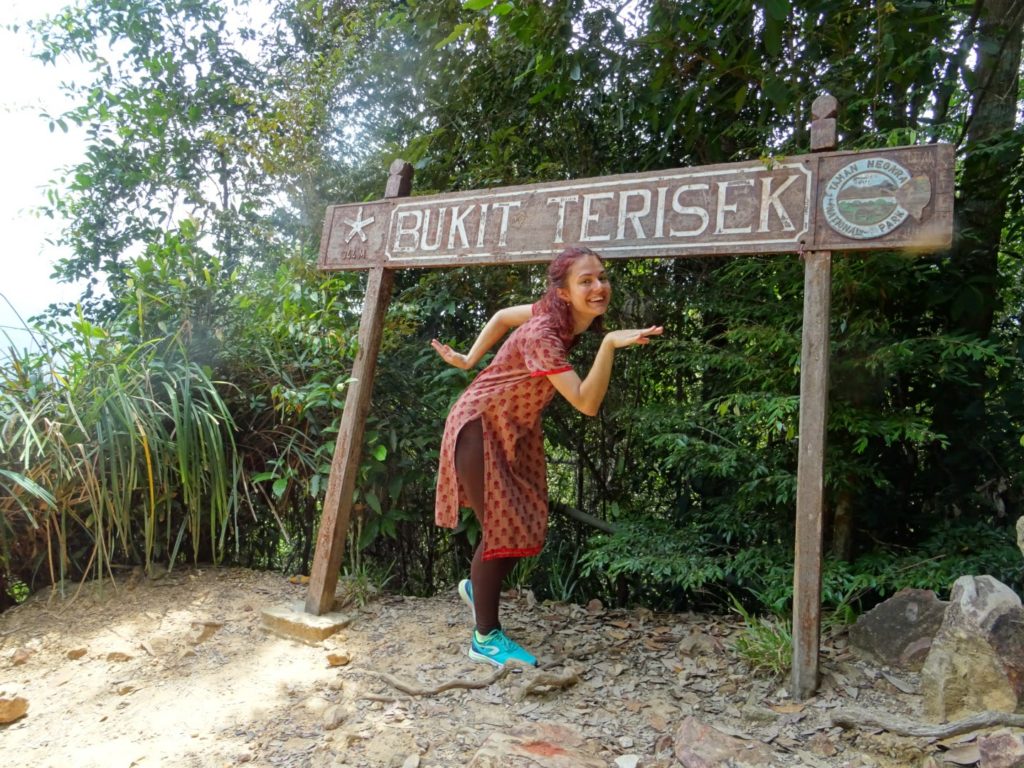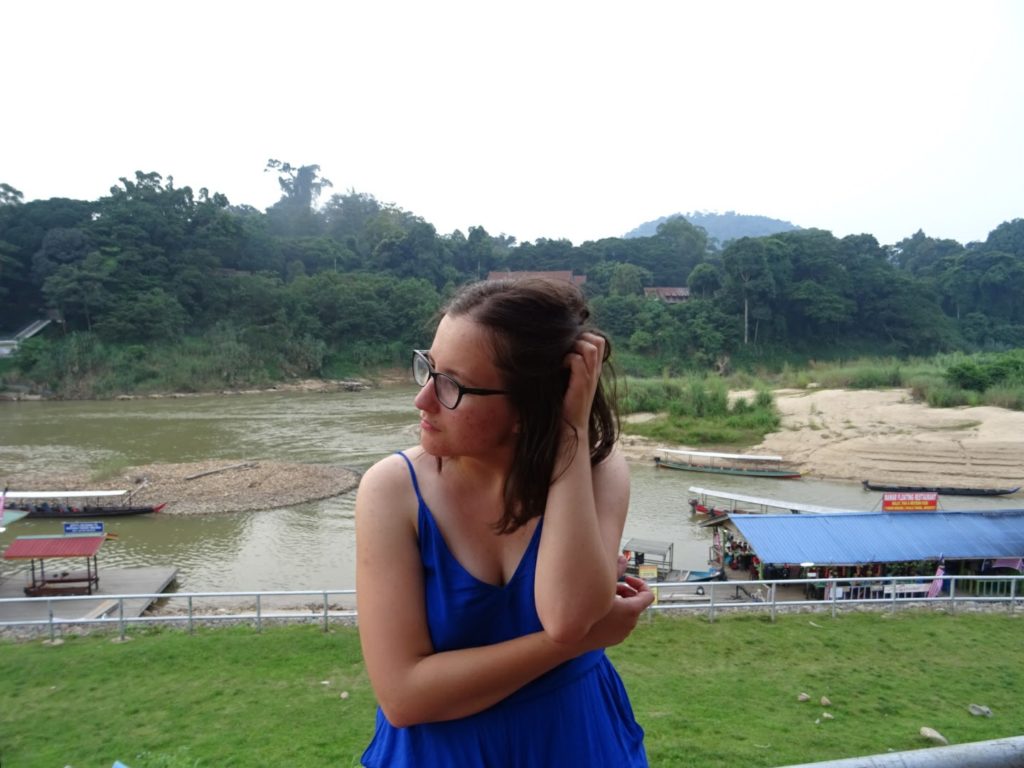 How to choose an accommodation in Taman Negara?
After we found out in the evening that most of the hostel is evacuated and we are probably the last people there, we were relieved that the owner didn't move out our things out. There was no promised WiFi neither the breakfast, but we got the discount on the accommodation, so no problem. We locked the room properly for every case. From our experience, we can say, that the quality of the hostels is the same in the price category ranging from 35 to 50 RM, the only difference is the availability of a kettle. I need my morning tea and Míša her oat porridge. You won't care if the hot water is pouring or not when there are 35 degrees outside, at least it will be refreshing.
How to get between Taman Negara and Cameron Highlands?
The transport from Taman Negara to Cameron Highlands is easy just by private shuttle buses, which cost 85-90 RM. You want to save some money but still travel comfortably, take a local bus from Kuala Taha (the main and the only centre in Taman Negara) to Jerantut for 7 RM (3 times a day) and at the bus stop in Jerantut and choose a travel agency and you will pay around 65 RM for the journey to Cameron Highlands will cost you 65 RM afterwards (You will save 13-18RM, approximately 150 Kč).
We choose a more adventurous journey and decided to travel on our own all the way there. We found the schedules on some travel blogs and that the price is 35 RM for the journey by local transport with 3 changes. Kuala Tahan – Jerantut – Benta – Raub – Tanah Rata. The bus to Benta goes from Jerantut once a day, now at 14:30 but they told us at 13:00 that our bus is not coming. Probably because it was broken, which we recognised from the hand gestures, but who knows. From the gestures, we found out that we have to go Kuala Lipis and from there to Raub. It may not sound that bad, but if you have a look at a map, you will see, that normally it is around 250 km, by local buses 300 km and with this amazing change, we were supposed to travel more than 350 km. Of course, it was not possible to catch all the connections, when most of the buses go less than 3 times a day and the last bus leaves at around 17:00.
How to find accommodation cheaper than on the internet? – in Raub.
So we ended up somewhere in Raub. The agrarian town, where there is nothing. There is almost no accommodation and when you find some, it is overpriced. We found a new technique of searching for a hotel. We had a look at google maps and chose the hotels with no website, then we chose those with worse ratings and voila! A room with hot water, our own bathroom, a kettle and even the air-conditioning for 45 RM per night! Great! And we were the only guests. This wasn't the last time we used this searching technique. Because you can't find this accommodation on booking.com or Agoda, we found out actually an accommodation where the locals normally stayed. You don't pay the fee for "European people", because what are we going to tell you… Europeans always pay a higher price for the accommodation than the local people.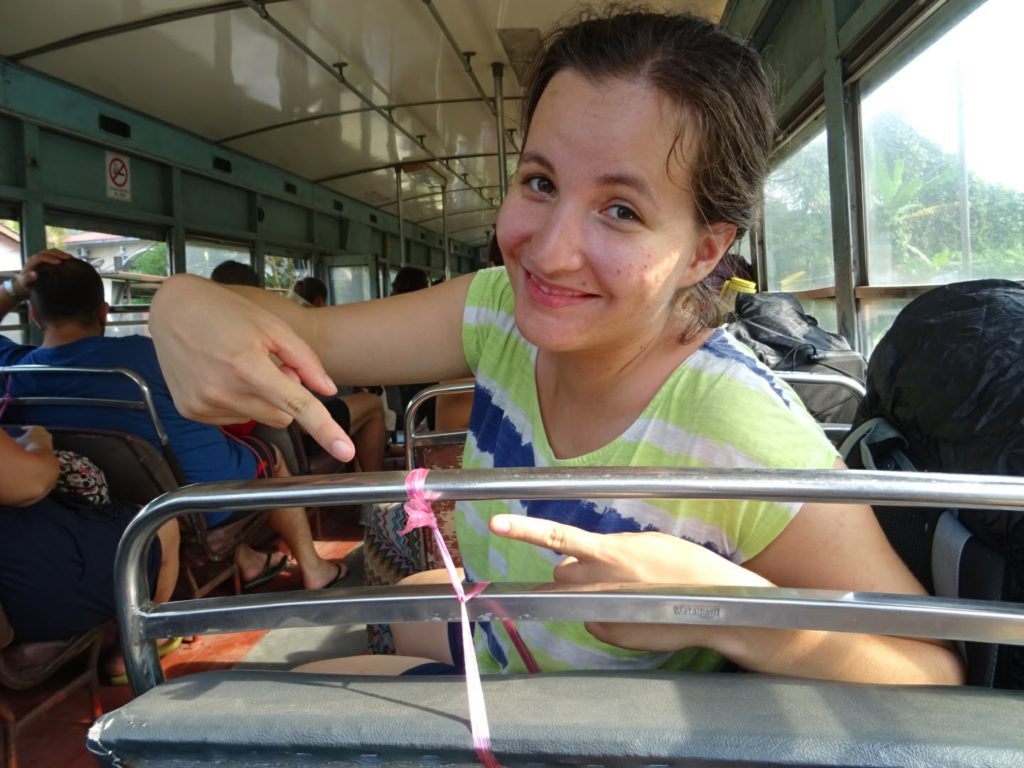 Arriving in Cameroon Highlands and how to get to the tea plantations?
We arrived in Cameron Highlands the next day. Thanks to the necessity of accommodation in Raub the journey didn't cost 35 RM but it was still cheaper than the shuttle bus, which is honestly probably comfier. With the night in Raub, it cost 60 RM per person and we gained so much experience from the journey. For example, while waiting for 4 hours in Jerantut we met Adrian from France, who told us about his travelling, we became friends and hopefully, we will see him again. In Raub the owner wanted to talk with us, so we got to know about the South Thailand separatism, which we never heard about.
After the arrival in Cameron Highlands, we wanted to visit the tea plantations. From the two days stay we were left with just an afternoon and a morning, so there was nothing to wait for. There is no Grab or Uber available in this area, no local buses, and we didn't want to go with a travel agency, so we had to pay for the overpriced taxi and go. Taxi cost 20 RM, but I think it is possible to find some cheaper. To Bharat plantations, it is 6 km up the hill and to the plantation B.O.H. (which produces around 70% of Malaysian tea) it is 14 km up the hill. The locals are really proud of their strawberry fields and you can also have a look at butterfly and bee farm if you have enough time. We know the strawberries from the Czech Republic, so we were here to see the tea. There are tea plantations everywhere, as far as you can see and you can have a walk in them.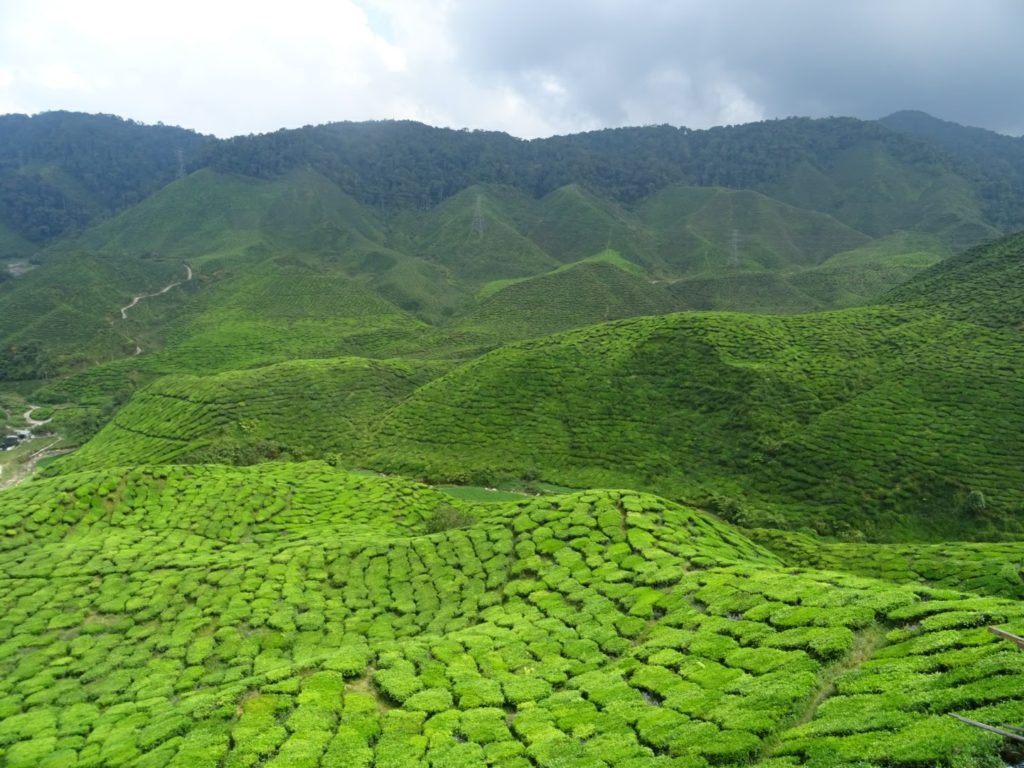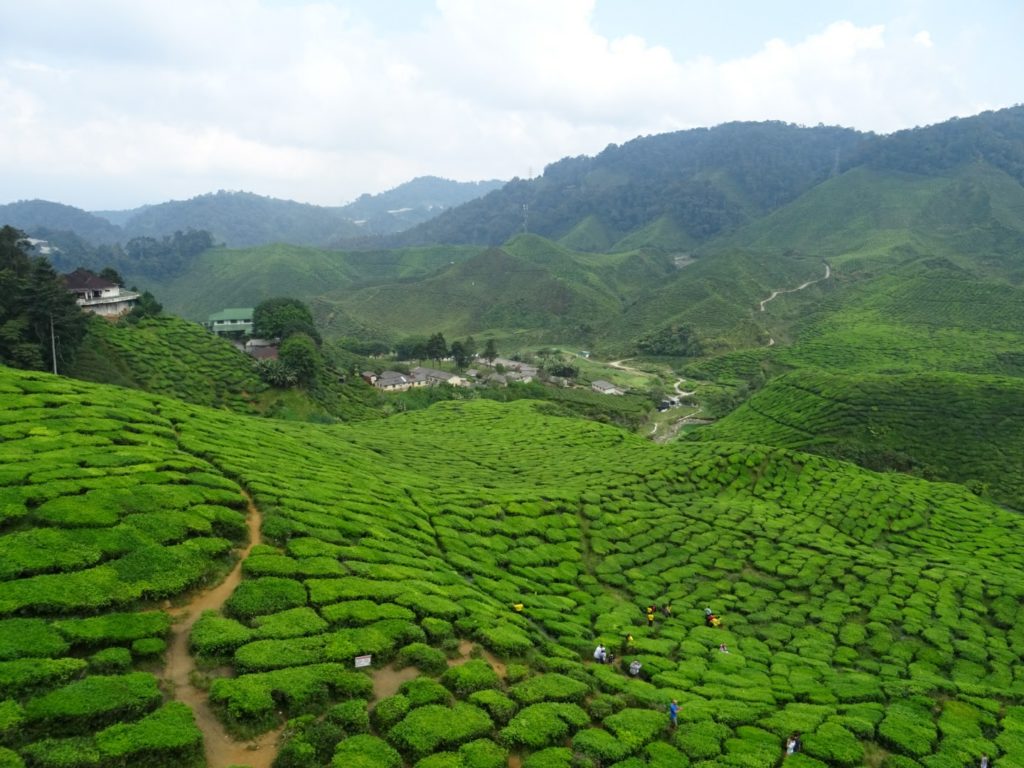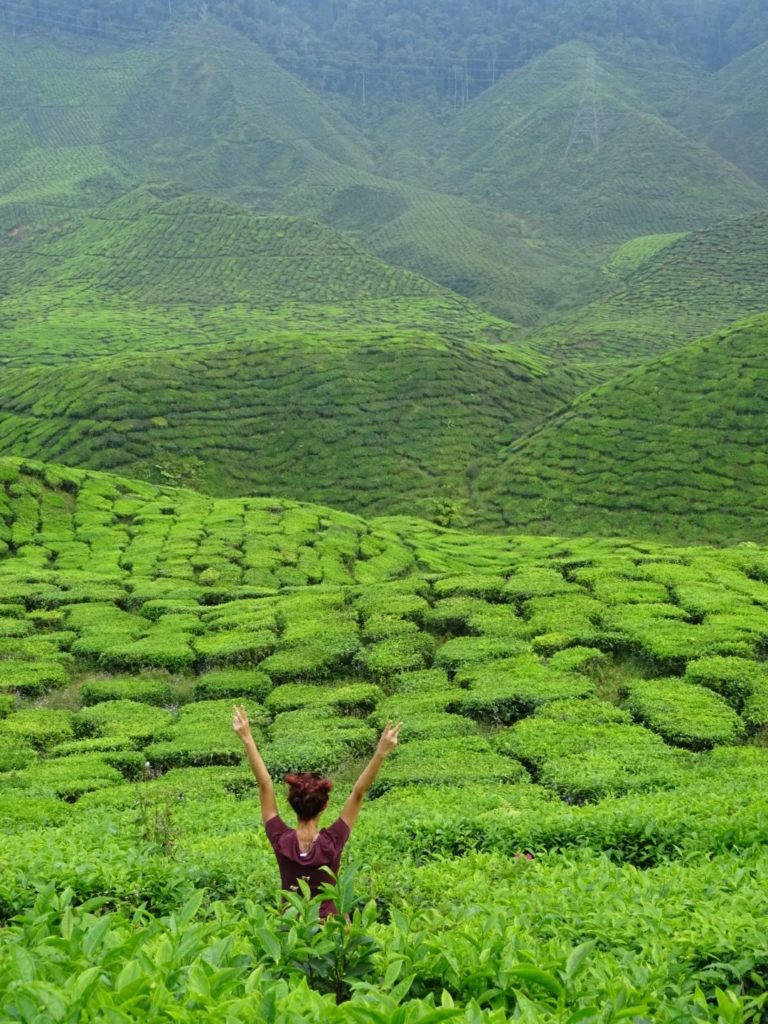 We decided to share the taxi to the city with someone but we didn't find someone. We decided to hitchhike if we can call it that way. First, we asked a driver in a school bus, where Míša was brave enough to ask if they can give us a ride to the city, but we had a lack of luck and the bus headed to the opposite direction. I asked some local people if they couldn't give us a ride. One boy didn't look very friendlily but then it turned out that he didn't understand a word. His girlfriend was a little bit cautious, but she was excited about the idea of helping us. You know, how often they give a ride to the "white people". We are a little bit like an attraction. In the car, we had to take a selfie with them, for which everyone asks us and then we drove. We wanted to give them some money, but they rejected it. We are always happy when we have a chance to talk with the locals, although they have a horrible English.
Next day it was raining so we had to change the plan. Instead of the walk, we headed to a café. Míša was happy because she finally got a cake, which she had dreamt about since the first day. We ascertained ourselves that the "genuine cheesecake" or "genuine" Japanese Tiramisu, looks and tastes the same as the originals but in Malaysian version. It was still good though. I was surprised by the good latté I got, it was not made from the Turkish coffee.
As for local food and specialities, we have some tips for you:
Do not make a mistake with buying a mango in a long-life bag. If you put 2 and 2 together (not like the two of us), you will realize it has to be impregnated by something. In this case, it's vinegar. Vinegar with mango. You do not want that.
Chrysanthemum tea is incredibly sweet. So much so that you will have to dilute a litre of this drink in at least 3 litres

of water to achieve a patentable state.

Fresh coconut on the beach? Sounds like an idyll

. If you have never had it, then do not expect it to taste like the coconut you are used to. It tastes different. We didn't like it at all.

I tested local alcohol only once but tasted well. Considering local conditions it is very expensive compared to food.
Of course, everything is very spicy, rinsed in oil and preferably with rice or noodles. It's already climbing our neck, nose and eyes. Míša eats oatmeal when she wants to neutralize it and I like neutral biscuits like BeBe (or Digestives if you are not from the Czech Republic).
Durian, local herb candy and chicken trunks are still waiting for us. Misha has refused to eat meat (because it's all on bones or too hot) and was not brave enough to try beetles,

etc. (and I'm afraid that Misha is not even planning to do it), but it will come. I believe. What else we taste?
Experience from the national parks:
 If you have a water filter, do not throw away any flasks with a good size of the lid. Local water bottles (both small and large) have a too large opening and you will spill the water.
Especially in Taman Negar, wear good shoes, long trousers, a long sleeve and carefully smear with a repellent. If you do not have a mosquito net in your room (cheaper accommodations do not have one), you should use a repellent for the night, mischievous is not just mosquitoes, but also ubiquitous ants, who are here in the size from a few millimetres to 6 centimetres.
Do not make unrealistic goals. In the Czech Republic, we are also willing and able to walk 30 km, in the rain forests we have managed just 10!
Before buying tea at the Cameron Highlands, make sure that it's really from the local plantations. Some teas (mainly green) are only packed and imported from China!
Communicate with local people, ask a lot. Local people rarely lie, they just do not tell you everything. Ask all the time and everything and learn what you need and how to avoid paying more than you need and where to go and what not to do.
Especially if you are waiting for your transfer to Penang, do not eat before the bus ride. Rocking in the mountains is a dangerous hazard for your stomach (and companion). We take back that the tart was a good idea. It was not. At least not the last day before the ride.
Buy a toilet paper and flip-flops. Local people use a bidet, which means water all over the toilet and no toilet paper. And if it is there, know it will be wet. If not from the bidet, the shower, which is always above the toilet and positioned so that the whole toilet is wet. I try to adapt to the Malay way and adapt to local culture. Misa refuses the bidet, because then, and I have to confirm it, there is a moment when you have just a wet butt, which is not pleasant for everyone (neither for me, but maybe I will get used to it in the future). At least I got used to the Turkish toilet. You can't sit comfortably, but you do not have to touch anything, which is often a big plus in local conditions.
What kind of weird toilets have you used and where?