Southern Thailand, beaches or something more?
With Thailand, we had just one short experience and it was not great. (You can read more about it in the article about Singapore and the trip there.) Langkawi was amazing, but we did not have a swim, so we were looking forward to Krabi. We went from Langkawi to Thai Satun, where the Thais tried to force us to buy a bus ticket to Krabi, which was about to depart in 15 minutes. He says there are two more. He wanted 600 bhts for the ticket, a thief, we said and left. The price was 400 bht. We did not have a local currency (baht), the gentleman promised to stop at an ATM, we said it was OK, at least we would not wait long. The man wanted us to pay something in advance on us, and when he found out that we did not really have a baht, he suggested that we go in an hour and a half. Thanks to that, we found out that the tactic of another bus in just 4 hours is just a trap. We said that we would do it ourselves, sat on the songthaew (the local "bus" or the minivan with the benches on the hull, where, according to the view, you will get 10 people, according to the Thais 25, can still stand out of the car and keep Behind the roof). ATMs in Thailand are insidious, no matter what bank you choose, they charge you a charge of 220 bht for your choice, which is not enough. We had to choose, so nothing could be done. Songthaew brought us to a bus stop outside the city, where the Krabi bus was only 215 bht. We were finally glad that we did not have the cash before, because we too would be scared. The SIM card could not be bought at the station, so the local security wanted to help us by lending us his scooter for 50 bhts and going to town. Until now, I'm not sure if it was pure effort to help us or hoping to cut us off, in any case, we postponed the buying the SIM to Krabi.
The bus journey from Satun to Krabi takes about 5 hours and stops and stops very often. There was another trick of local "merchants" in Krabi. The bus did not take us to the train station, but about 200 meters from it, right in front of the travel agency, where the locals tried to offered us a "good" taxi because local transport does not work here. The Caucasian family who had come to Langkawi with us had been beaten, but we and Míša suspected there was another way to get to the hotel. We walked 200 meters and took songathew for 40 bht.
The hostel we registered was on Agoda with a discount from 500 bht to 210 bht, shared bathroom as usual, but that does not matter. What surprised us was the fact that in this hostel with about 45 rooms we were the only one, but what, we had not one own bathroom, but even two! The electric kettle was not available for the guests, but we were the only one, so they gave us a permission to use a kitchen in the morning.
In the evening, we went through the renowned night markets with live music, we got some food and we started to prepare mentally for a morning hike to the Tiger Temple.
The Tiger Temple is located just behind Krabi on a hill, to which 1267 steps lead, some of which have a height of 30 cm, so you really perpire. On the way, we met two amazing solo travellers – Maria and Reka, German and Hungarian, and spent most of the day with them. The view from the temple is completely worth it. I would go there again! (Maybe after a couple of days, because my legs would not be able to do it for two days in a row.)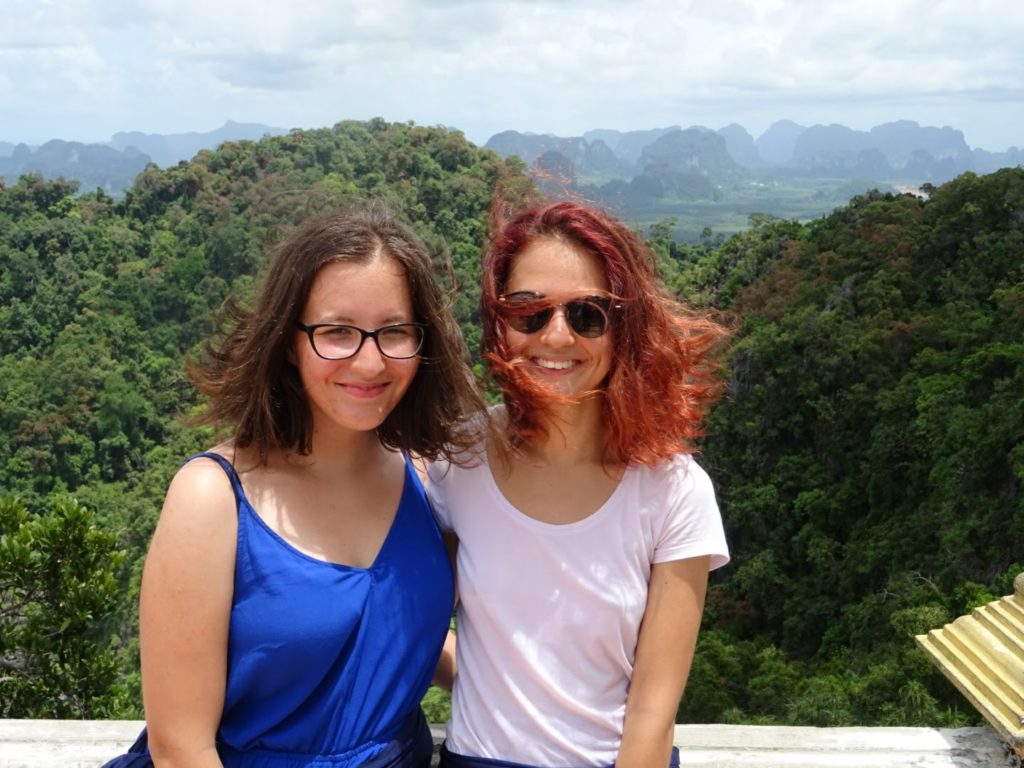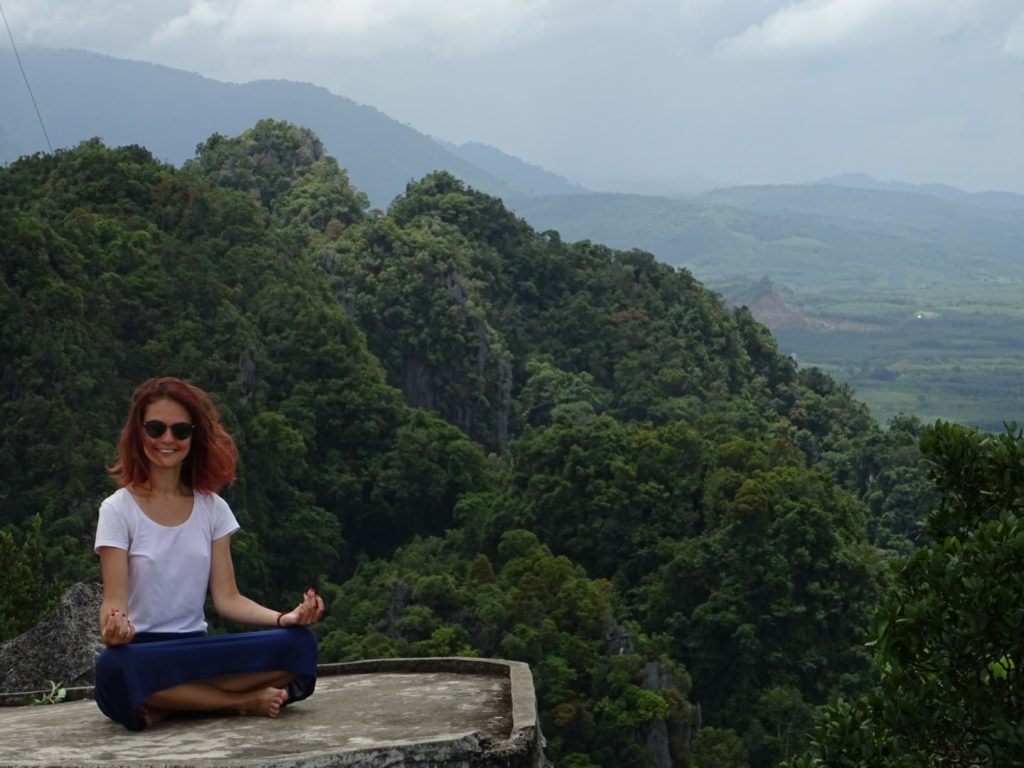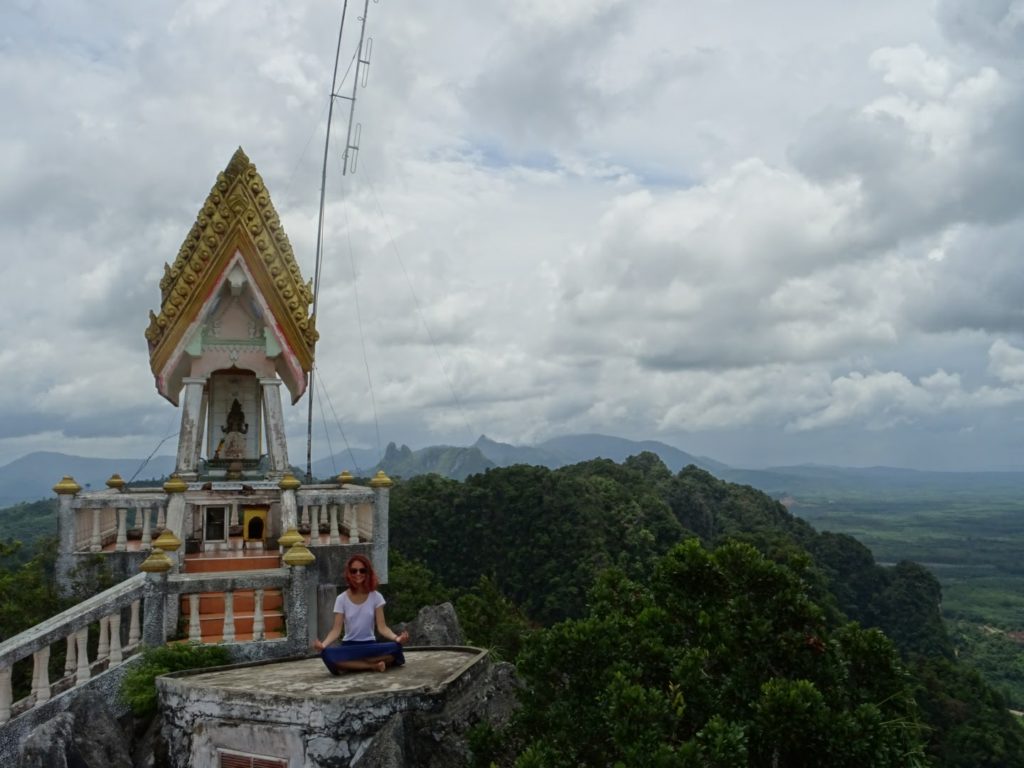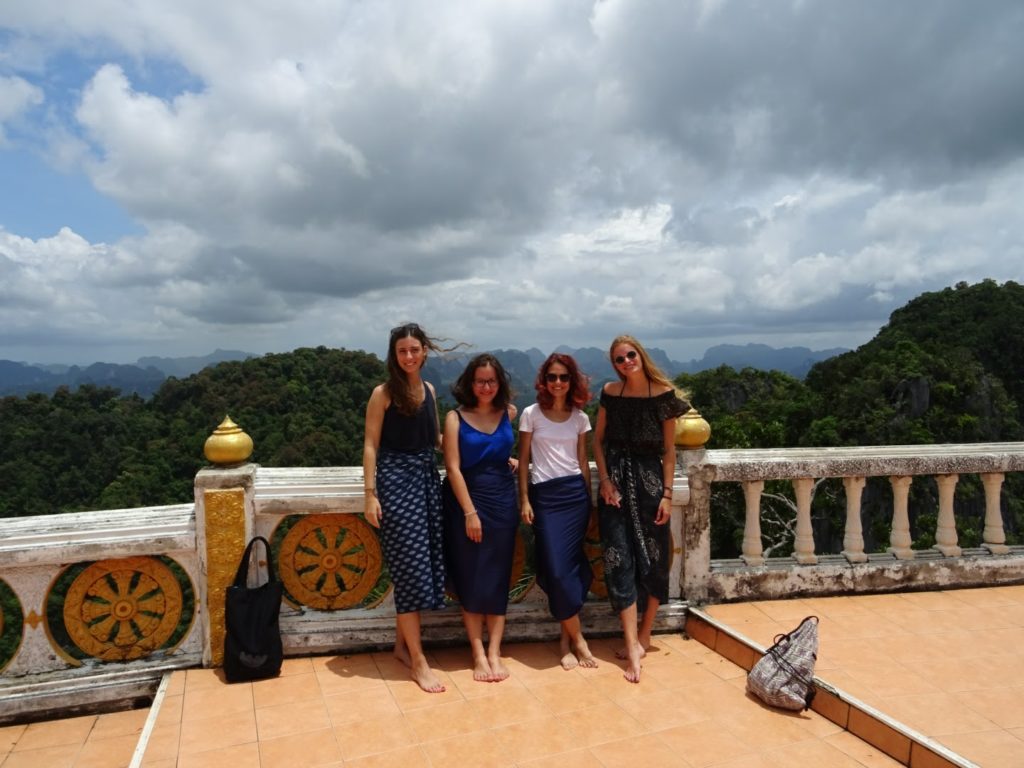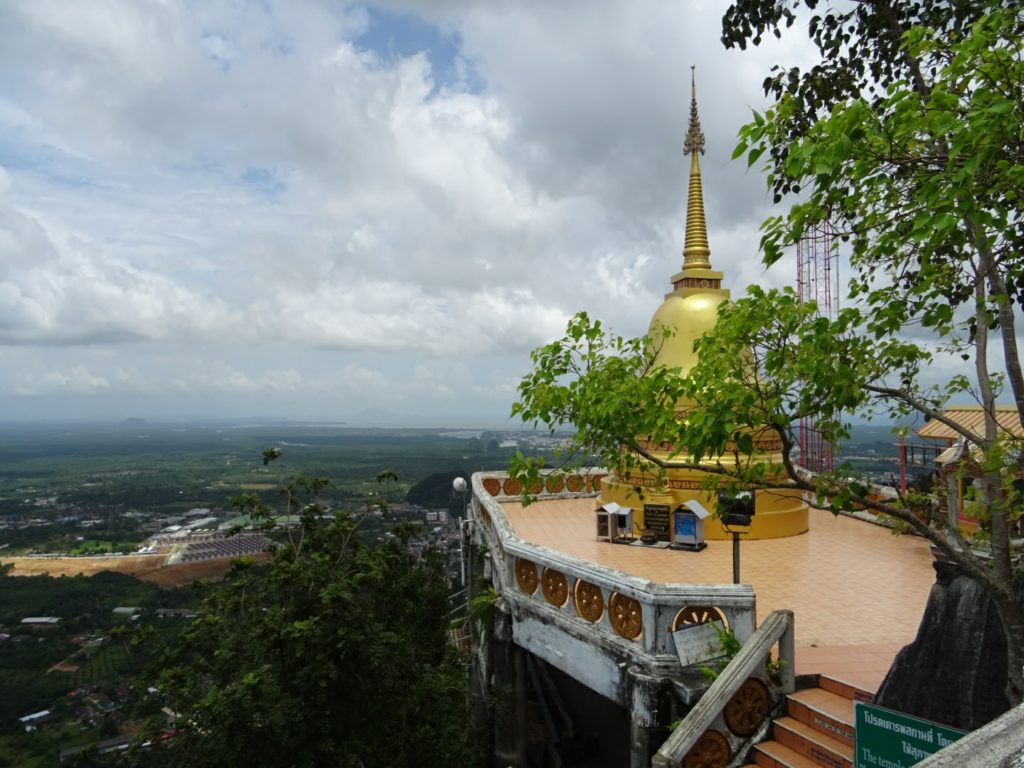 In the afternoon we went to local Tesco, firstly, because we needed to replenish the supply, and secondly because Míša had an incredible desire for cheese and European food. What I'm gonna tell you, Thailand has disappointed us again. Everywhere on the internet we read how cheap it is, but in most cases, it is more expensive than in the Czech Republic. Transport, more expensive. Food in the supermarket, more expensive. Cheaper is perhaps only food at stalls and accommodation. For your sake, processed cheese approx. 120 CZK, the cheapest butter 60 CZK, 1l 100% juice 60 CZK etc. Riding songthaew around town 35 – 50 CZK / pers. So we bought only butter, bread, tuna and doubtful mango (it looked normal in the shop, it tasted different).
The next day we headed to Railay beach, where beautiful beaches, views and rocks were supposed to be. We wanted to go originally from Ao Nammao as it was advised on the internet, but probably the local songthaews have risen their prices so it wasn't worth it. So we took a ship from Krabi.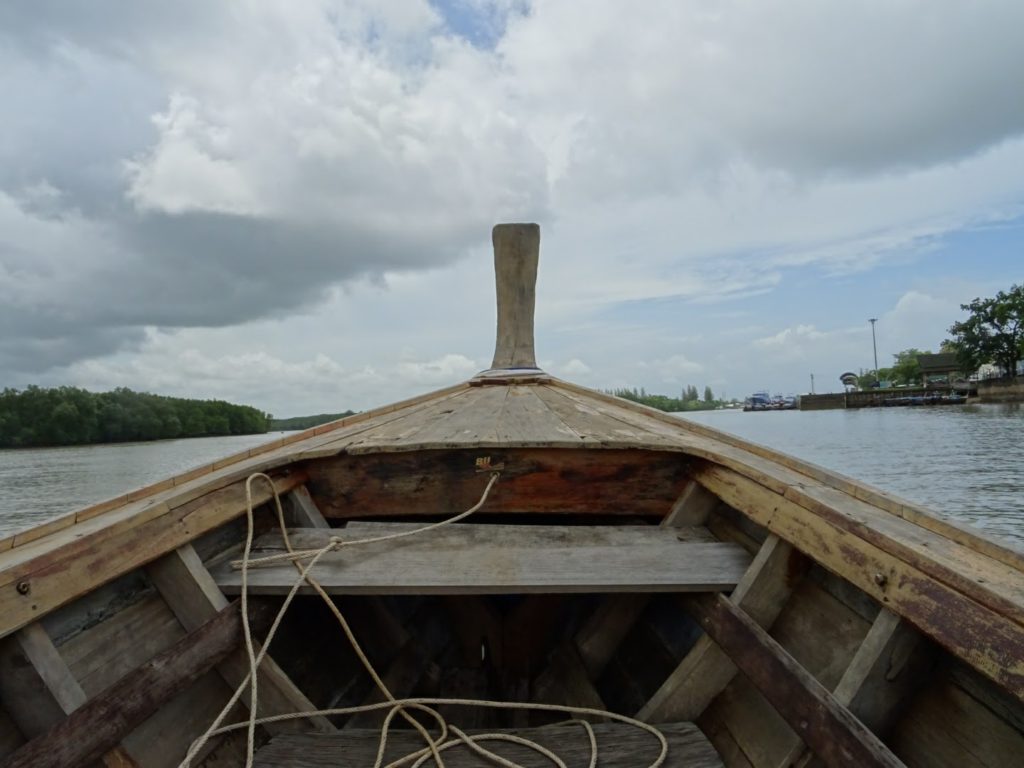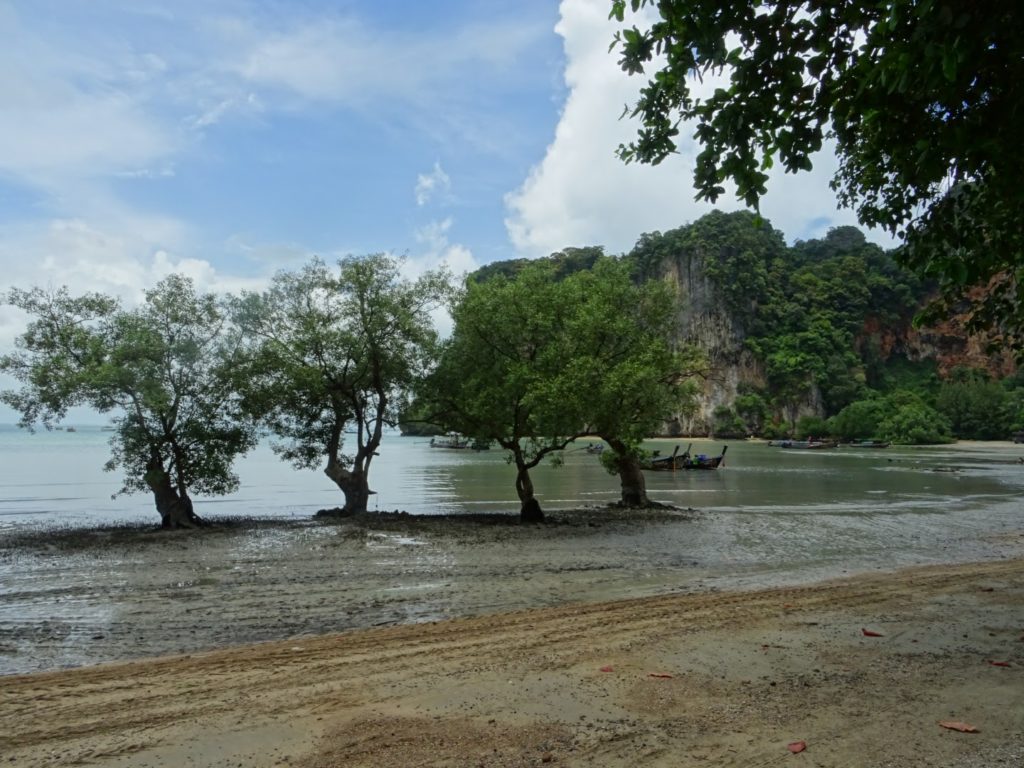 Railay beach is renowned for its rocks and views and beautiful beaches. It was raining already on the ship. Both of us hid behind the umbrella, we prayed that the ship would not turn. We were surprised by the sunny weather after the arrival, it seemed as if we had won and the rain was over. We wanted to take advantage of the situation until it was sunny and head to the viewpoint. The jaw fell right after about 100 meters. Above us was a rock covered with wet clay and dirt, a look-out arrow, a picture of a skull, and a rope that seemed that we should use it didn't help us with our fear. Míša had her flip-flops, so it was clear she would not risk it. We still want to live. So we went to the caves and the beach. For the first time, we had the opportunity to bath in the waves and the magnificently clear sea. The weather lasted for 15 minutes, then it started to rain heavily. Wet as dogs, we went looking for a coffee shop where we'd have tea and dried up. We found a great place, unfortunately, it turned out that they did not even have tea or coffee and almost nothing. No surprise. I had a Turkish coffee and a meal. Later in the afternoon, the weather got a little bit better, so we went for a walk and take a bath. It was clear to us that staying in the south of Thailand with such a bad weather was worthless, and in the evening we were looking for what to do next. We were sorry to skip Ko Samui, Ko Phangan and Ko Tao, but it really does not make sense in the rain. The bus and train to Bangkok were the same as the Chiang Mai ticket for the next day. It was clear. In the morning we fly to Chiang Mai. Approximately 12 hours until departure, we bought tickets and accommodation, the world is small and there are many coincidences happening, so we met Réka and flown together the next day. National flights in Thailand are amazing in the way that you do not have to go through the visa process and everything is very fast. The plane has slipped off the ground about 15 minutes ahead of the schedule.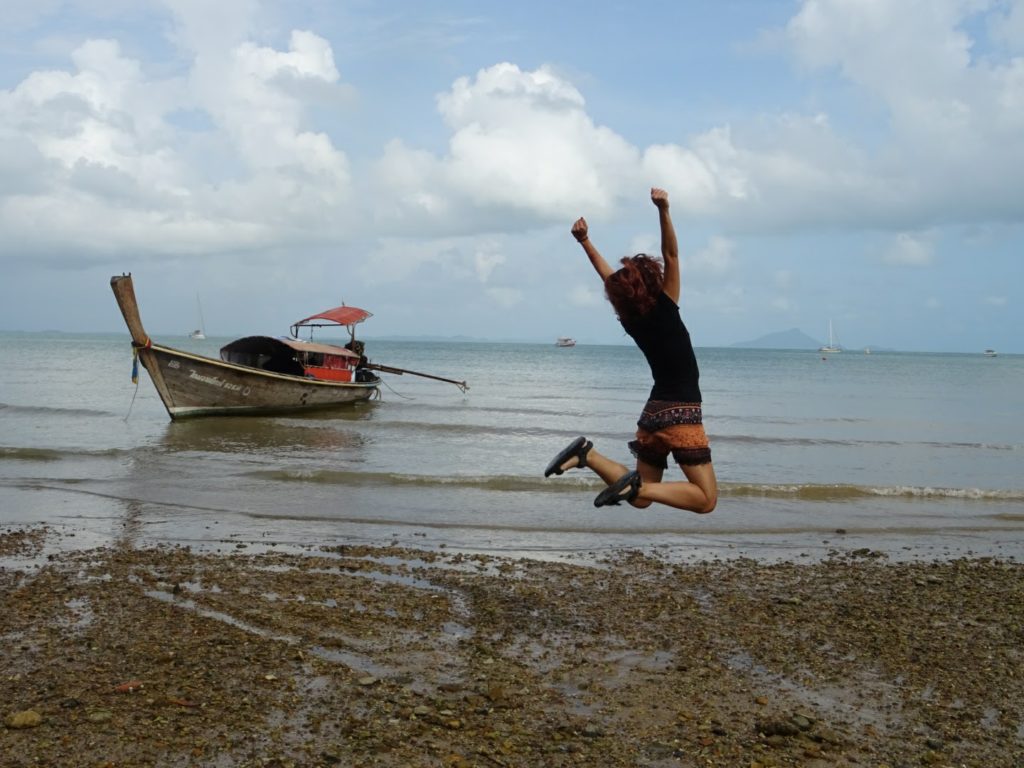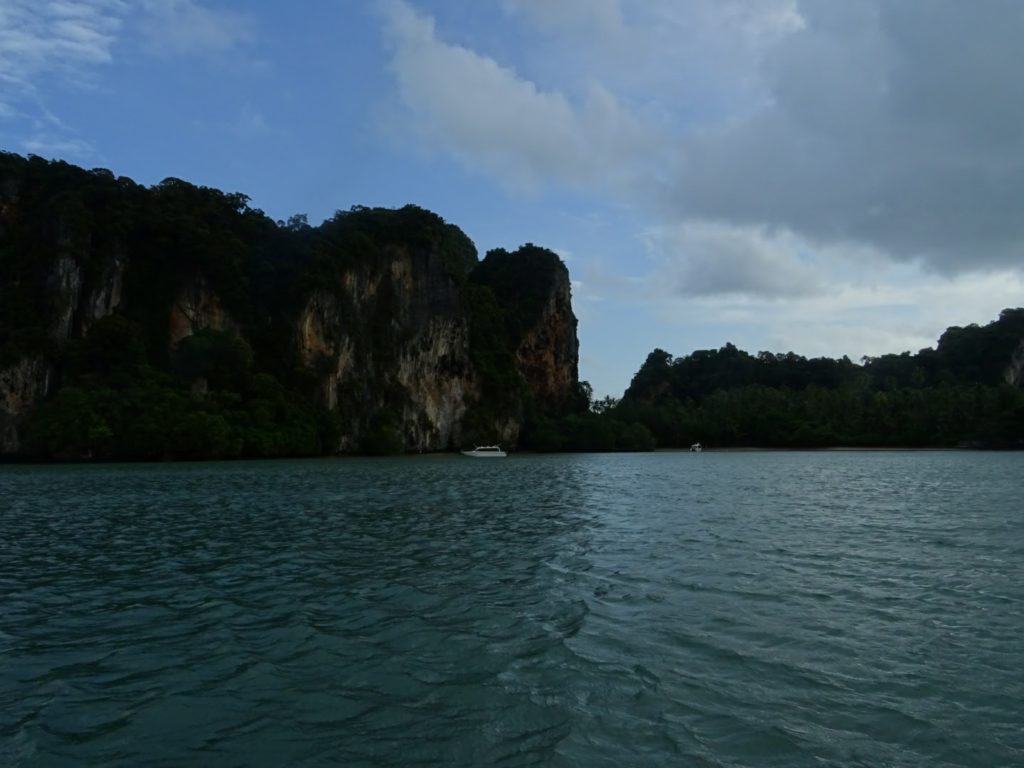 Knowledge from (not only) South Thailand:
We recommend withdraw a lot of money at once or to bring in enough money in cash. ATMs will always charge you 220 bhts for your withdrawal. Find in advance on the Internet which ATM has the highest allowed withdrawals. Sometimes it's only 10 thousand bht, sometimes up to 50.
Never accept the first price with the exception of state long-distance buses. Otherwise, you will pay at least twice the price.
Do not buy or search for European food. If you need dairy products, so go for yoghurt, there are the only ones which prices won't make you faint.
At the Tiger Temple, take a scarf (or clothes covering your shoulders, knees, and neckline), otherwise, you'll have to borrow a disgusting cloth for 40 bht. What exactly is needed to cover up is not entirely clear. Officially, shoulders and knees, Race and Mary's shoulders looked and nobody bothered me, not me (Diana), but I was scarred by the outline of my breasts, as a result, a rag was tied over them and my knees were showing.
Air Asia's airline is not rising the prices as it is closer to departure. Do not reject the plane if you need to travel the last minute, it often gets cheaper than buses and trains.
Unlike Malaysia, you will not download Google Maps in the offline version of Thailand. It's not allowed, so you do not really move anywhere without your mobile data. We have tried all kinds of applications and maps, and all of them are useless. Online Google Maps is not perfect, but at least you can search for it and plus minus it corresponds to reality.
Have you ever bought a ticket less than 24 hours into flight? Why and where? Was the ticket price hot or low? Write, we are curious about your experience!