How to pull out a scooter out of the deep sand? Míša and Diana tested it out!
The first thing after the arrival to Chiang Mai was to deal with the things Míša forgot at the airport in Krabi. Her scarf and hoodie were left at a gate thousands of km away and she wanted to get them back. Surprise, surprise. We had to go around the whole airport couple of times to get one single phone number for someone to help us. After shaking down taxis and tuktuks we finally found a songathew bus stop and got to the guesthouse for 30 bht per person.
We flew early in the morning, so we still had most of the day ahead of us, so we have decided to explore the countless temples around Chiang Mai. Réka, whom we have met in Krabi (read more about that here), joined us and we have enjoyed the whole day with her. The world is so small!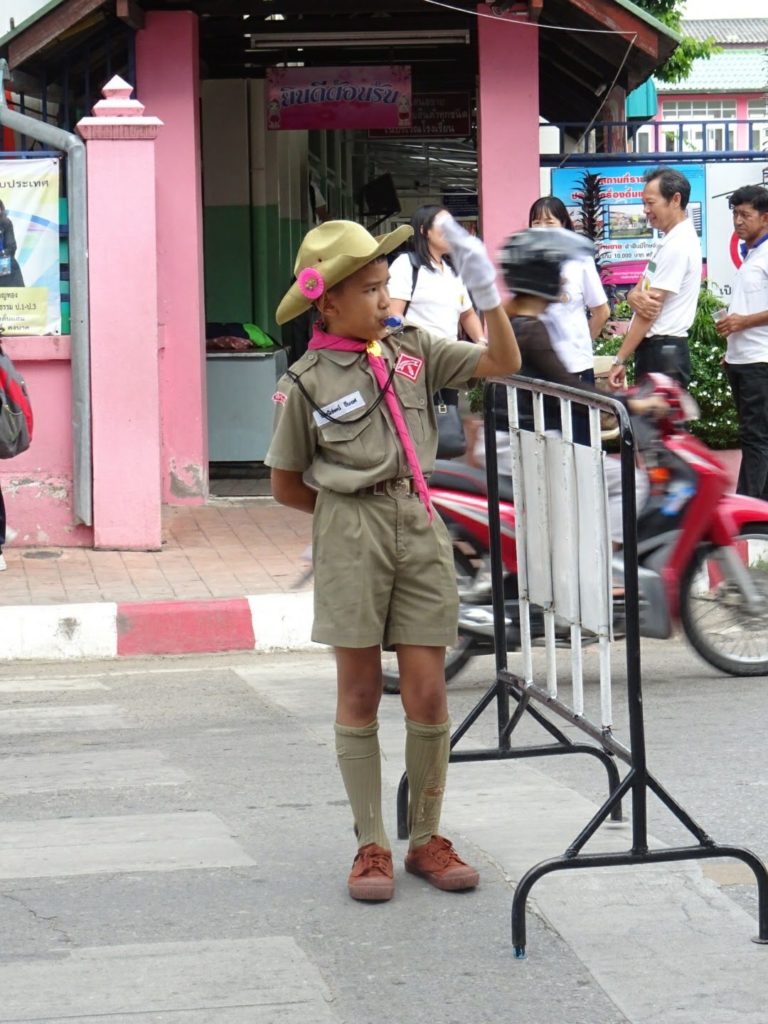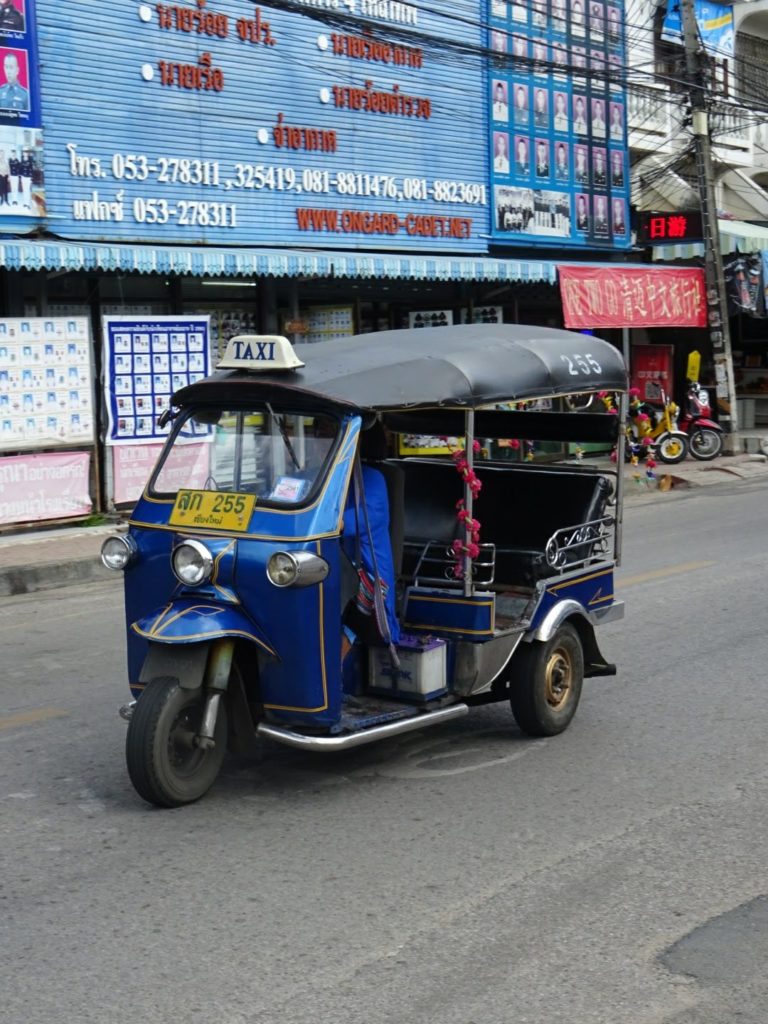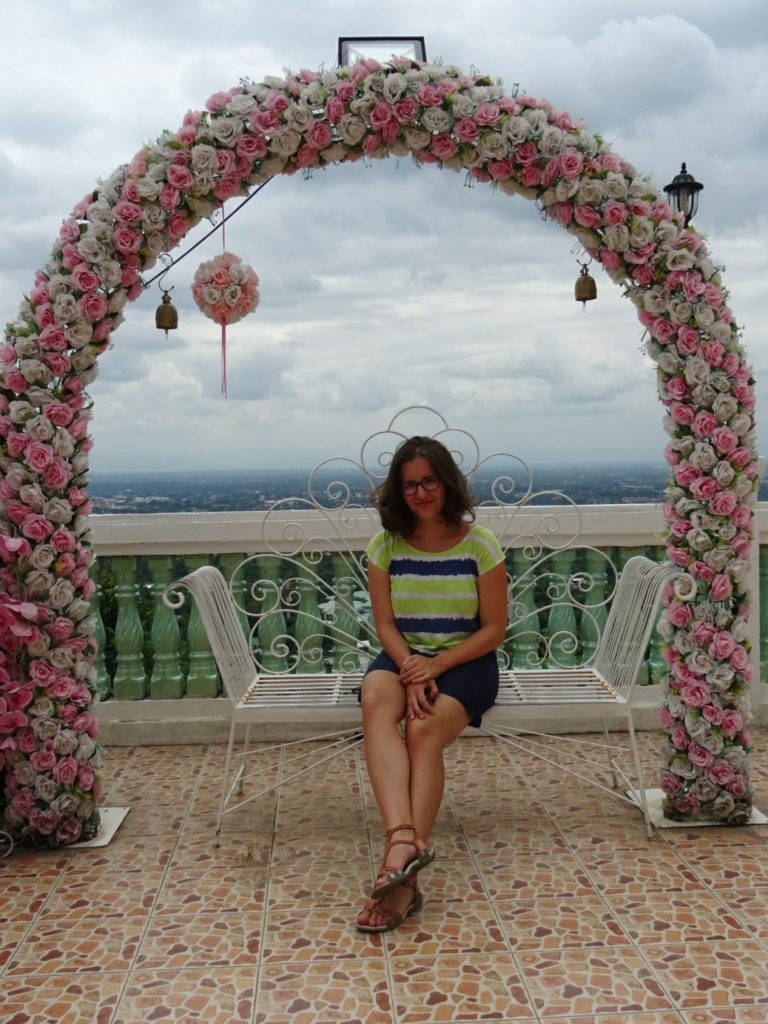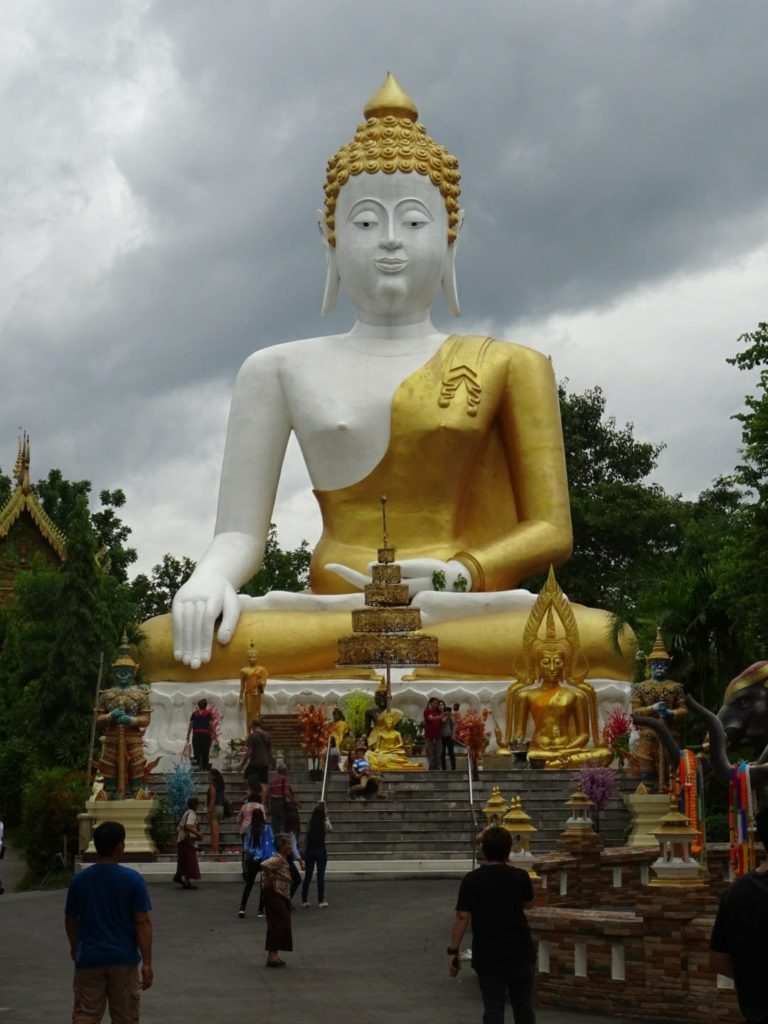 Our room has changed into a small call centre in the evening. We have spoken with most of the AirAsia offices around whole Thailand – from Chiang Mai, Krabi and Bangkok to Udon and Ubon. It was our little experiment, whether a lowcost airline in Asia can find and send over lost things. Well, they did. It just cost us hours on the phone and handful of nerves.
We have borrowed a scooter the next day and went to the mountains near the city to explore famous temples – Wat Phra That Doi Kham and Wat Phrathat Doi Suthep. Both of them were lovely, full of locals and tourists as well, but we probably expected more from it. Our fault. It was an early afternoon when we finished with the visits, so we have decided to go the the local village of the Hmong tribe, but unfortunaly it was full of shops with suvenirs and we were a bit disappointed, because it was far from a small local village. We sat back on the bike and decided to go to one of the canyons near Chiang Mai which was about 60 km away.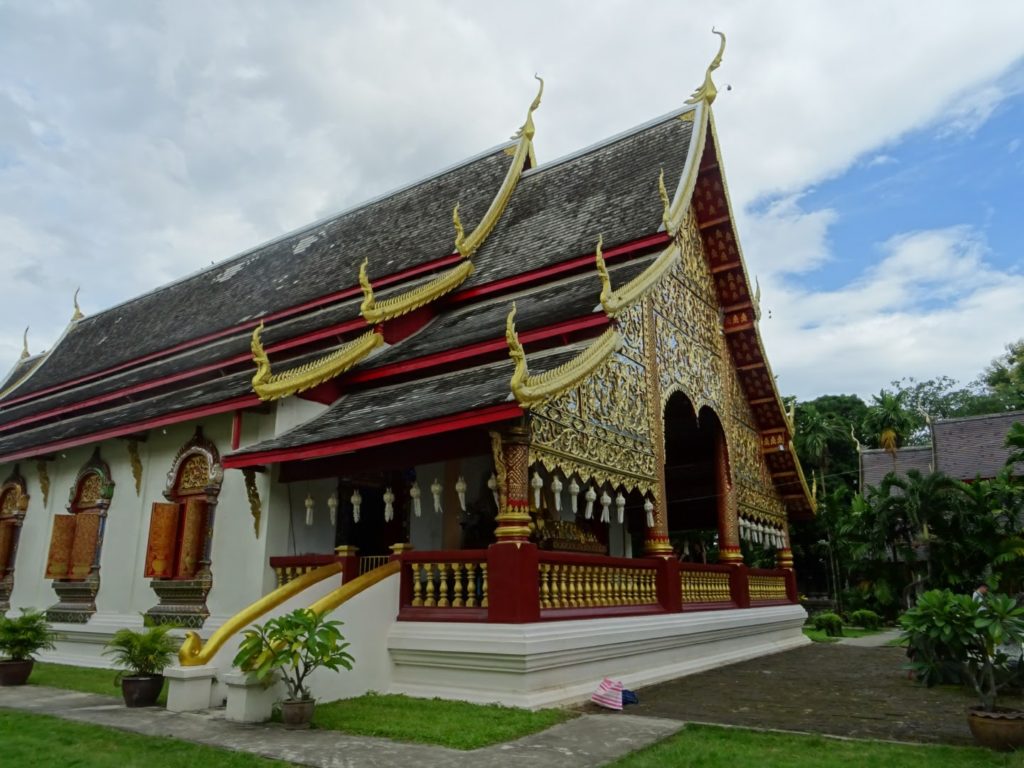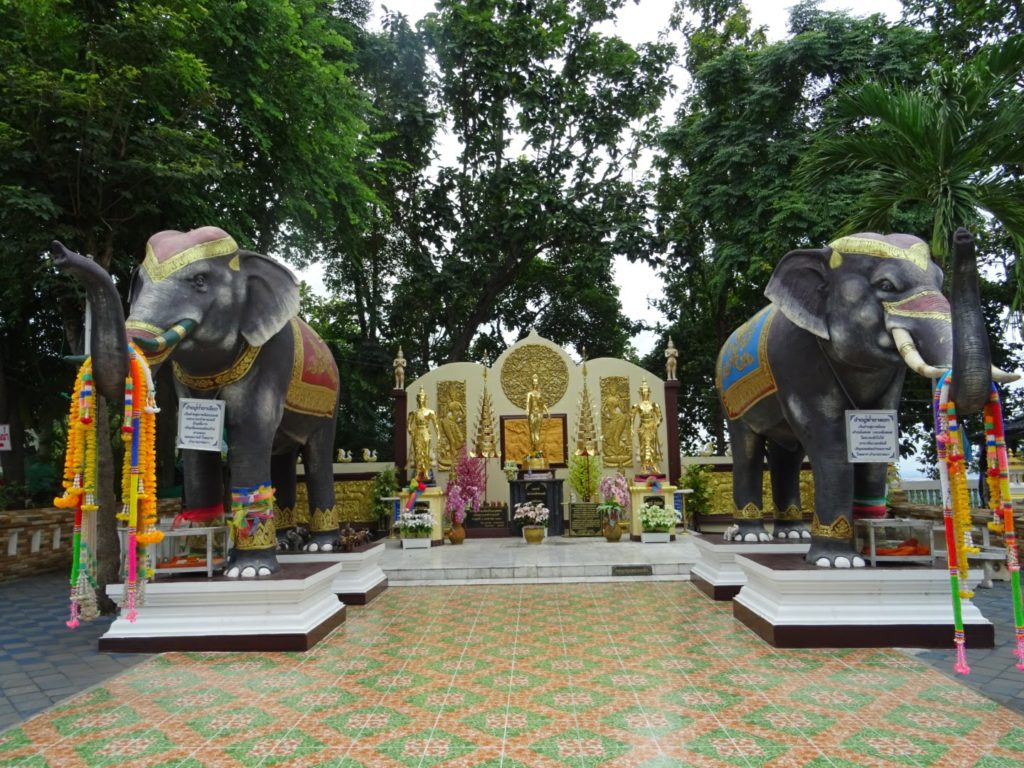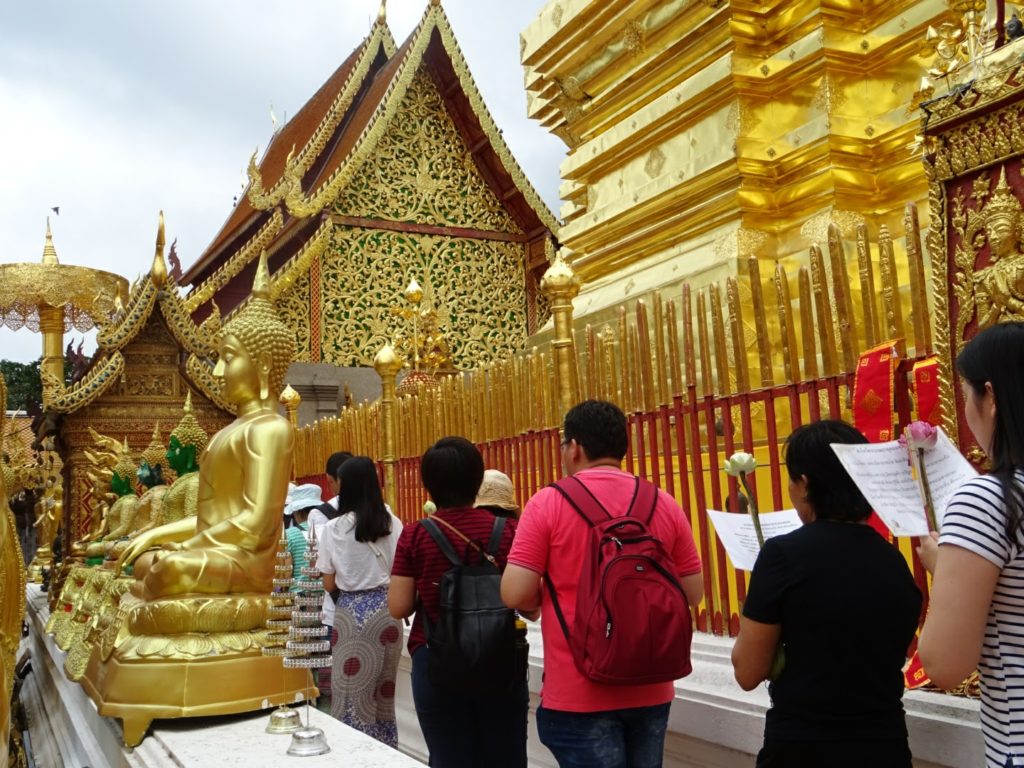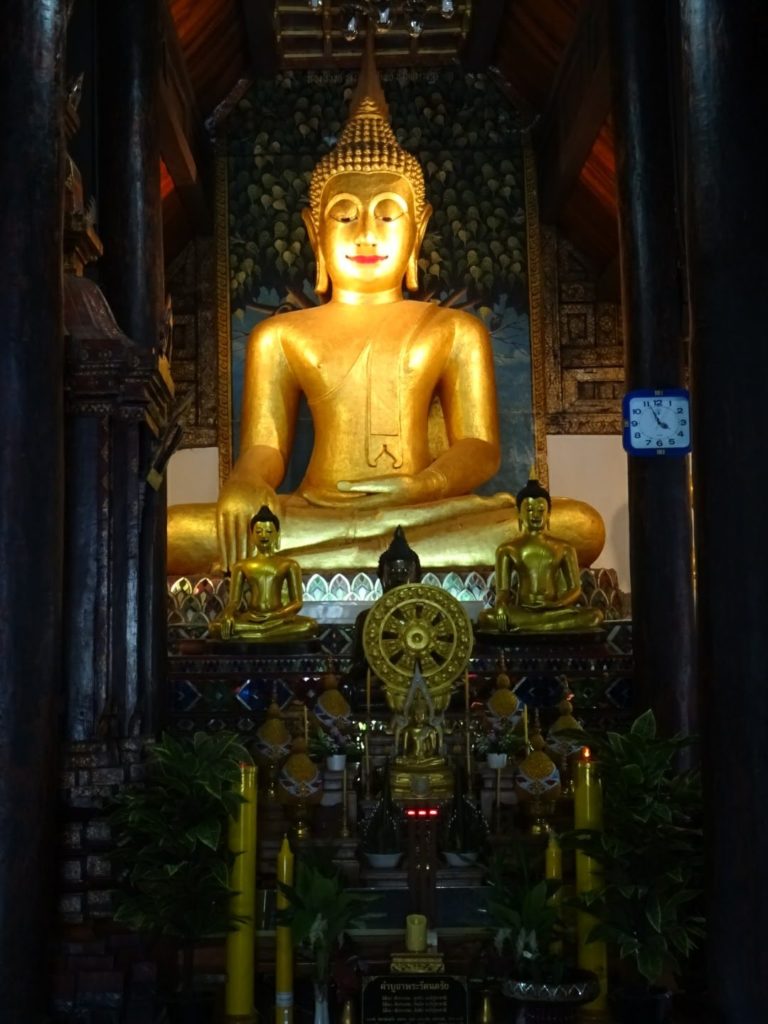 We could enjoy the views over the rice fields while on the way, but as we were on the highway for the most of the time, we were more than happy to pull out from te main road and we were loking forward to the last 10 km leading to the canyon. We got to the dam, which looked a lot bigger than on Google Maps, took couple of pictures and ate an amazing bread with olives we bought on a petrol station on the way.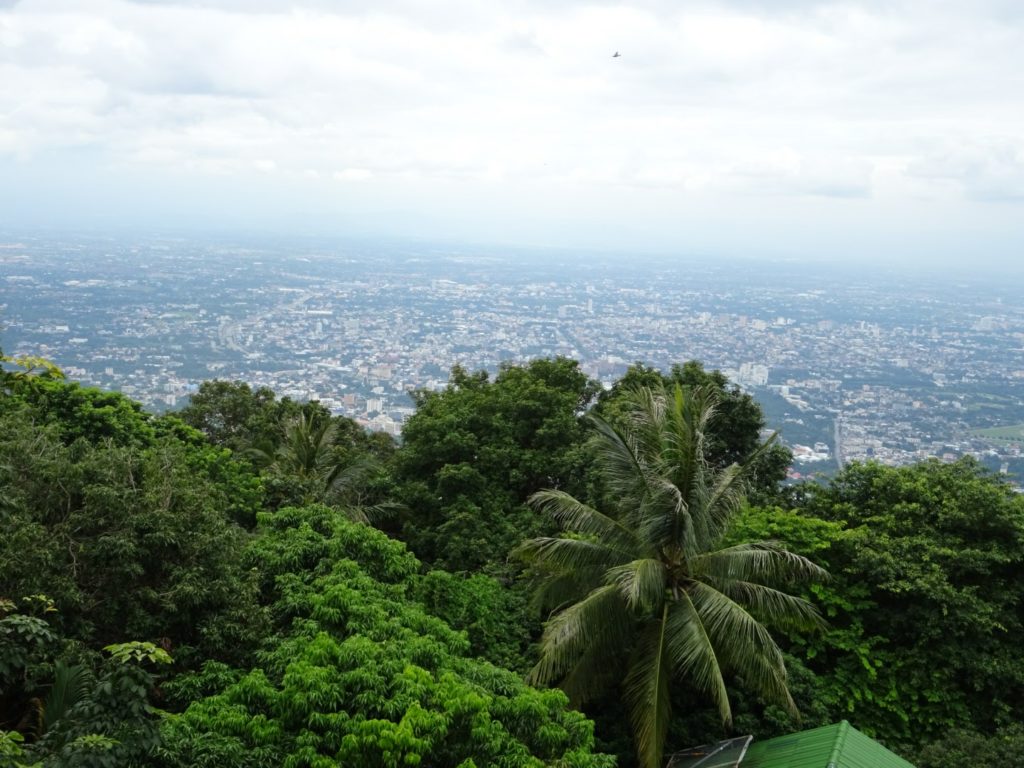 The road was more and more becoming a path full of sand and 80 km/h became 10 km/h. Only one of us at the time was driving as it was too hard to drive it in the deep sand with 2 people on the scooter. And then – scooter got stuck in the sand. We spend at least 10 mins pushing it out, we made it and continued. This situation repeated. Not once. Not twice, but again and again and again. It was getting dark and we were losing hopes and strength. You have no idea how heavy the scooter is until you are lifting it with your own hands. And if you had that amazing idea to start the engine to help yourself, please don't. Fortunately, Míša ended up with couple of tears in her shorts, scratched legs and some spines in her leg from the bush she ended up lying in.
We were about 3 km from the canyon, when we realized we are not going to make it there. We needed to turn the scooter around, but that's a lot harder than it seems. The scooter got stuck even more. Physics wasn't one of our strengths during high school, but after couple of tries, we managed to pull it out and turn it around. We could continue in overcoming the obstacles we were more than familiar with from overcoming them from the other side. The scooter had couple of scratches like us and we knew the forest is not our only problem. When we got out of the forest we were still 60 km away from Chiang Mai. We were desperate, but telling ourselves that at least, "It will be a good story for our blog". During our travels, blog basically became the reason why we started thinking positively about our fails and trust me, there was a lot more to come.
The only thing missing was still my scarf and hoodie. I elegantly parked in the wrong direction at the airport parking and lied like a homeless on the grass. Míša was looking worse, though. With a massive hole in her shorts she had to walk through the whole airport. Later on, when we got home, even small things seemed to be too heavy and hard for us as we were completely worn out. We couldn't even part the scooter on a flat surface in front of our guest house, but our landlady did it for us. It was kind of embarassing how this woman, who probably weights no more than 40 kilos, was moving with no effort with that heavy beast – our scooter. Maybe some Thai genes. I sometimes wish I had them too.
I washed the scooter the next day to make it look less bad. We were worried about how much they'll charge us for the scratches on it, but we completely missed out that the left brake was bend. We were more than happy to pay only 640 bht and went for the full body massage, I was looking forward since the first day. My advice is to find a masseuse who speaks English, because they talk to you no matter whether you understand or not and they have no clue what you ask them for. I'm not sure whether a massage of boobs is a normal thing over there in Thailand, but I certainly realised how small their hands are. 🙂 We paid 250 bht for an essentail oil thai massage, which were certainly money well spent.
Visit of Chiang Mai was an unforgettable experience for us and we couldn't wait to see Chiang Rai. We left with Míša´s belongings, but I left my mug in Chiang Mai. It wasn't pleasant for neither of us as you don't wan't to see me without her everyday portion of tea. 😉
Tips:
Chiang Mai is best to be explored on foot.
When renting a scooter, ask for insurance. We found one of the few companies who offered it (Bamboo Bikes) for 40 bht per day. Complicity is usually around 10% of the price of the new scooter, it was 3500 bht in our case and we were more than happy that we had it although we didn't need it in the end.
Don't try to refuel the scooter by yourself, the practice in Thailand is that someone else will do it for you.
Scooter, motorbike… anything with two wheels is usually called "bike", don't be surprised if they call it like that.
Find a masseuse who speaks at least basic English and dont drink too much water before the massage. After belly massage, you'll most certainly need to go to the toilet.
Did you have any curiosities happening to you on your travels recently?