We almost missed the semifinals of WYC…
Yes! We were shortlisted to semifinals! Do you have no idea what we are talking about? Check out our previous post. You might think that the way from the Czech Republic to Budapest, Hungary should be for experienced travellers like us easy peasy, but it wouldn't have been us, if we hadn't been really hungry and when I mean hungry, I mean that we almost missed the train because of it. Fortunately, Míša joined us later in Brno so we had a chance to ask her for catering. McFlurry, french fries and KFC Twisters, three times. Yes, please! We survived 2 h 30 mins to Brno. Not gonna lie, maybe only because the people in our carriage gave us a banana and an apple. Yes, it was this bad.
The ride to Budapest takes only about 6 hours from Prague, so we didn't even have time to get bored. We had to plan our presentation and think about what we are going to wear. (Yes, four girls in a team, what would you think was the biggest problem?) Appearance can make a big difference, but of course, the presentation itself was the most important, but we didn't want to underestimate anything.
We will leave the honest review of our "luxurious" hotel for some upcoming article, would you be interested? The next day, We, and the rest of the semi-finalists from the whole Europe, went to the conference room and after the introduction from all the CEOs, CCOs, CMOs and Cidontknowwhat, the semifinals began. We had about an hour until our presentation, so we had a snack and revised what we were about to say. "Don't be late!", they repeated at least 5 times and we chuckled, because we all know, that being on time is the key. We watched the time carefully, that wasn't a problem, but changing the schedule was. We were supposed to be there 20 mins earlier! No one told us and we had a bad feeling, we have just missed our chance. Fortunately, we were lucky enough to be let in later. We knew that our numbers weren't on point, but at least Diana's grandma's strawberries with an ice cream were! She was feeding us with them the whole weekend at the cottage, when we were making the presentation. Even though everything was perfect, we had a good feeling after the presentation.
After our "minutes of fame", we had time to explore the city, before the announcement of the finalists was taking place. What to see? Check our tips.
OK, cool. You are still waiting for the results, right? Unfortunately we didn't make it into final, but at least we were in top5 in our group. Later in the evening, we have heard that we were in TOP 5 teams from our group, but unfortunately, only 3 could go to the finals.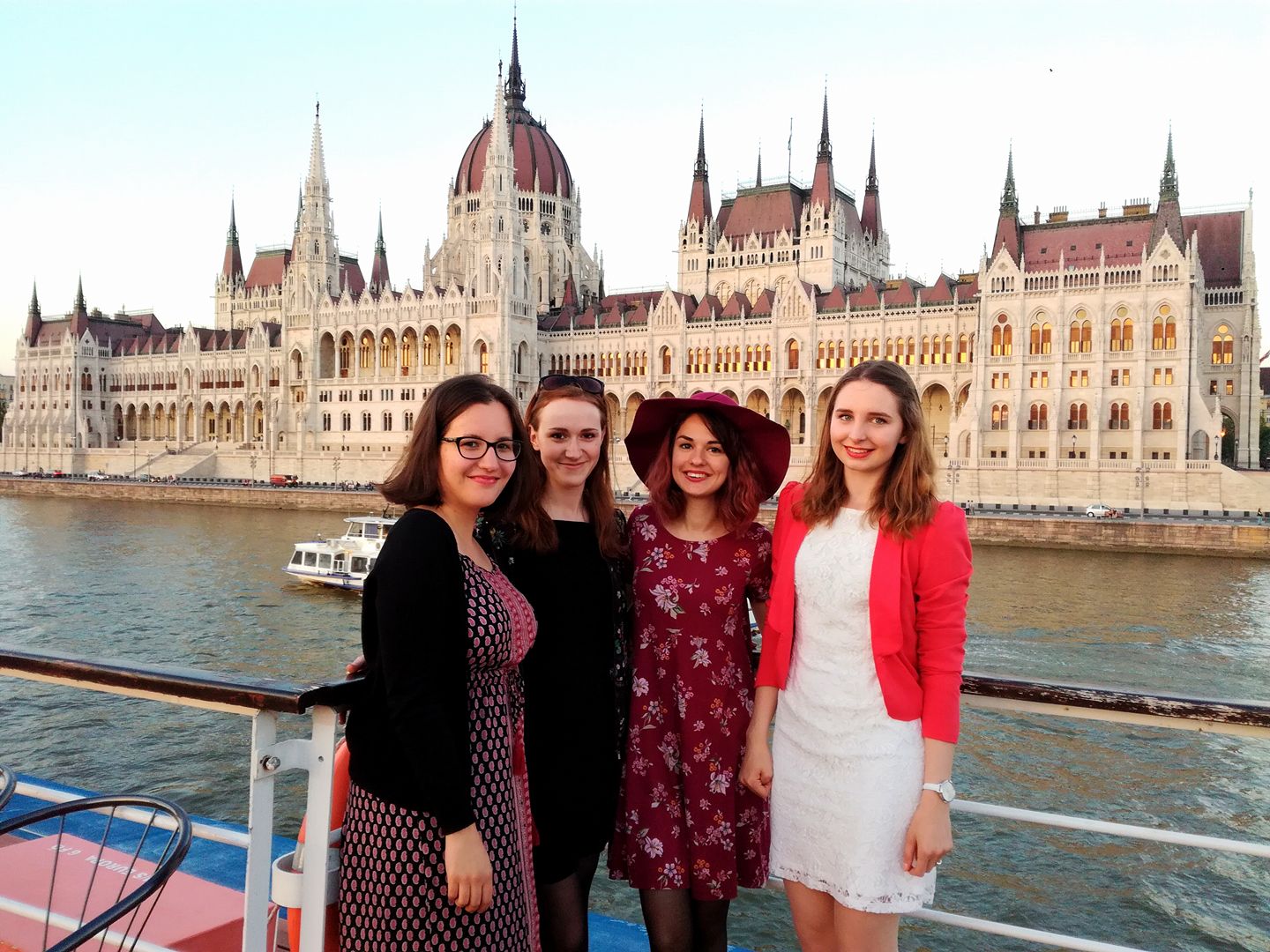 We still had 2 days until departure. We went to the baths; we saw some sights, had dinner on the boat and partied, of course. It was a relaxing time, we all needed before the exams time took place.
What did we take from this experience? New contacts, new friends, new experience and two very pleasant trips – to Jizera Mountains in the Czech Republic and Budapest. We definitely want to compete next year again. How about you? Will you join us next year?