Cambodian countryside – Kratia and Battambang
The original plan: Dubai–Singapore–Malaysia–Thailand ended up including Cambodia as well, as you probably realize now. Most of the people come here to see Angkor Wat and Phnom Penh. We thought that it would be a shame not to give a chance to nature and countryside too, so in spite of the fact that we had only a couple of days, we went to see Kratie and Battambang.
Kratie
Kratie is known for Irrawaddy dolphins, who live in the Mekong river and only in few places around the world. We have never head about them before, so don't worry, you are not the only ones.
To see the dolphins, you have to take a longtail boat from the Kampi village, which is about 15 km away from Kratie. You can either go there on a bicycle (which we didn't do after our experience from Siem Reap) or to take a tuk-tuk.
In most of the places, we have been to, the tuk-tuk drivers follow you everywhere and you can't shake them off, but not in Kratie. We couldn't find a single one for about an hour! Our happiness caused by finding one ended soon, when he took us to Hotel Dolphin, after a couple of gestures, he understood and we were on our way again. Well, not to Kampi, but to a local pharmacy, where the only English speaking person, our driver knew, was. Try nr. 3 – "The journey might be longer, but it's worse too." Even Diana, who enjoys turbulences in aeroplanes felt a bit sick, but at least we have seen the real countryside.
We arrived at Kampi just on time as there were two other people – Seb and Helen from the UK, with whom we could share a boat. Finally we have found someone in front of whom we didn't felt like the biggest weirdos on this planet when we explained our desire to save some money.
After being on the boat for about 45 mins and not seeing anything, we were already thinking, that we can add this to our list of fails. But then suddenly Diana saw a dolphin's tail! Since she was the only one who has seen it, Míša started being sceptical about it, because Diana didn't have her glasses on. I'm not gonna make it any longer, we have seen them! Not one, not two, but a whole bunch of them. It was magical.
The tuk-tuk driver wasn't able to tell us the price, but we have googled that it shouldn't cost more than 10 USD. We gave it to him and he didn't protest, maybe we should have given him less, but the 10 USD was worth his effort.
We had curry that evening (Diana's first during this trip – yes I am ashamed). Míša decided to relax in the room and Diana went for a drink with Seb and Helen. It wouldn't be me if nothing extra hadn't happened. This time it was an electricity cut. As I got to know later, Míša "enjoyed" it a lot more than me – in the shared shower on a different floor than our room was. Thank God that Cambodians are super helpful! The receptionist (male) was more than happy to hold Míša's falling towel.
The next day, we have used the service of our favourite Post Office Vans (the full review is in here) and went back to Phnom Penh and then took Crystal Express to our next destination – Battambang.
Battambang
We came there, like most of other people, mainly because of the Bamboo Train. What's so special about it? This single rail railway with "trains" (basically bamboo on wheels), which is driven by a simple engine, can be easily dismantled. Why is it important? You find out when you meet a train from another direction. It's made out of bamboo because it's so light, that it makes it easy to carry. I was shocked when I learnt that this "train" can carry up to 3 tons of rice.
At the end of the ride, you'll get a 20-minute long break before coming back. Everyone, including little children, is trying to sell you sth. We were glad we left earlier than after 20 minutes. After the ride, we were told a couple of times to tip the driver. We have nothing against tipping, but we hate to be forced to tip, especially, when we weren't exceptionally happy with the service.
Knowledge from rural Cambodia:
The most popular political party in the countryside is the Communist party. You can see billboards and ads on most houses and about every 100 meters along the road.
Lower prices, less tourists… I can't NOT recommend Cambodian countryside.
It might take a while to find a tuk-tuk, so when you see one, do not hesitate for a long time and act! 😉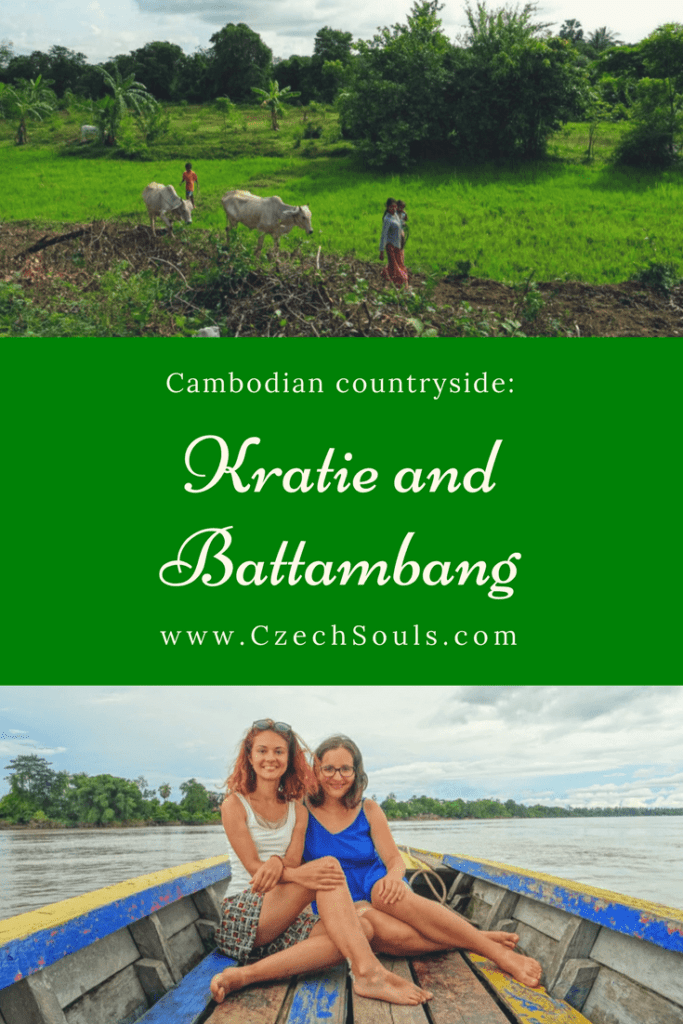 Do you tip everytime, when you should or only when the service is exceptional?