Do I need to speak English well to study abroad?
People often ask me: Do I need to speak English well to study abroad? How to write in English without mistakes? Is it worth paying for the proof of a native speaker from time to time? Are foreign students expected to have perfect English? In today's article, I will introduce you to a few tips and tricks.
Are foreign students expected to have perfect English?
The level of English you are expected to have certainly depends on the level of the university where you study or plan to study. There is also a difference between the requirements (which you always have to fulfil) and your abilities in academic English. That is also often related to the country in which you are located and what is the mother tongue of your teachers. In my experience, teachers are not too bothered by mistakes in English. This might have been the case for me, though, firstly because I know English relatively well. Secondly, because I use a sophisticated system of control – Grammarly, Internet search, and proofreading by a native speaker when writing seminar papers and essays in English. But I'll tell you more about that in a moment. However, I suggest you focus mainly on the content and quality of the work itself than on your English.
How to write essays and seminar papers in English without mistakes?
This extension to the browser, email, and MS Word is just great. In the basic free version, it checks your spelling and basic grammar errors. On top of that, I really appreciate the choice between British and American English. Grammarly will underline your mistakes and offer you how to correct them. When writing an email, it even shows you a smiley according to how your email will probably be perceived. This can help you make your emails sound formal or friendly, depending on whether you are writing to a professor or a classmate.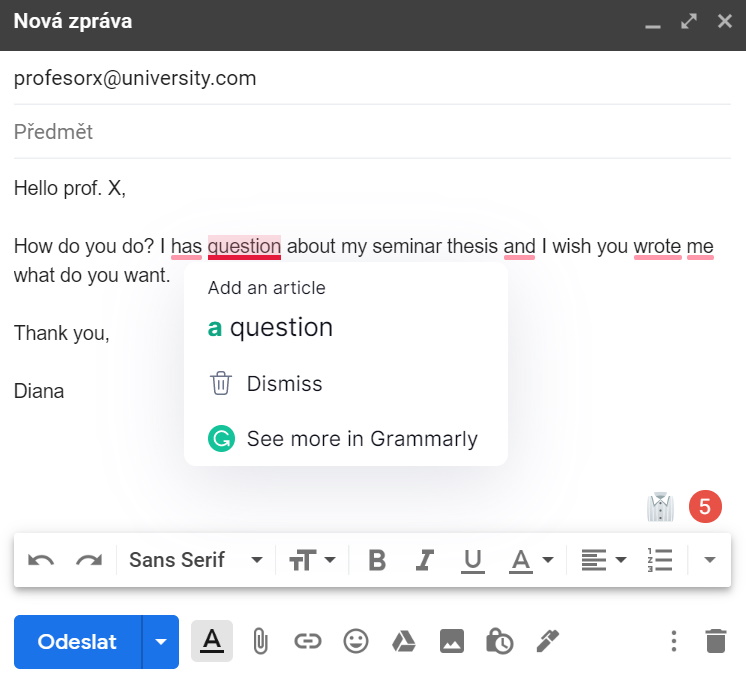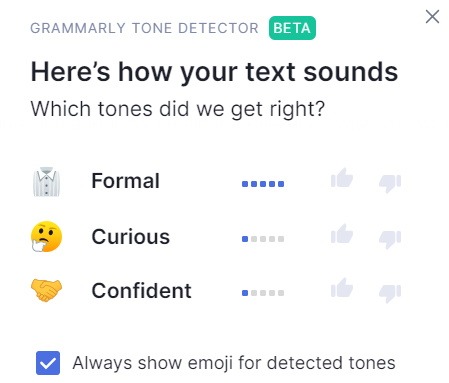 I would recommend the paid version to anyone who writes more than just one essay/seminar paper in English. In the paid version, Grammarly Premium also checks for plagiarism if you write according to the genre you have chosen, repetition, readability, and much more. It is often necessary to think about Grammarly's suggestions. It will not save you if your level of English is shallow. By itself, it cannot know if changing the tense of a verb would not change the meaning of what you are trying to convey. I have a paid version for about a month now, and I can't praise it enough.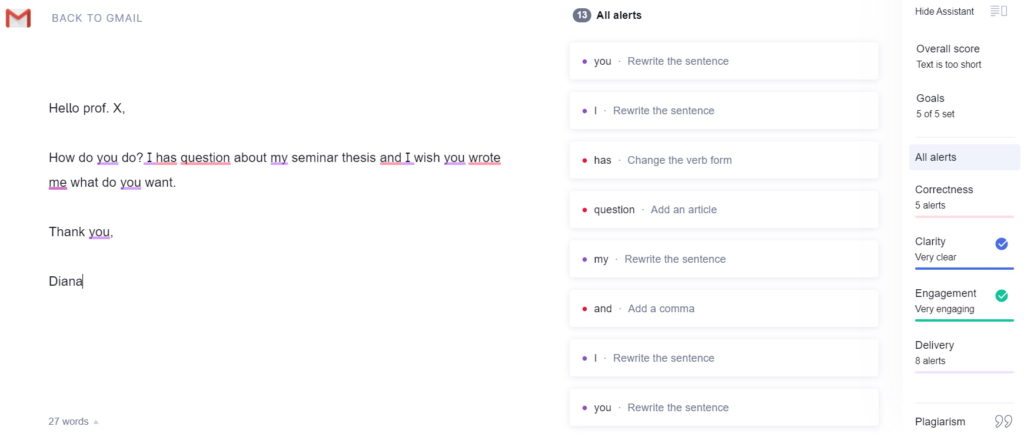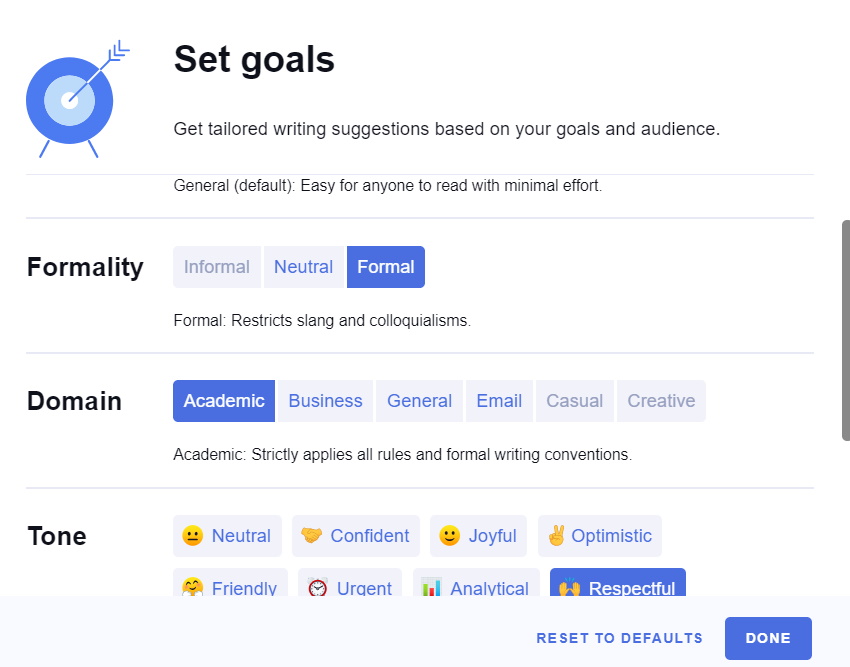 You can download the basic version for free here. We get a few cents from each download, but it doesn't cost you anything, so thanks for using our link! For the paid version, you will pay almost $30 monthly, but if you pay directly for a year, the price goes down to less than $12 per month.
Internet search
Many of you may imagine Google Translate, but I often go to various synonym and antonym dictionaries on the Internet when writing essays. One of my most used is Thesaurus.
If you are not sure how and if a phrase is used, it can often help to look at different forums where others have the same questions. Another option is to throw queries into Google and compare how many results Google has found for you. This usually works well when checking for which preposition is better suitable with a given verb.
Proofreading by a native speaker
If you have friends or acquaintances who are native speakers, you have won. But I don't want to encourage you to abuse them. 😉 I have never paid for proofreading by a native speaker. Still, I know that only a few people take advantage of the possibilities that are offered by many universities. Look for free conversation or proofreading by native speakers and free courses in writing academic texts. In Leipzig, where I study, we have the opportunity to consult anything with a native speaker 10 times per semester for 40 minutes. I saw that something similar exists, for example, at Charles University in Prague as well. Similarly, when I spent some months in England in high school, there was also such an opportunity.
Personally, however, I would not pay native speakers for proofreading essays and seminar papers as it can get costly. I would save that for a thesis, CV, or cover letter.
What techniques did you know, and which ones do you already use?