Palestine – country of the kind people
First of all, don't trust what you see in media. Palestine is a safe country to travel to and in fact, it should be definitely on your must see list, or rather – must experience list. Palestina has many historical sights – Bethlehem, Jericho, the Dead Sea, Ramallah, Hebron… but why is it in my opinion important to come? Because of the people and history.
The Palestinians are probably the most welcoming people, we have had encounter with during our whole trip. Starting with our amazing couchsurfing host Basil, who patiently answered all our questions about life in Palestine and showed us around. Not only places of common interest, but also his favourite places where to eat, he introduced us to his friends and even to people who could fill in our gaps in Palestinian view on the conflict in the country. We can't be more grateful for everything Basil has done for us and for sure, he made our stay very special.
Bethlehem
How to get to Bethlehem (Palestine) from Jerusalem?
There are probably many possibilities, but I can recommend taking a bus 231 from Damascus gate for 6,80 ILS. The way takes somewhere between 40 to 100 mins depending on the traffic.
What to see and do in Bethlehem?
Any tourist guide or website will probably tell you to see the Church of Nativity, the Omar mosque, Stars street, the Wall and the Walled off hotel with Banksy's paintings… but what they don't tell you, is that you should get lost in the city and observe people. We lived with Basil in town called Beit Sahore, which is so close to Bethlehem, that you wouldn't be able to tell where Bethlehem ends and Beit Sahore starts, so we had the chance to walk to Bethlehem and meet children coming back from school, ask for directions to strangers and be the only "lost" tourists. It's a perfect chance to interact with locals.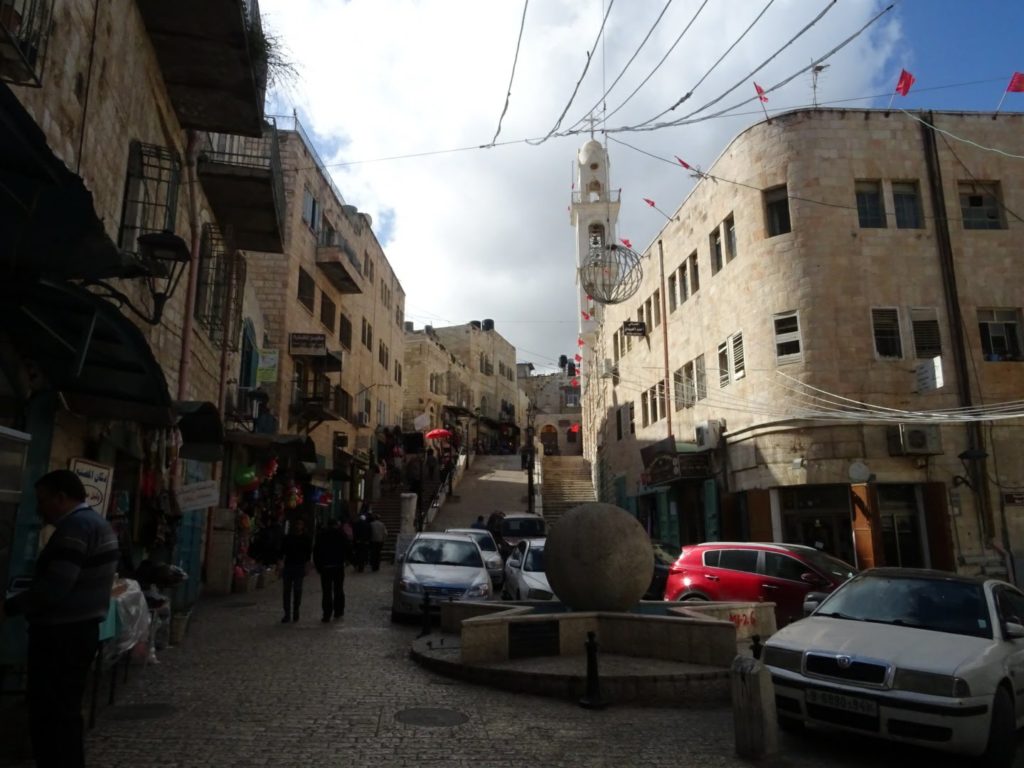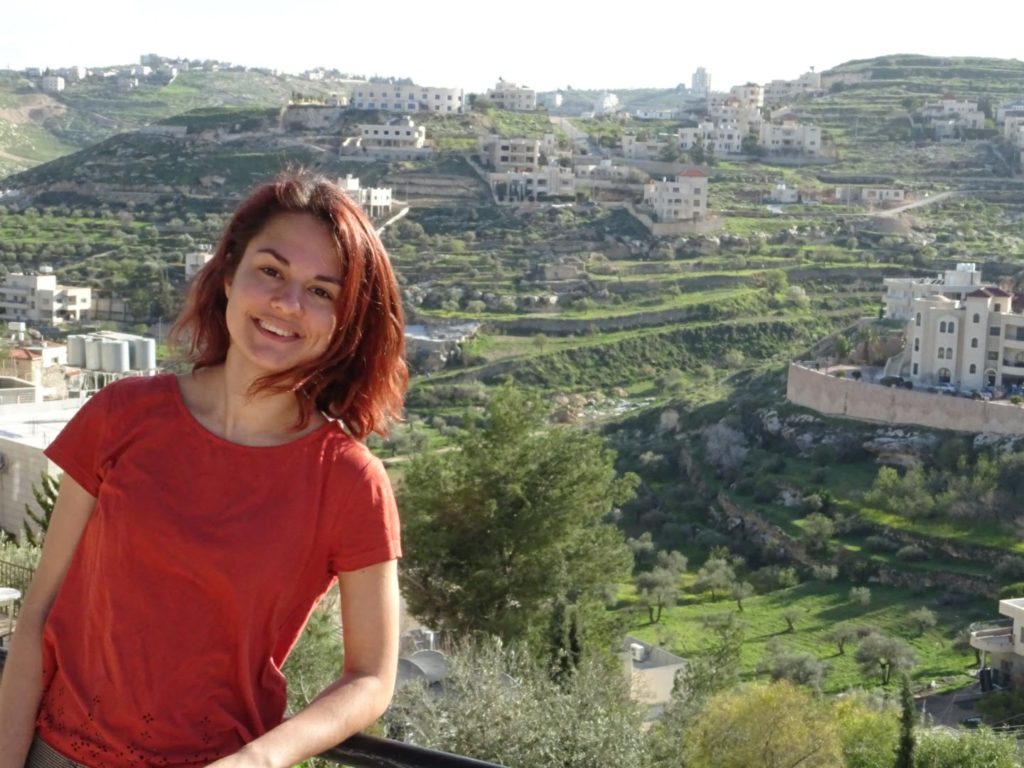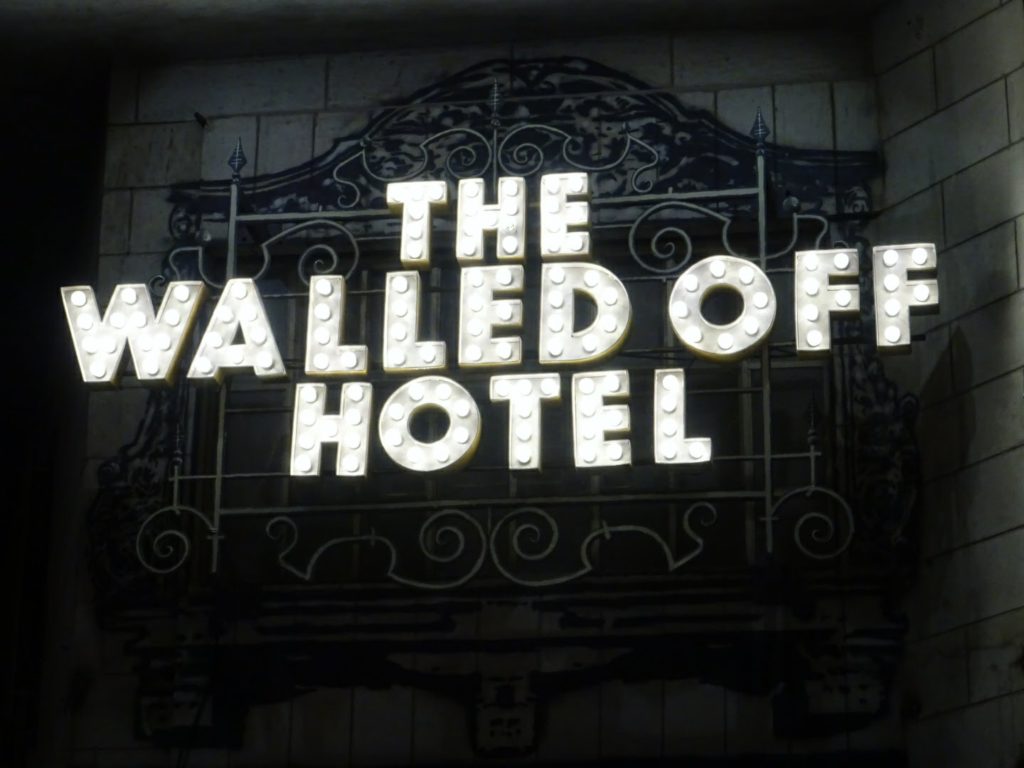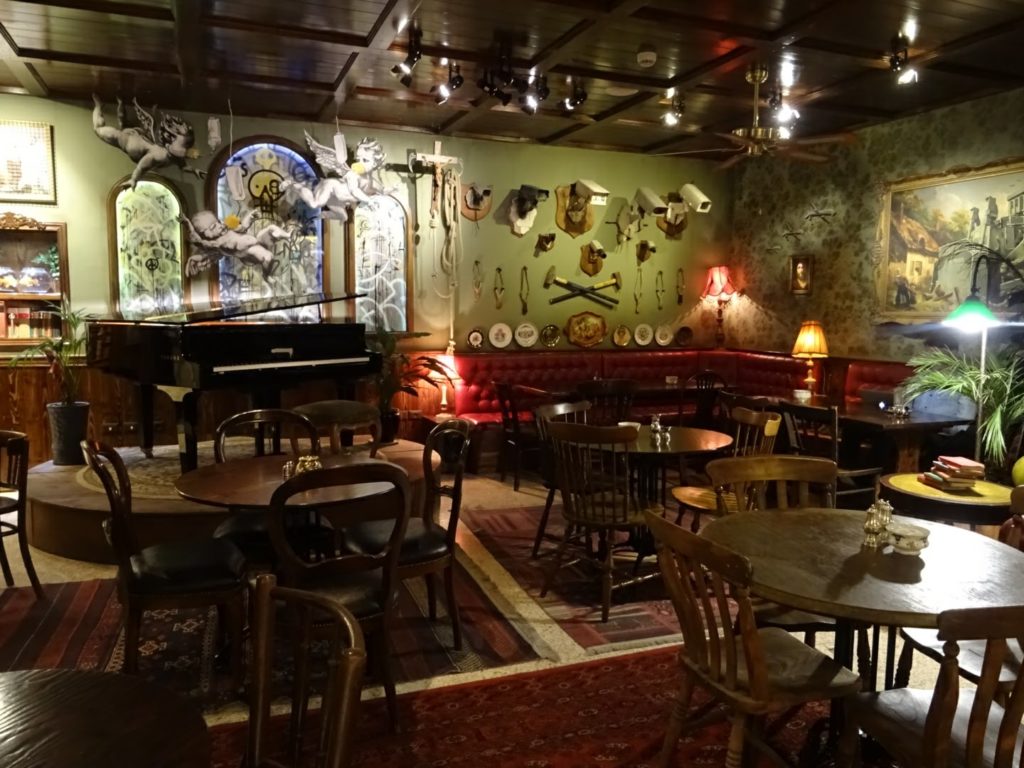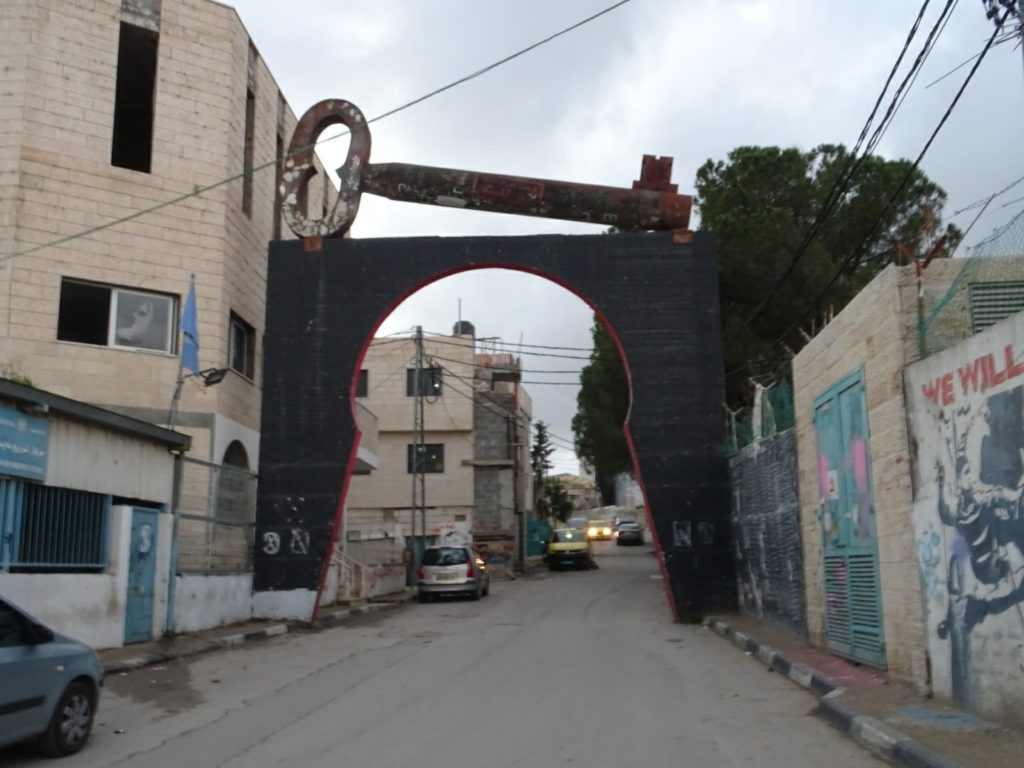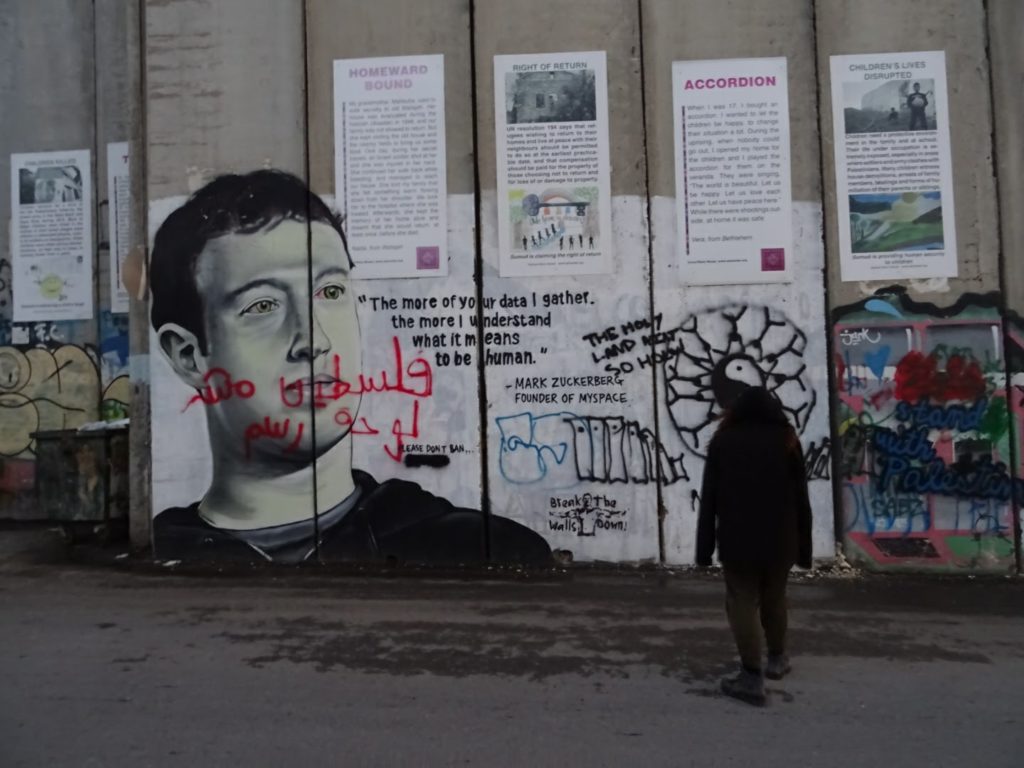 There are couple of things you have to try, when in Palestine. First of all, tea from Samir. Usually you can find him walking along the Paul VI street, or come to his house (turn right before the long stair near the old market and take a first turn left into the small street, where his house will probably welcome you with open doors), where he will serve you the best tea you have ever head – fresh herbs, ginger and black tea. Samir doesn't ask for money, you give him as much as you value his tea. If you spend half an hour chilling in front of his house, you'll see plenty of locals coming by for exactly the same – tea.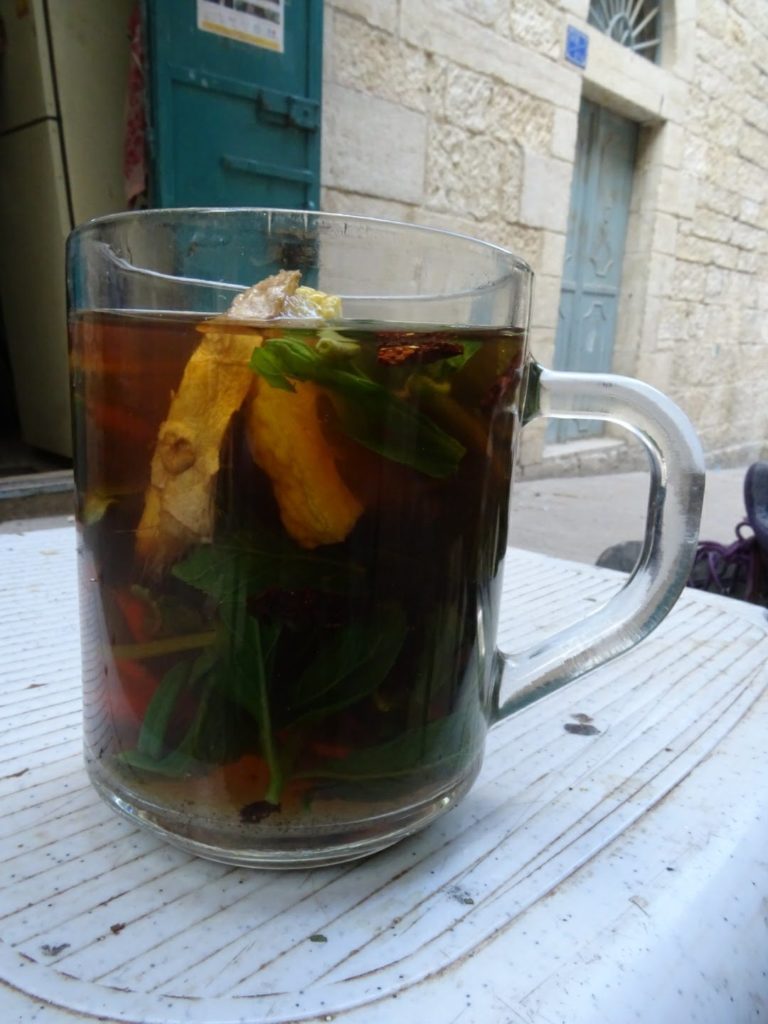 Another thing is Knaffe. Its a hot cheese with a crust made out of sugar and usually pistachios on top of it. It sounds strange, it tastes strange, but it's surprisingly good! If you leave Palestine without trying it, it's as if you haven't been here.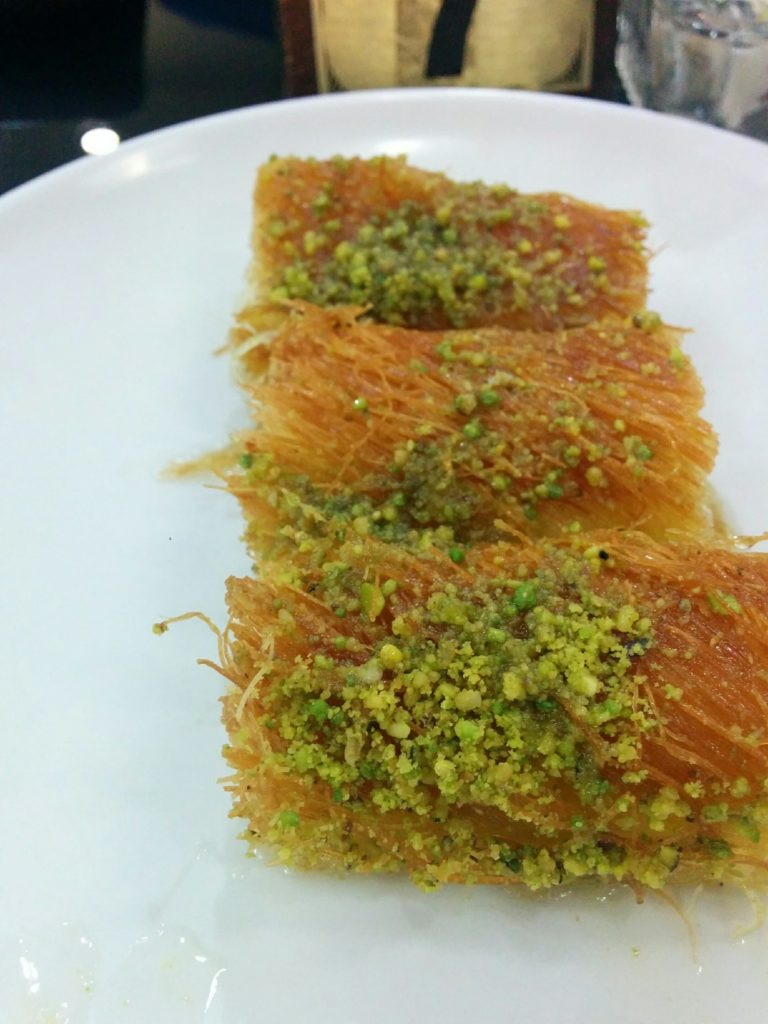 If you are missing European food and travelling to Palestine, I have good news for you! There is a place where they make the best pizza out of fresh ingredients. You won't find it on the main street, but ask any local in Bethlehem or Beit Sahour for Il Forno and they'll point you to a hidden street where locals go for the best Italian food and burgers in town. Served with love.
Having a local contact can help you a lot as there are many things about life in Palestine, which you can't read about. We have had a chance to learn what difficulties and discrimination Palestinians face, Basil also introduced us to profesor Mazin B. Qumsiyeh, who wrote books such as Sharing the Land of Canaan: Human Rights and the Israeli-Palestinian Struggle and told us more about Palestinian resistance. From what I have experienced, everyone in Palestina is mostly concerned about you having a good picture of Palestina. They want to tell you about their lives, everyday miseries and problems with Israelis, but mostly they want you to be happy, feel comfortable and spread good word about Palestine and as you can see – it works, I do, because I feel obliged to say that there is no place I'd feel more welcomed in than Palestina.
How to travel around Palestine? How to get from Bethlehem to Jericho?
If your base point is Bethelem like for us and you want to see more of Palestine, go to the central station (or take any of the yellow minivans because they all head there) and ask around for your destination.
The price to go to Jericho is 25 ILS per person, but if you don't want to wait for your bus to get full, you might need to pay more, after one hour of waiting, we decided to pay 40 ILS each.
Jericho and the Dead Sea
The main tourist attractions of Jericho (except for the fact that it's the oldest city in the World) are monasteries – namely Monastery of Saint George and the Monastery of the Temptation, to visit them, you have to take a taxi. If you want to visit the Monastery of the Temptation, you can also take a cable car which starts less than 2 km from the city center. The cable car costs 60 ILS per person, so we decided to take a taxi, which takes you all the way up for about 20 ILS (one way), depending on your haggling skills. To get to the desert to see Saint George monastery, prepare about 60 ILS each way. Both monasteries are very nice, but mostly from the outside and for the views.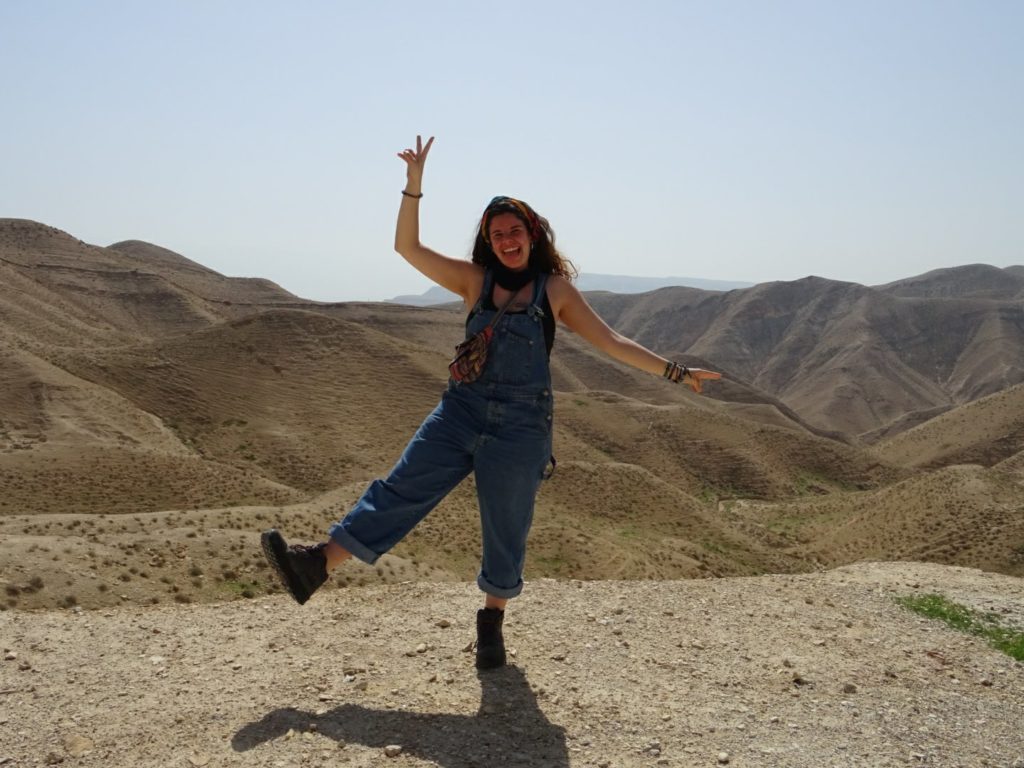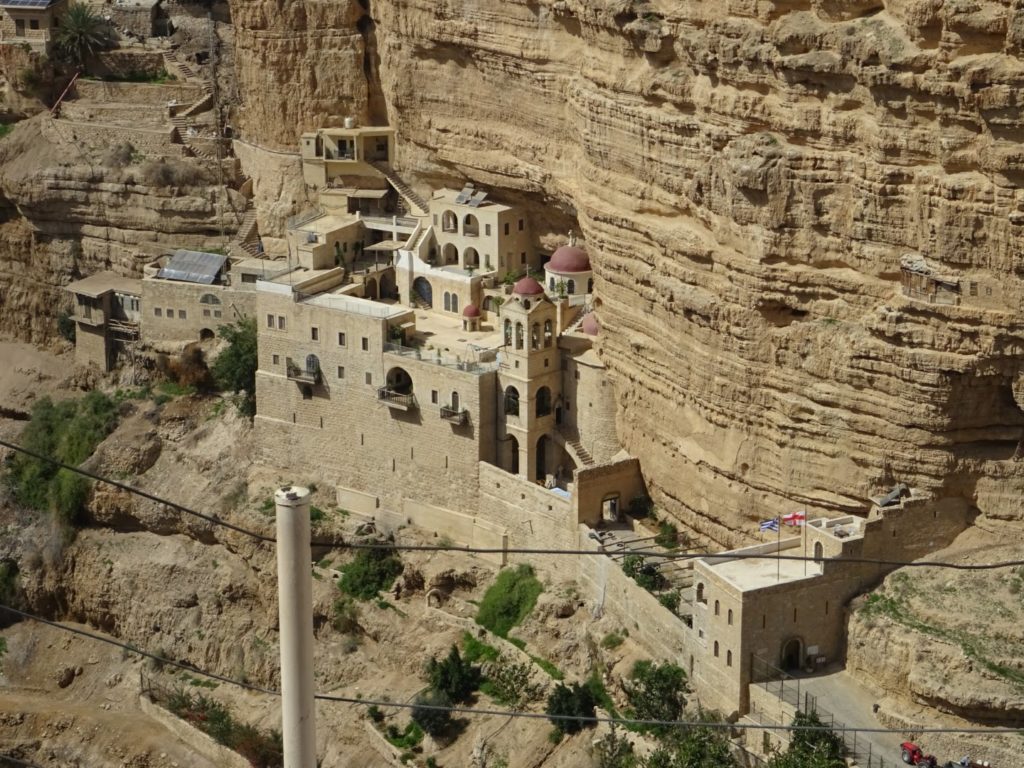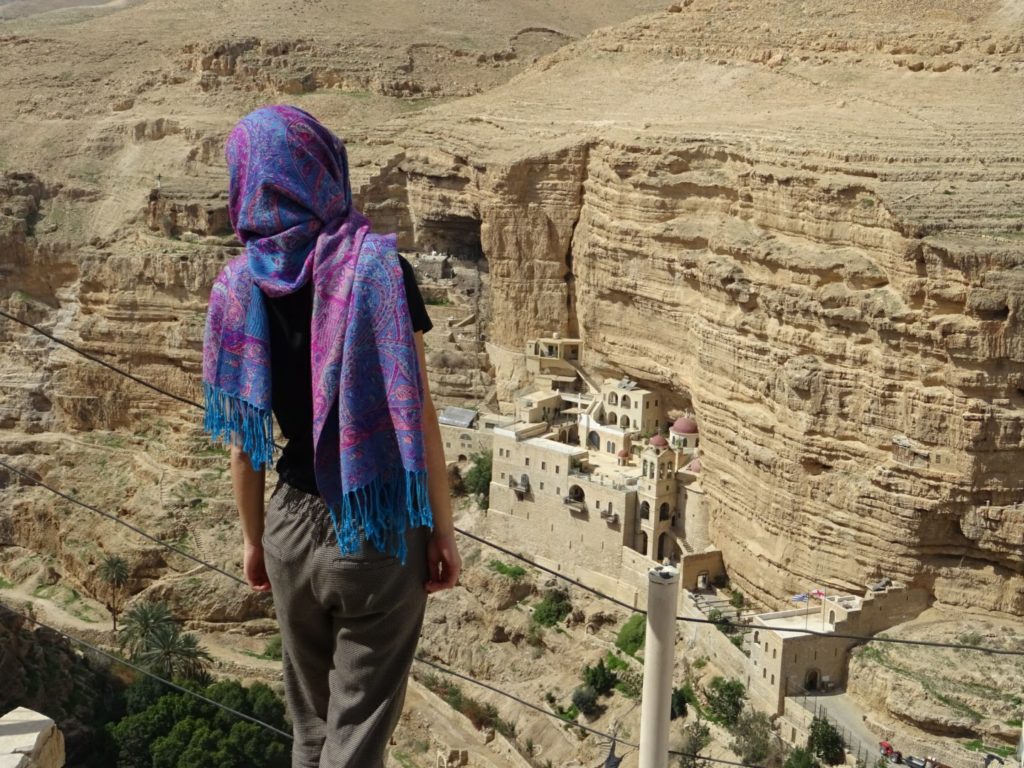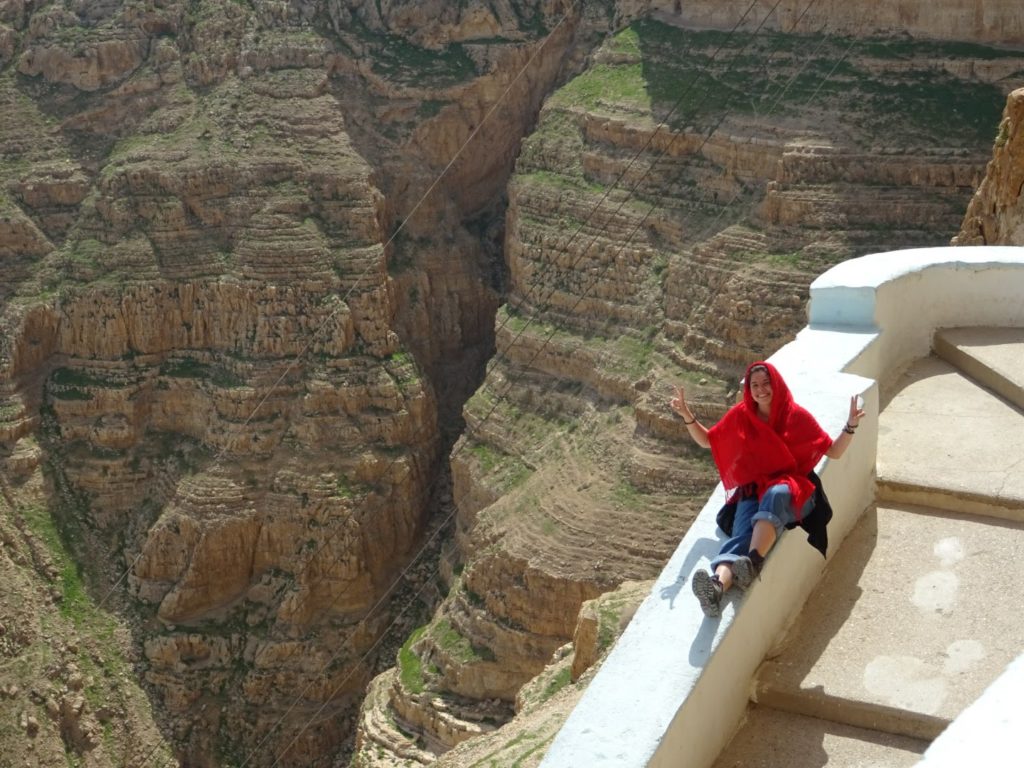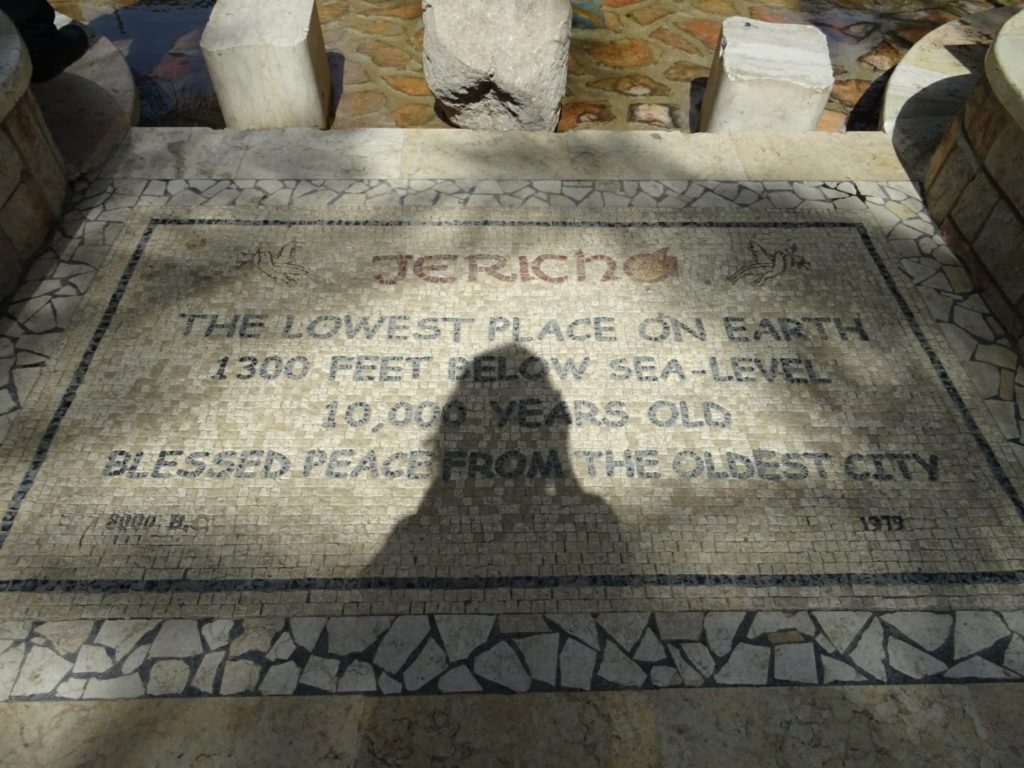 The next place where to go is for most people the Dead Sea, the most saline lake in the World. If you want to make it in one day together with Jericho, you have to take a taxi again, try to find someone who has a contact at one of the beaches and can get you in for free or cheaper, otherwise you'll have to pay not only 60-80 ILS for the taxi, but also around 60 ILS/person (49 ILS for students) for an entrance fee. (Kalya beach) You can also get to the Dead Sea by bus from Jerusalem (Egged company), there are buses coming couple times a day stopping in the biggest town En Gedi. We don't have experience with that, but the ticket can't cost more than 60 ILS, this bus is usually full, so go and buy yourself a ticket in advance. It is possible to buy the ticket online, but only in Hebrew, if you don't have a friend who speaks Hebrew, it is nearly impossible to do it, the app/website is not intuitive.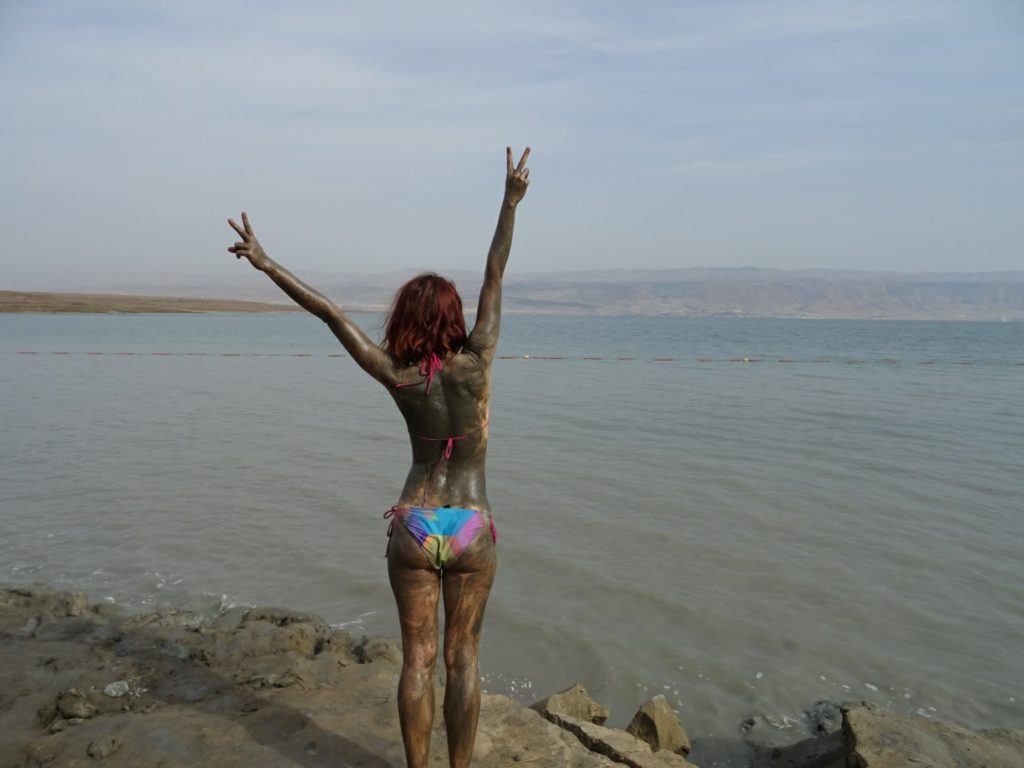 Knowledge from Palestine:
Palestine is safe for travellers/tourists.
Palestinians drive like crazy. Don't rent a car, because there are no rules and the driving style is very wild.
You can and should haggle. But surprisingly we haven't experienced people trying to cheat on us with prices too much. They ask for more, but it is not 5 times more or so as you might expect if you have ever visited any developping countries.
Food is cheaper than in Israel, but the prices are still high. The souvenirs are a lot cheaper.
I am not sure if it's allowed, but It is possible to take a little bit of mud from the Dead Sea with you. It's a nice memory and good for the skin.
I have learnt to expect unexpectable like learning how to dance salsa on a Palestinian salsa party.