Becoming post(wo)men and learning about history in Phnom Penh
After seeing the Angkor Wat, we have decided to explore more of Cambodia. In this article, you'll hear more about how to travel around Cambodia, but also what to see in its capital – Phnom Penh and Cambodian horrific history.
How to travel around Cambodia?
It was time to move again. We chose Cambodia Post minivan travel company and they took us to the capital. It was the best choice ever. They offer a great service. Go for them while in Cambodia.
They pick you up in your hotel if you book them at least 24 hours before departure. Their vans are new, clean and comfortable. You will highly likely stop at one post office in every 3 hours and only for a couple of minutes. The drivers usually speak only a bit of English (limited by "break" and "toilet"), but people working at the post offices speak very good English. Are you afraid of getting hungry on the way? They stop at lunchtime/dinnertime in restaurants/shops/gas stations, where you can have a meal for about 3-5 USD. Ask for the prices first as they tend to rip off tourists. Sometimes, They have even free wifi in their minivans. Many and I do really mean many bus companies in Cambodia offer really bad service. I highly suggest to look up for reviews before booking or choose Cambodia Post. Some bus companies are stealing things from their passengers or force them to pay again in the middle of the journey. One bus company was even accused from attempted rape.
What to see in Phnom Penh?
This city has so much to offer. First of all, we went to S-21 prison (Tuol Sleng Museum), where Khmer Rouge tortured and killed thousands of people. We had expected to get quite emotional and sad during the visit, but it was not as bad as we had expected. I mean, it was more than bad, but we managed not to cry. Borrow an audio guide, it is definitely worth it for the 5 USD and it's very well done, otherwise you can't understand what happened there properly.
We were also really looking forward to visiting the night market and the riverside. Mekong riverside might remind you of California or France, it's clean, wide and beautiful. Go there, buy some food at the stalls and enjoy your time.

On the following day, we went to Killing Fields. Yes, people from S-21 (Tuol Sleng Museum) and other prisons were killed there in inhuman ways. Audio guide explains to you what happened there, but I'd make sure to visit S-21 first. I know that in Europe/western countries, we don't usually study Southeast Asian history in schools a lot, so I feel I should state some facts about the Khmer Rouge regime for you. These facts shocked us a lot.
Dictator Poi Pet and his Khmer Rouge ruled Cambodia for 4 years (1975-1979).

¼ of Cambodians died during the Poi Pet regime.

People were killed on the streets, in prisons… everywhere. Waterboarding and other techniques were commonly used.

People from Phnom Penh were sent to the countryside. They were forced to work 12-16 hours a day on the fields, even though they often had no knowledge about agriculture. Most families were separated, because people were divided by gender into working units. The conditions were severe and here in Europe, we would probably call those units as concentration camps.

Cambodia was liberated by Vietnamese communists and that's why it took more than 10 years before the west recognized it's new government.

Khmer Rouge were representing Cambodia in the UN long after the end of the regime – until 1999. That's more than 20 years!
I hope that you got an idea of how bad the Khmer Rouge genocide was now. We feel that people in other counties should know what happened in Cambodia, because 20. century tragedies didn't happen only in Rwanda and Europe. Try to remember, how many hours have you spend studying the history of Asia, Latin America and Africa in school. Not many? So did we. It's a pity and we should definitely do something about that.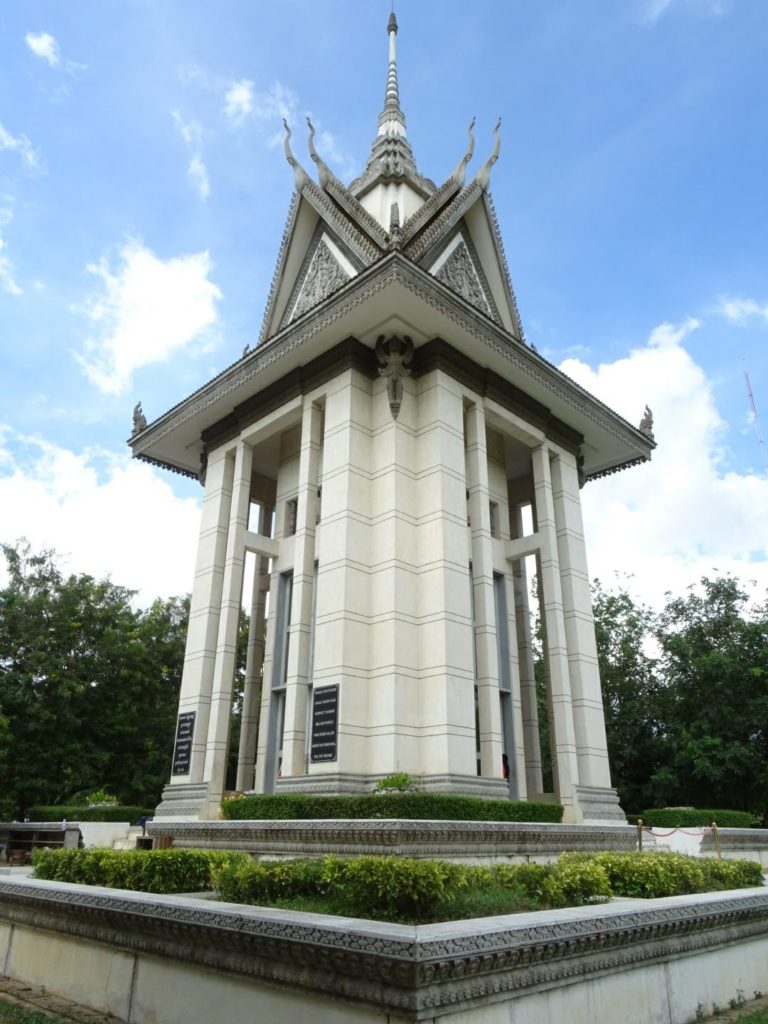 Knowledge from Phnom Penh:
If you want to skip Tuol Sleng (S-21 museum) and Killing fields (which I urge you NOT TO), then walk around the Royal Palace and National Museum. I wouldn't go in again as it totally wasn't worth it, you can't take pictures and can't see much.
Be careful about the exchange rate between riel and dollar as locals tend to rip off tourists. You'll pay more than locals anyway, be aware of this fact, you can't avoid it.
If you want to use data on your phone, but a SIM card in the official Smart operator store. You'll pay 3 times more anywhere else. (It costs 1 USD, but locals in other stores will charge you 3 USD.) Internet for one week costs one dollar too and it's fairly fast even in the countryside.
You know we love Uber and Grab. Unfortunately, neither of them worked in Cambodia, when we were there (Uber should soon.), so we tried the local version of it – Itsumo. The app has it's flaws, but the drivers found us faster than Grab usually does in other countries and you can even opt of Tuktuk! This helped us a lot in not getting scammed.