The most beautiful temples in Lampang, Sukhothai and Ayuthhaya
We got to spend several days in countryside, but then we started missing Thai temples 🙂 so we came back to the civilisation. From  Thoeng we took buses through Chiang Rai (63 bht), Chiang Mai (102 bht) to Lampang (50 bht), which is lovely city located in the middle of nowhere.
Are you wondering why Tourists from all over the world are coming to this city? They are keen on visiting Wat Prajomklao Rachanusorn. These pagodas were built on the tops of the hills. I swear you would love it these. 100 bht entrence fee is definitely worth it. We were amazed by the breathtaking views.Are you afraid of long hike to from city to the pagodas? Don´t be! A car will give you a lift and then you have to climb just appx. 200 stairs.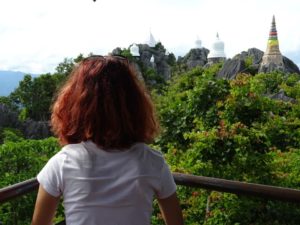 From Lampang we went down south to Sukhothai the following day to visit " the clods". We both love history, but sometimes we find a funny nickname for a place and keep using it, it just stays. You can find many half-destroyed temples in Sukhothai, which look like clods from afar.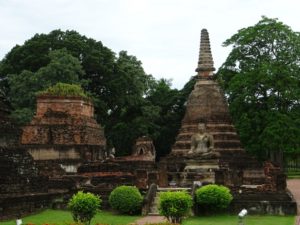 Our bus stopped few metres from the historical park main entrance,where we were asked to pay 100 bht per person and went to explore the park. In the whole park we met just couple of turists, so we got plenty of time for exploring.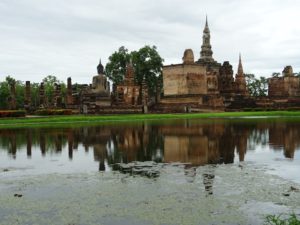 In the afternoon we continued to another former capital of Ayutthaya. The journey was horrible and it took 8 h insted of stated 5. It was midnight when we got there, so we needed to get to the hotel quickly. We took overpriced taxi, unfortunately thatn´s not the end of this story. Our hotel was already closed, when we arrived.
We had to sough new hotel. We went back to the main street and found a nice hotel near the train station. The receptionist offered us room for 750 bht for the night (9 hours), which is three times more expensive than we usually pay for a room in Thailand. We did not want to pay so much, so we agreed on calling his friend who has a hotel nearby, where we paid just 500 bht.
In the morning we borrowed bikes and went to explore Ayutthaya. On the bikes we cycled around the whole city, visited temples and enjoyed the whole day. Admission to each costs 50 bht, we only went to see one, because you see the entire temple from afar. On the way back we simply followed  road signs and supringly we ended up on highway We turned back and guess what we saw? There were many turist behind us who  thought we had a clue where we had been going. In Thailand, an elephant can go along the highway, so it wasn´t too bad.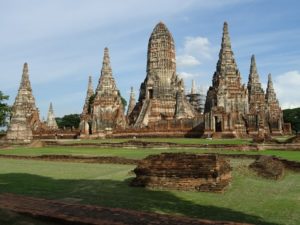 Do you also love exploring historical sites in foreign countries as much as we do? 
Tips and ticks
There are many bees around Lampang. Watch out!
Local bus from Lampang to the Wat costs 20 bhr.
Many films have been filmed around the pagodas area. What a coincidence we manage to  to watch one bloody horror few days after in a local bus.
You can rent bicycles in Sukhothai, but the historic park is quite small, so walk there.
From Ayutthay to Bangkok, 3.class trains cost 14 bhts and VIP trains cost 393 bht. Go for 3.class, you won´t regret. Carriages are pretty ok, clean and safe.