The heart of Malaysia – Kuala Lumpur and surroundings
What to see in Kuala Lumpur? We will also tell you how to travel around Kuala, from where to have the best view of the Petronas Towers and where to eat.
Three days in Singapore passed really quickly and we went to neighbouring Malaysia. First, we spent the day in Melaka, an important city for Malaysian people. It was here where  Malaysia's independence was announced and it is gained a great importance to the local people. Tourists are more likely to discover small churches, mosques and night markets. We have often read that there is an interesting Dutch neighbourhood in the city, but ´few streets built in Dutch style didn't impress us. After a day in Malakka, we took a bus and drove to Kuala Lumpur, the capital of Malaysia.
Kuala Lumpur
How to travel around Kuala Lumpur?
After two hours, we reached the main bus station in Kuala, where we wanted to call Grab. This app works as Uber but is more widespread in Southeast Asia. Like Uber, it offers free fare discount codes, which we have used a lot.  You just need a local number and download the application and have, of course, internet, which you can cheaply acquire when buying a Malaysian SIM card. Drivers get sometimes lost and do not have navigations, so we had to wait for 50 minutes, even if the driver was 5 minutes from us.
Do you think this waiting time is too long? In Kuala Lumpur, local traffic is literally for two things. It is recommended to transport only between two train stations or a monorail. They do not have trams and buses ride as whenever they want. People at the City Hall apparently realized this year, and they launched 2 free GOKL bus lines that attract tourists to the main attractions. Buses run every 5-10 minutes, they are not overcrowded, but they never bring you right in front of a particular place. Be careful.
Where to eat in Kuala Lumpur?
When you get to know the city, go for something to eat. Local food is worth a bit of stress. We tried all three major food streets. At Kasturi Walk, you will find a luxury street food and adjoining market. If you do not choose anything, you can head to Chinatown where you can also buy flowers or souvenirs after a meal. We enjoyed Chinatown more, we had it close to the accommodation, and the stalls sell cheap fruits. Locals recommended Jalan Alor street restaurants, which we actually didn't like that much. There you can choose from about twenty restaurants that have an almost identical menu. If you can not choose as we did and you are not a big fan of spicy food, order Singaporean noodles that are full of vegetables and not as hot as most others.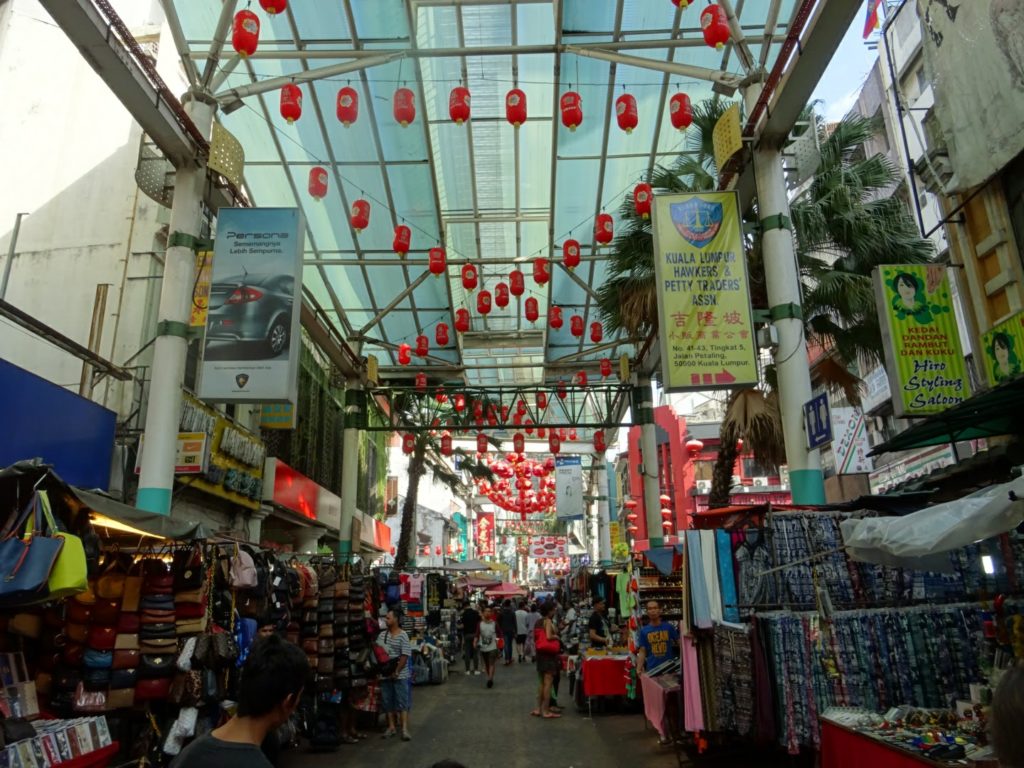 From where to look at Petronas Towers?
In Kuala Lumpur, there are among several food places also other interesting places you should not definitely miss. First, we went to see Petronas Towers. You can view the towers yourself and take a picture of them from the hotels that are opposite them. We recommend the Skybar, which is a bit expensive by local standards (nonalcoholic for 20 MYR, around 35 MYR beer and cocktails from 40 MYR), but the view and atmosphere of the bar are worth it. If you google Skybar you will notice that there is a swimming pool in the middle of it. However, it only serves hotel guests, it is not written anywhere, actually swimming is recommended to tourists because of the beautiful view from the pool, but on the spot, we were not allowed to swim there by the on-site staff.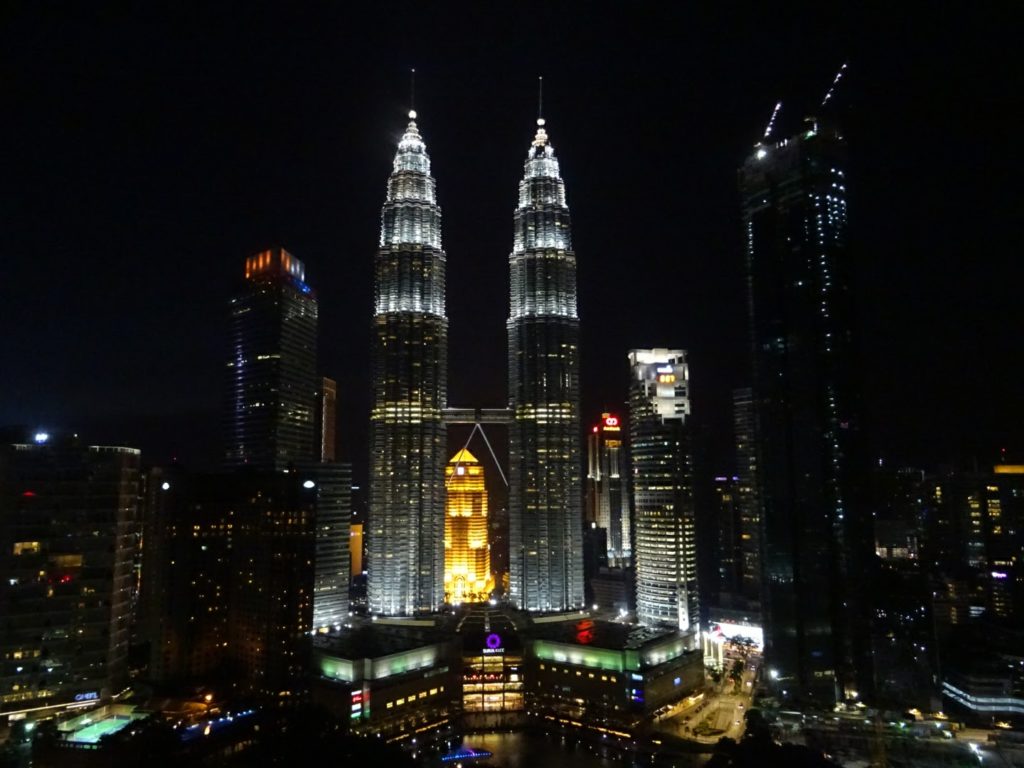 What to see in Kuala Lumpur?
If you are in this area, certainly do not miss the evening show of the Fountain at Petronas Towers. During the 10-minute show that repeats itself in the evening a few times in an hour, the nice music plays and there is really what to watch.
Apart from modern buildings, Kuala Lumpur also has a magnificent national mosque. The visit is worthwhile, just check the opening hours that change for people who do not believe in Islam several times a year. On the contrary, the Batu Cave Cave did not amaze us. Every half an hour the train full of tourists runs from the city center. We do not enjoy crowds of people who feed monkeys with donuts, but I know a lot of people liked Batu Caves.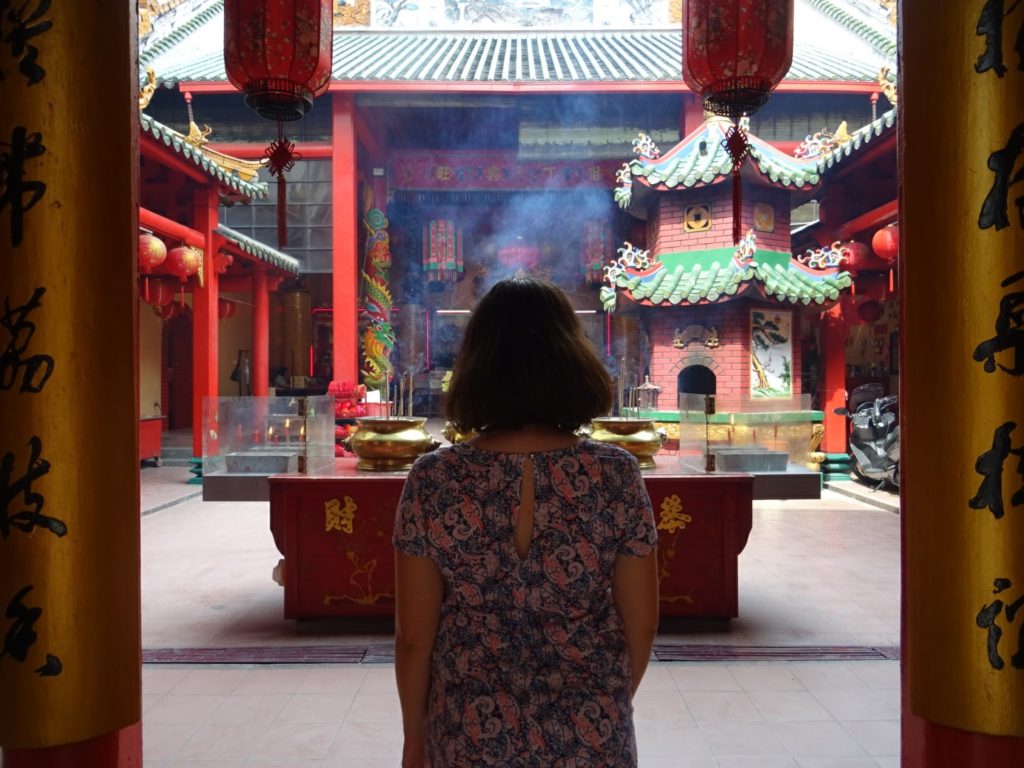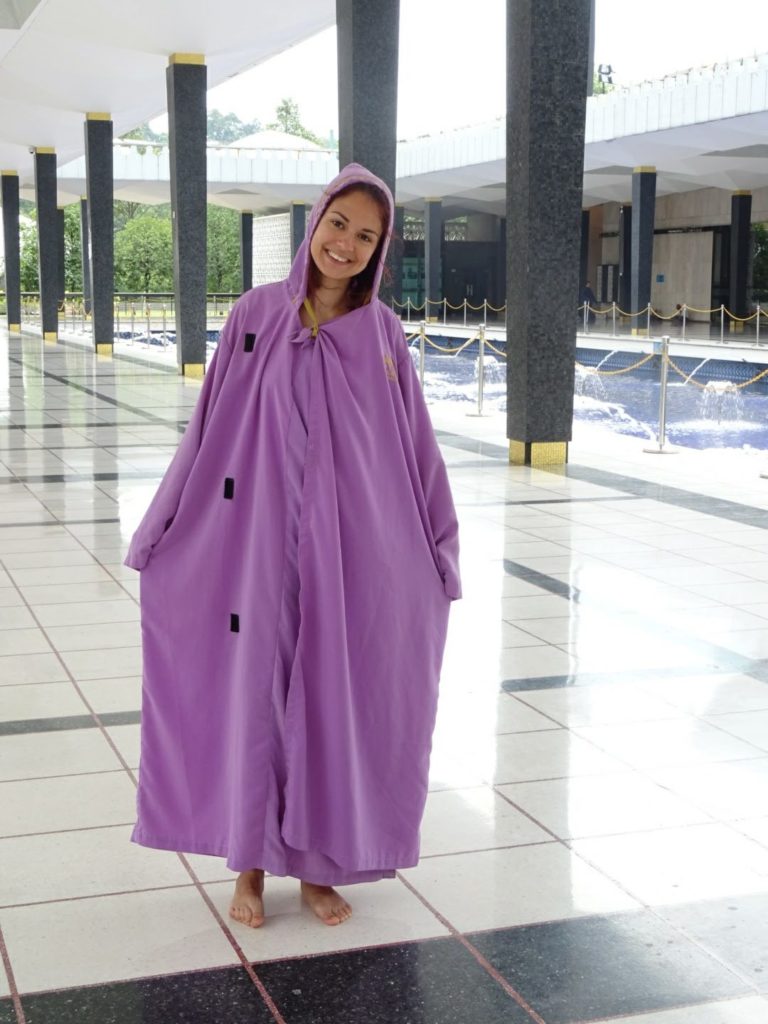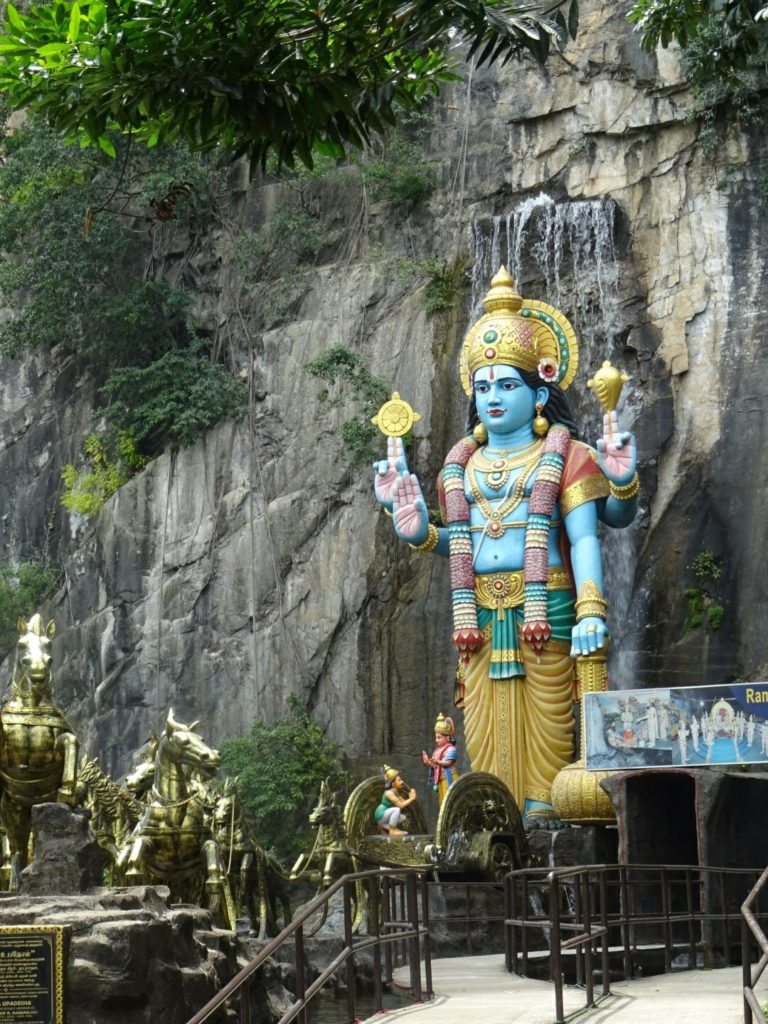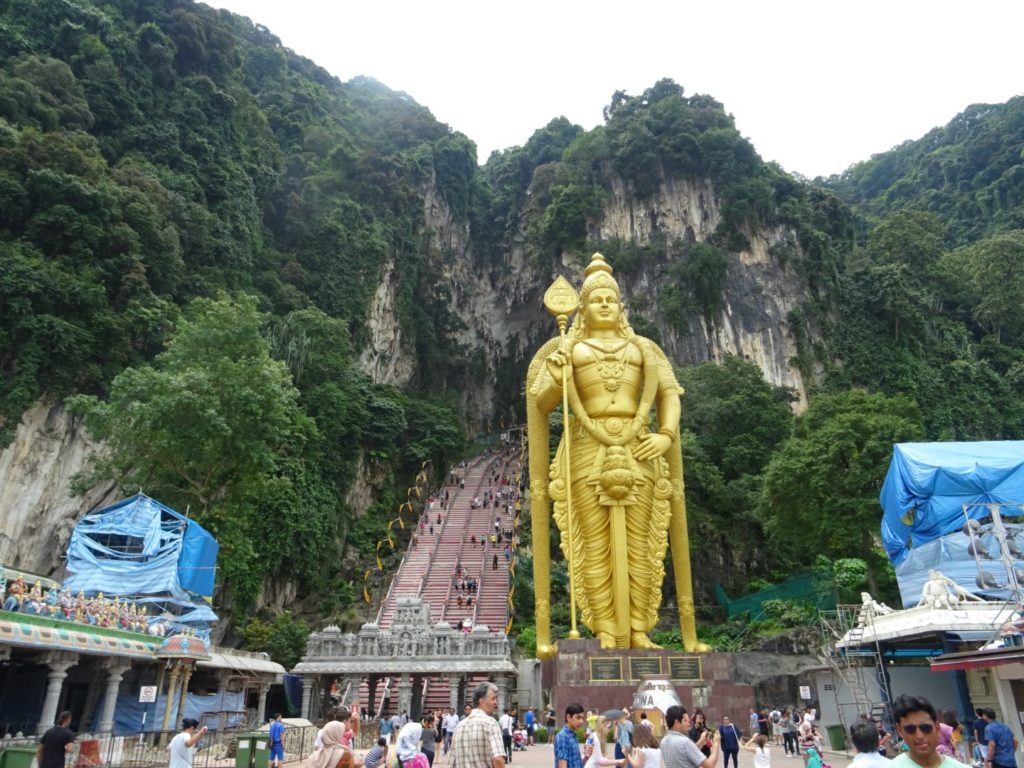 Our experience: 
Don't search for zebra crossings, you could count them on fingers of one hand over there. You can't avoid running across the road if you don't want to stay in your hotel.
Download offline maps of the city, because wi-fi is on available at many places and it's easy to get lost here.
The artificially created administrative town of Putraya is an hour's drive away. If you have time, explore how the centralized Malaysia government works. Interesting architecture and relaxation from the hustle and bustle of the city.
You can relax or stay active in the city garden, in maps search for Gardens. A visit to paid parts is not worth it.
Plan your trip, otherwise, you will lose a lot of time.