How to get the most out of your trip to Mestia on budget? Flying over the Caucasus and other unexpected adventures.
After a really long time, I am back with a blog post from my latest trip to Georgia. In winter and early spring, most people head to the capital – Tbilisi or ski-resorts. But, as usual, we headed off to the mountains to the region of Svaneti to do some light hiking and trekking as the peaks were still covered in snow. Not to spoil or anything but stay tuned for our experience with flying on a propeller plane from Mestia through the mountains on budget and other tips and tricks.
Getting to Mestia from Kutaisi by marshrutka
If you arrive, like us and most backpackers, to Kutaisi Airport, you can get a minivan to the city centre of Kutaisi for 5 GEL (leaves after every flight arrival and can be bought also online at Georgianbus.ge). Stay in Kutaisi one night as the easiest and cheapest way to get to Mestia is a bus leaving only once a day, in the morning). We booked our accommodation at Guesthouse Luka and it was perfect for our purpose – homely feeling, warm welcome, clean, with breakfast included and very cheap. We paid only 25 GEL (~8,5 EUR) for the two of us. It is a 15 min walk from the centre, you can find cheaper accommodation to the city centre, but usually without breakfast.
Early in the morning, we ordered a taxi through the Maxim taxi app to take us to the central bus station (4 km from the city center, not where the bus from the airport left you), this should cost around 3,5 GEL. The bus to Metsia officially leaves at 10 am (March 2020) but if it fills earlier, it leaves. We were there at 7 am as information online is scarce, but outside of season, I'd say its enough if you come shortly before 9 am. The ticket costs 25 GEL.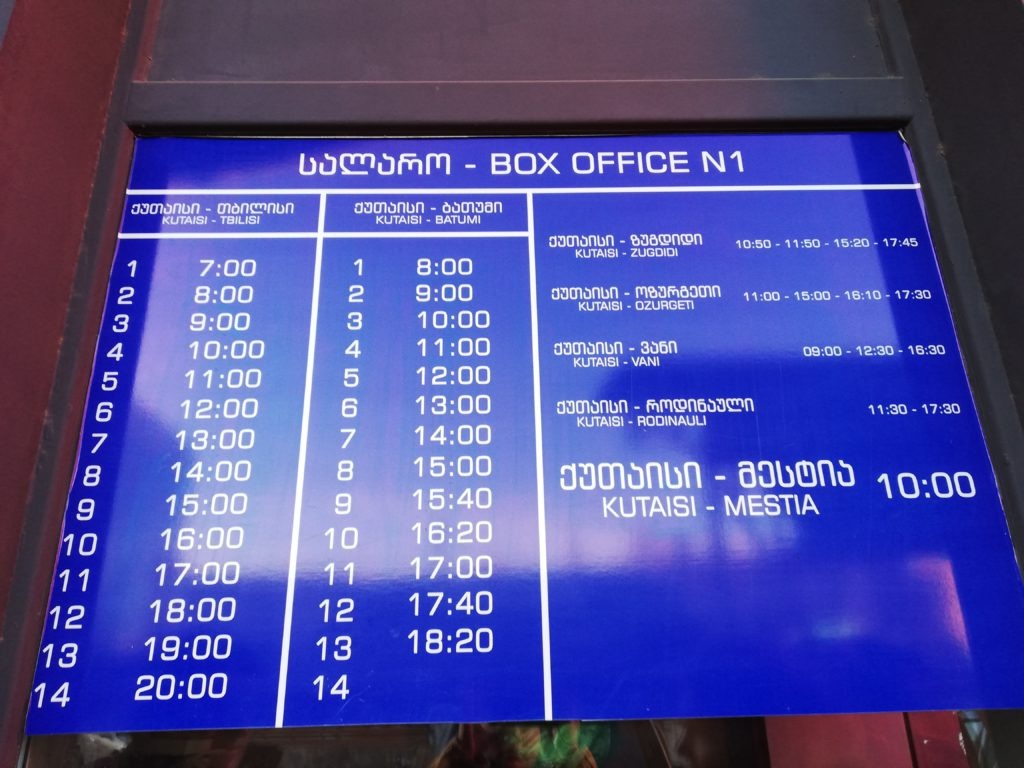 If you have a lot of time like us, you can explore the station's many shops with various produces (there us also a bigger Spar, where you can also shop zero waste, just like in any other bigger market in Georgia!) or head for a coffee or a tea. Not much is open before 8 am, so we went to the place where all the bus drivers get their coffee, tea and snacks. That way, you know you don't over pay and have an authentic experience.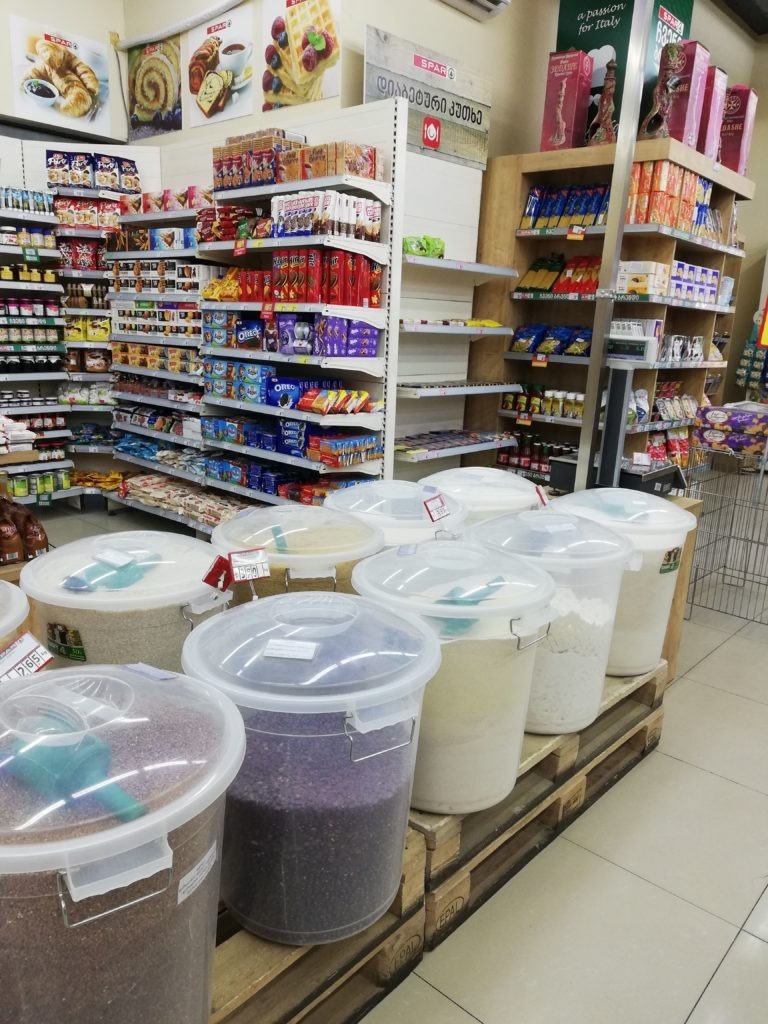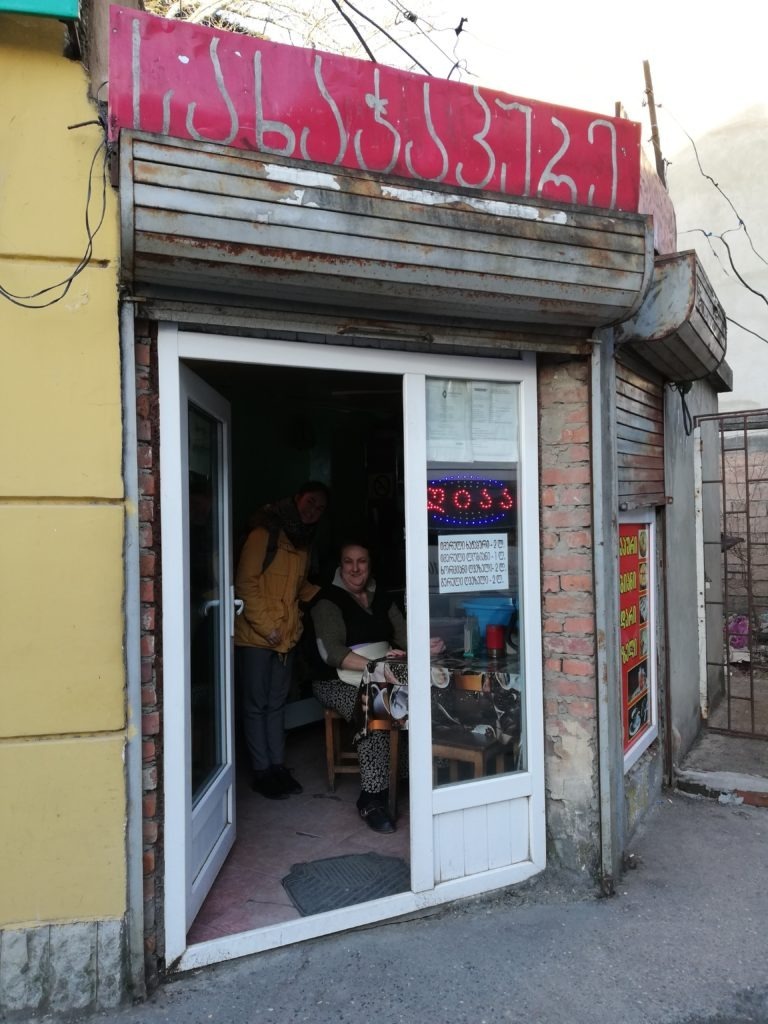 This shop is run by this amazing woman, who makes you a cheap powder coffee or black tea for 1 GEL each. She makes it into mugs rather than plastic cups, so although the cleanliness is a bit questionable, I have to admit Georgia gets thumbs up for an unintentional environmental friendliness in some aspects. Anyway, you can have it inside while she cooks and warm up yourself if you are there in winter or early spring like us.
What to do in Mestia?
Mestia is a very touristy village, nearly every house is a guesthouse. In winter, most people come to ski as the mountains are still covered by snow. In summer, many amazing hikes start from here, the most popular one is to one of the highest settlements in the world – Ushguli. You can also get a shared taxi to get there, but beware, in winter, the road is officially closed, locals will take you there in 4×4 but prepare to pay a lot for it. Seeing how the open road to Mestia looked, we knew, we just wanted to make a safe hike from there and leave Ushguli for some other time (and we will be back! ;))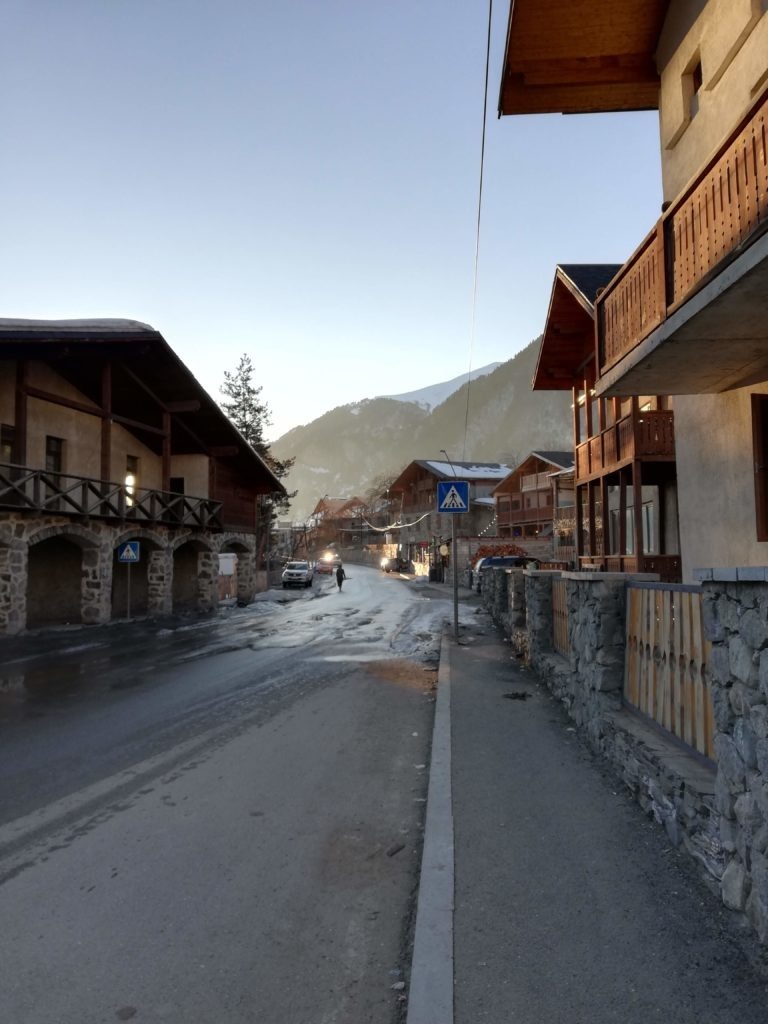 Hiking from Mestia
The next day in the morning we headed towards the Koruldi lakes, but planned to get only to the cross above Mestia. I'm enclosing a map for you as the tourist information centre didn't have any spare ones. In early spring and with not much training, it gets a bit tricky. The beginning is very steep, but fortunately for us, it was mostly snowless. Once you get approx. 600 meters of elevation up, the terrain gets snowy. Be prepared to get wet, if you don't have the best gear, but in any case, you have to have shoes with some grip!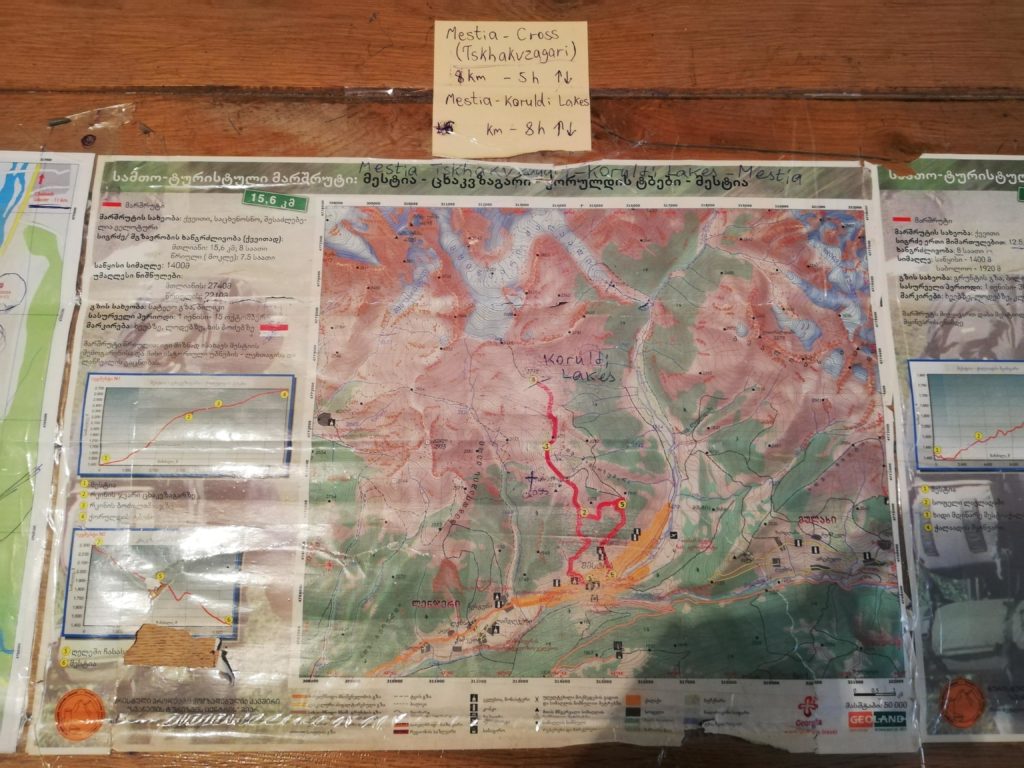 I will not eyewash you, we got tired of getting stuck in snow, didn't have hats against the sun which was very strong and I started feeling a bit dizzy, not far from the peak, we decided to turn around, the views were already amazing and as we also got a bit lost on the way back, we still had a nice 6 hour hike. Caucasus we will conquer you next time!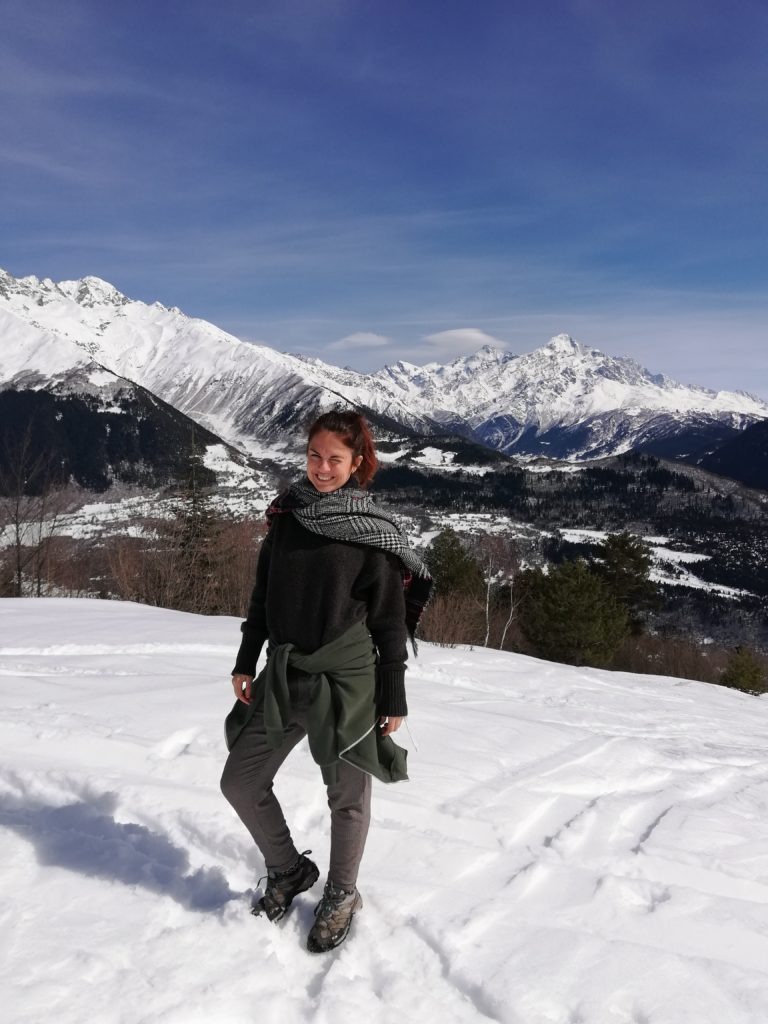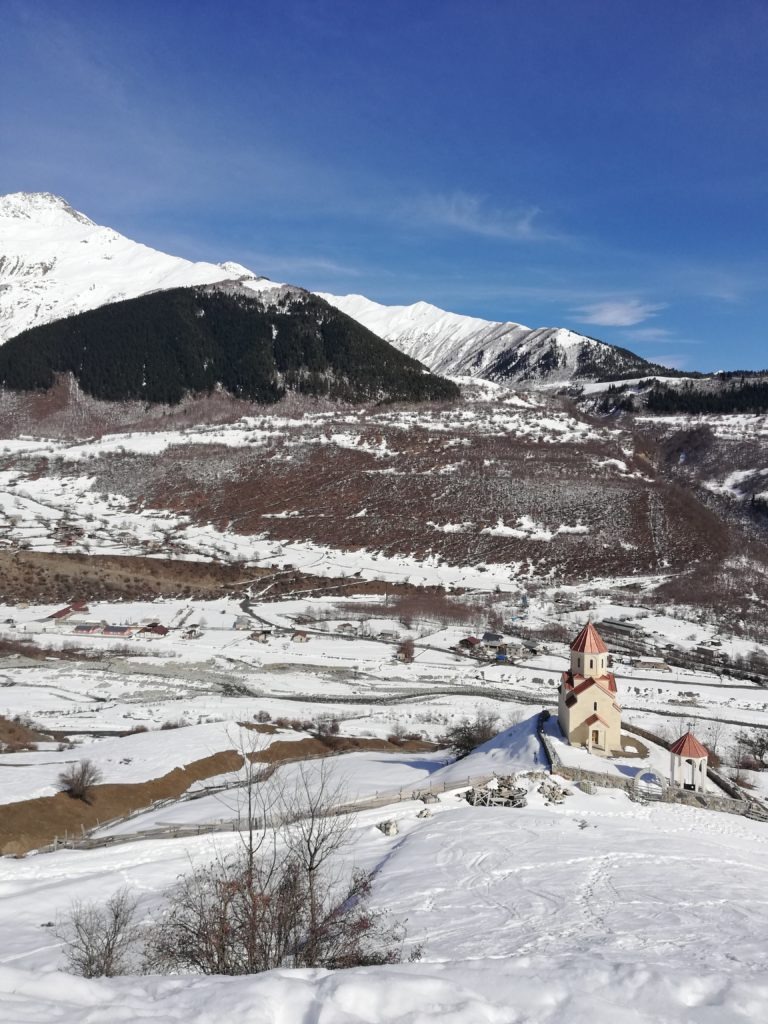 Best restaurant and wine bar in Mestia
In Mestia, I have for you tips for our two favourite spots. On our first evening, we went to a restaurant called Cafe Laila and we were more than amazed. The food tasted amazing and the prices were very friendly even for backpackers like us. We both got traditional Georgian and Svanetian (the region in which Mestia is) food. Midway through our meal, a traditional live Georgian music started. I don't know if that happens every day, because, for us, it was just luck. Maybe try to contact the restaurant and ask about it. You should definitely call and book a table in advance. We have been lucky to be there when the restaurant opened, but many coming the same night were less fortunate. Get a table downstairs or in the middle of the restaurant, so you have also a good view of the show. This was one of the highlights for us.
A second-place worth visiting is a wine bar called Mego Bari. It was nearly empty when we were there, but it is probably only because it is not in the centre. It is a cosy place with a fireplace, the selection of wines is breathtaking as well as what you get for your money. Glass of wine starts at 2 GEL (~60 cents) with most being priced around 6-7 GEL (~2 EUR). If you are not a fan of wines, you can get also amazing Georgian liquors – chacha and zigo for example. The owner is more than happy to explain everything, to suggest or give you a little tasting. Get yourself also a small plate (which is actually not small at all) of snacks for 15 GEL. You'll get a chance to try cheese, dry meat and traditional Georgian sweets. Definitely worth it!
Mestia to Kutaisi – flying over Caucasus
As much as I enjoyed the way to Mestia for the views, 6 hours in a minivan was a bit tiring. For the way back, we have listened to suggestions of other bloggers and managed to book a flight. Yes, you hear me correctly, a flight through the mountains.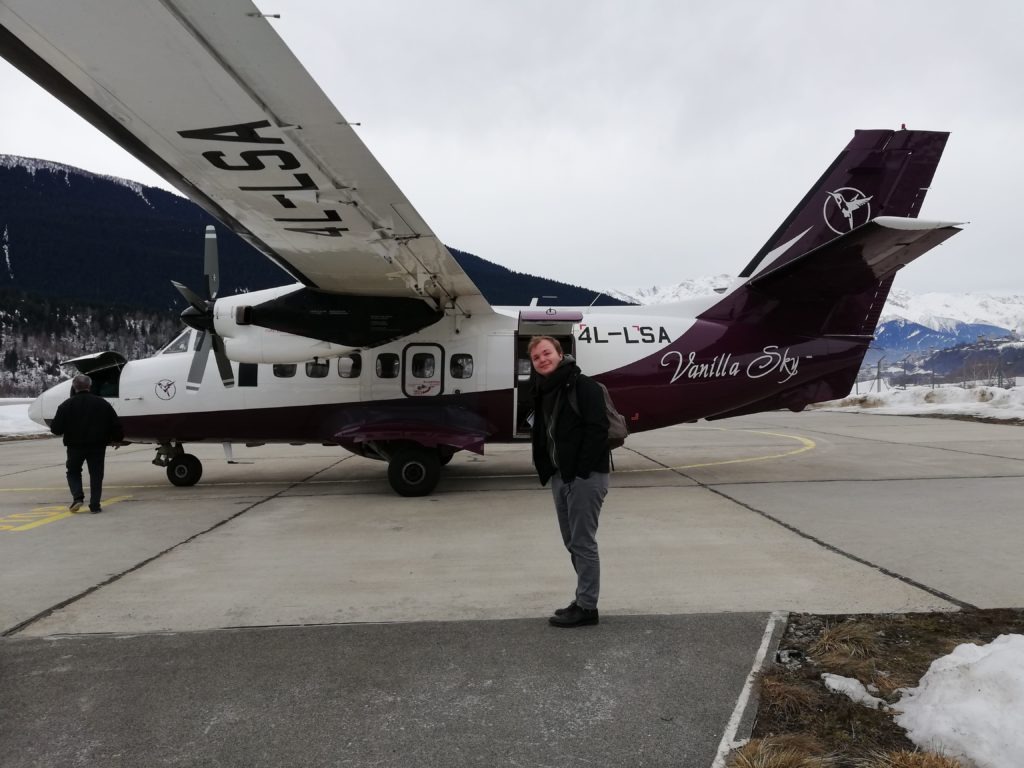 A company called Vanilla Sky flies a couple times a week to Kutaisi and Tbilisi. It is a small propeller plane for 15 passengers, so make sure you book as soon as possible. The plane flies only in good weather, so don't count on it too much (definitely don't book a connecting flight or so!). The flight to Kutaisi is 30-40 mins. To Tbilisi, it is about an hour and it flies from and to an airport in Natakhtari. The flight is very cheap and what you get for your money is not only time-saving but also the views of untouched mountains from above. I've never had the chance before and finances to be on a plane just for the view. Check the video below for the views!
Mestia, I am in love!