What to see and experience in Tbilisi?
The Georgian capital has many beautiful historical sights, but also a lot of options on how to have wonderful experiences you can't have at home. What to see and experience in Tbilisi? How to move around and how much does it cost? How are the sulfur baths and where to go for the best views of the city? Continue reading.
What to see in Tbilisi?
In the city center, you definitely shouldn't miss Pushkin street full of beautiful historical buildings. This street starts at Freedom Square. This street will lead you to the Puppet Theatre and Clock Tower. The Tower makes a little "show" every full hour, but it is not, in my opinion, worth it to wait for it should you wait long.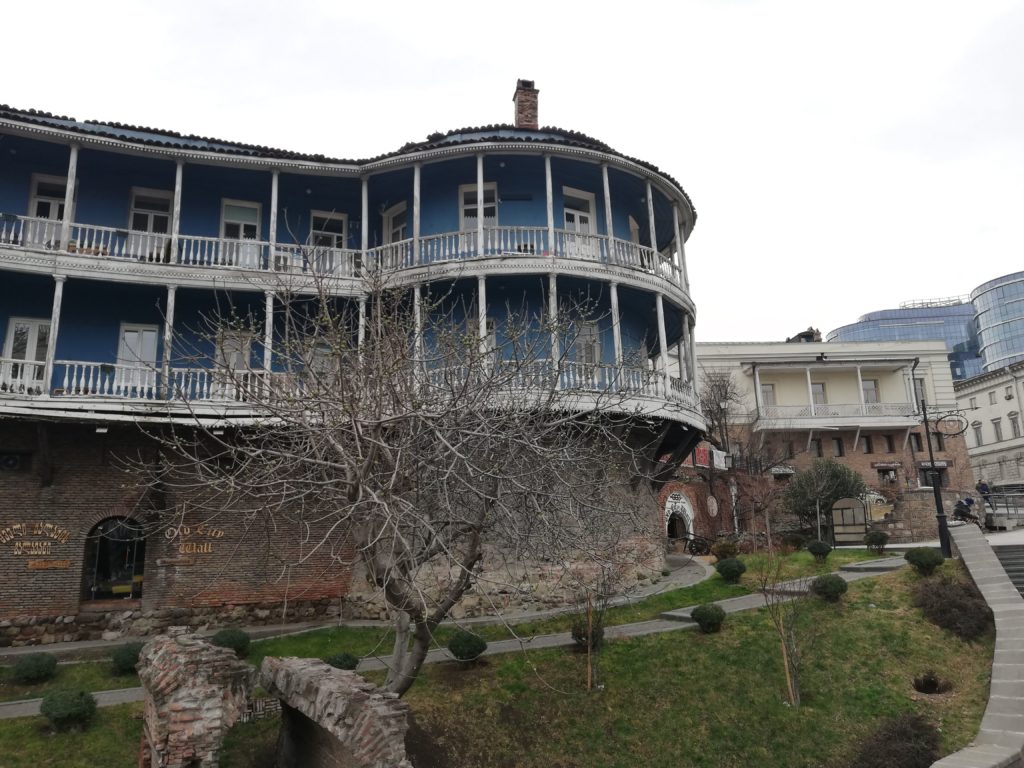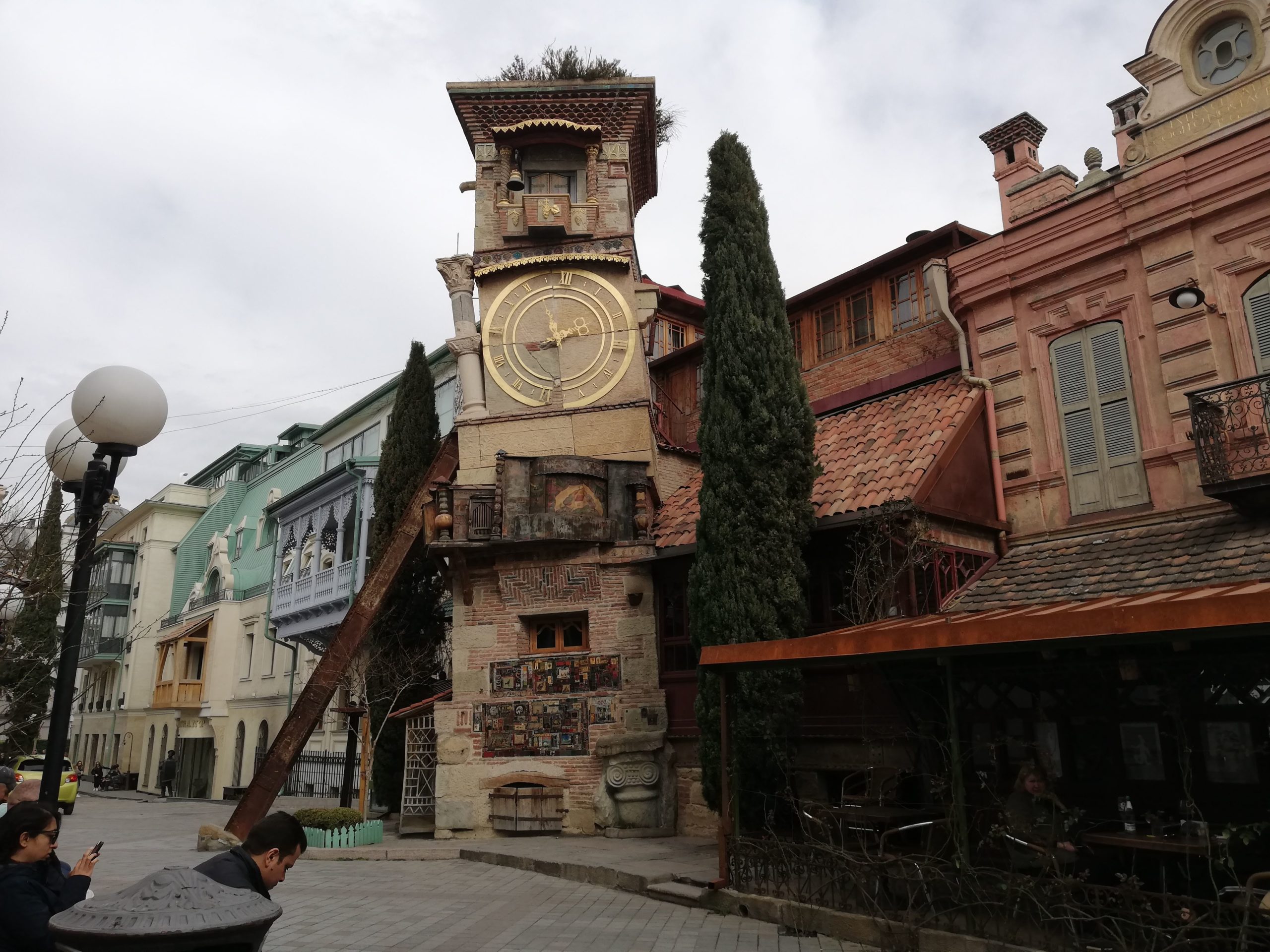 I probably don't have to mention that most churches in Georgia are worth a visit. I will suggest though the top three you shouldn't miss in Tbilisi. First is Anchiskhati, the oldest church in Georgia, near the Puppet Theatre. Second is Metekhi, laying on a rock and providing you with a nice viewpoint at the Narikala Fortress. Last would be the Sameba Cathedral, which is in a different part of the city and from where you will see the city from a different angle.
If you start with Metekhi, you will see already from afar a new glass bridge – the Peace Bridge. Near the bridge, you can also hop onto cable car taking you to the Narikala Fortress and Mother of Georgia statue. The views are beautiful, but stay tuned, for the evening/night I have an even better one for you!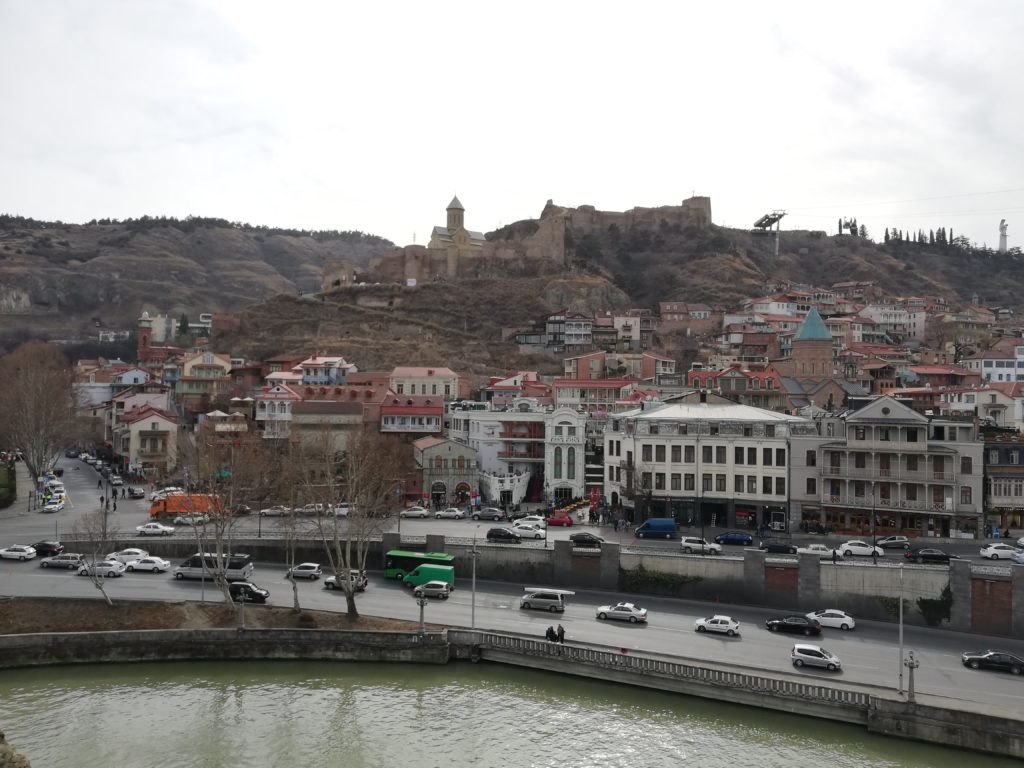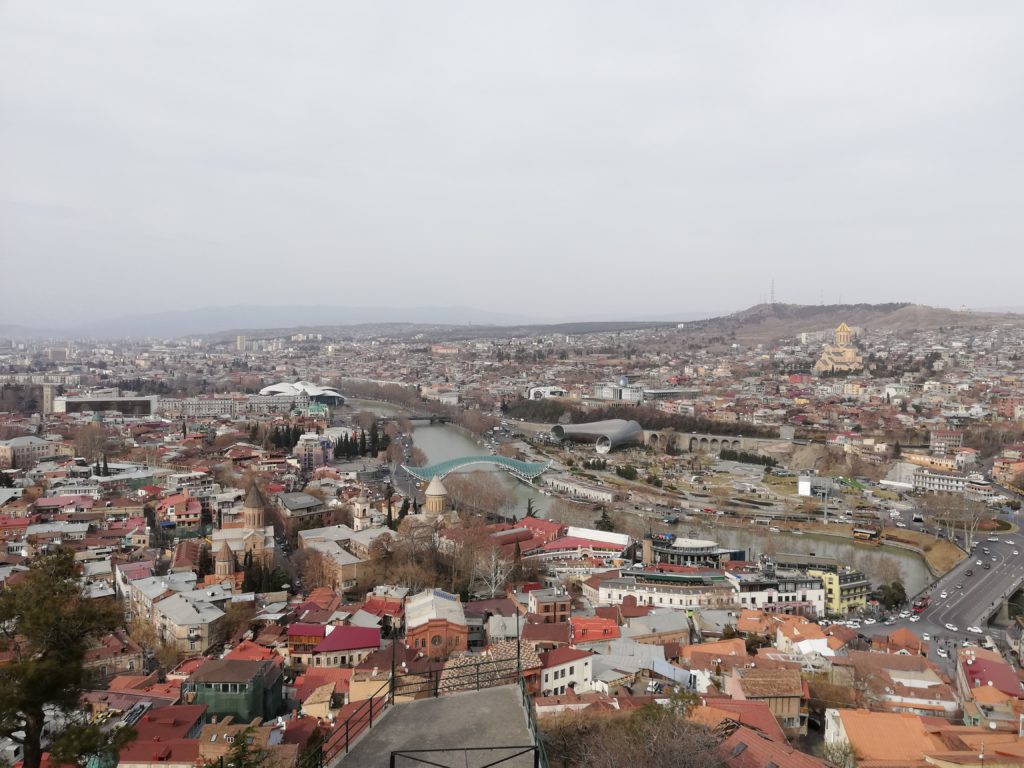 In case you starter with Sameba Cathedral like us, don't forget to pass through the underground passage at the end of Pushkin Street in the direction over the river. It is full of street art and very nice. If you have plenty of time, stop at the gate of the presidential palace and check out the surrounding area. It has a completely different atmosphere than what you have probably seen in Tbilisi so far. The cathedral itself is well worth the hike up. It appears in front of you like the Taj Mahal, which it resembles also by the colour and wide space around. On top of that, Sameba is one of the largest orthodox churches in the world.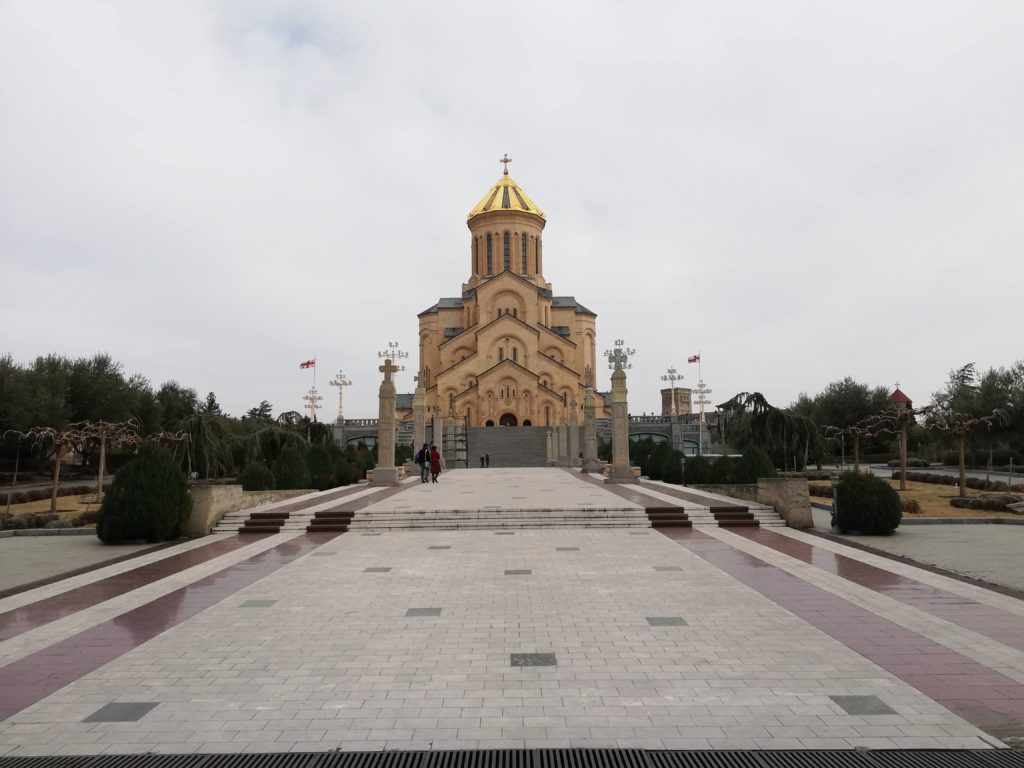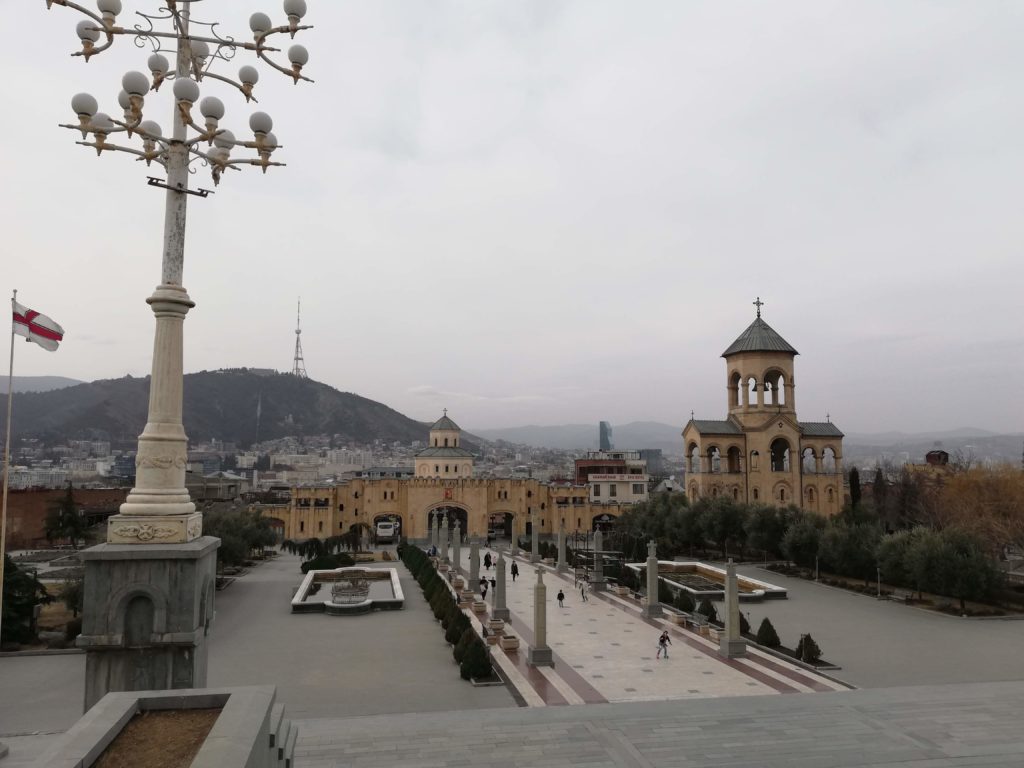 Three experiences, I would leave for the evening, although you can do them during the day. First are the famous sulphur baths, second is adventure park Mtatsminda and third one is a wine bar called Sitio. It reminded us a lot of the wine bar in Mestia, just with slightly higher prices, but nothing that would ruin your wallet!). Sitio was on top of that very close to our place of stay at Anton's. (Read more about it below.)
Tbilisi sulfur baths
You've probably already heard about the famous Tbilisi sulfur baths. Although you can go to the public ones for close to nothing, I would choose to pay a bit and take the private ones. (And you know it's worth it when even I opt for it! ;)) In the public ones, men and women bath separately, in private ones, you can go together. The water is approx. 38-40 degrees, so I definitely wouldn't suggest this experience to anyone with heart problems and for small children. You don't have to bring anything with you, but prepare to pay extra for everything. We brought only soap and towels as you usually bath naked (but you don't have to!). Usually, people also get traditional Kisa peeling/scrub. It basically means that a masseur or masseuse (in better baths of the same sex as you) comes and scrubs the hell out of you, afterwards he or she cleans you with soft soapy massage (it's rather a cleaning that massage in most people's perception).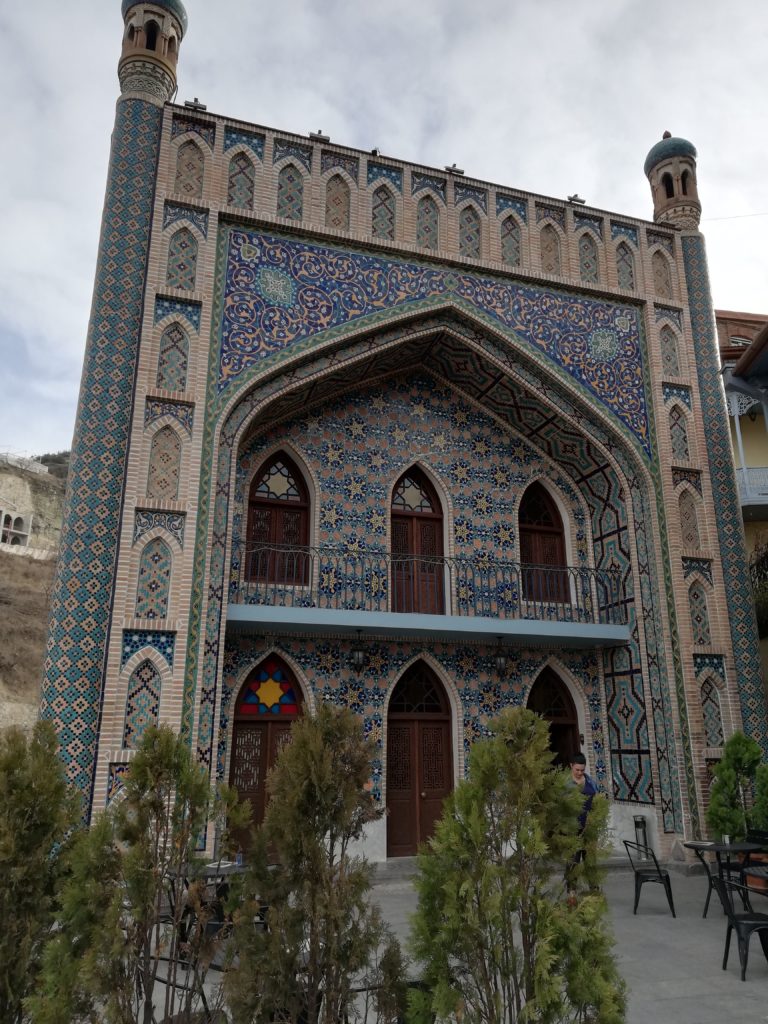 To rent a room for two people costs usually somewhere between 50-120 lari depending on how fancy the room is and whether you want also a sauna and cold pool etc. We choose a room for 50 lari in Oribeliani Bathhouse and we were more than satisfied. Other baths are around (e.g.: Bathhouse No. 5, Gulo's Baths etc.), the prices are very similar. Kisa usually costs 20 lari/person. Drinks, towels, bathrobes etc. are not included in the price.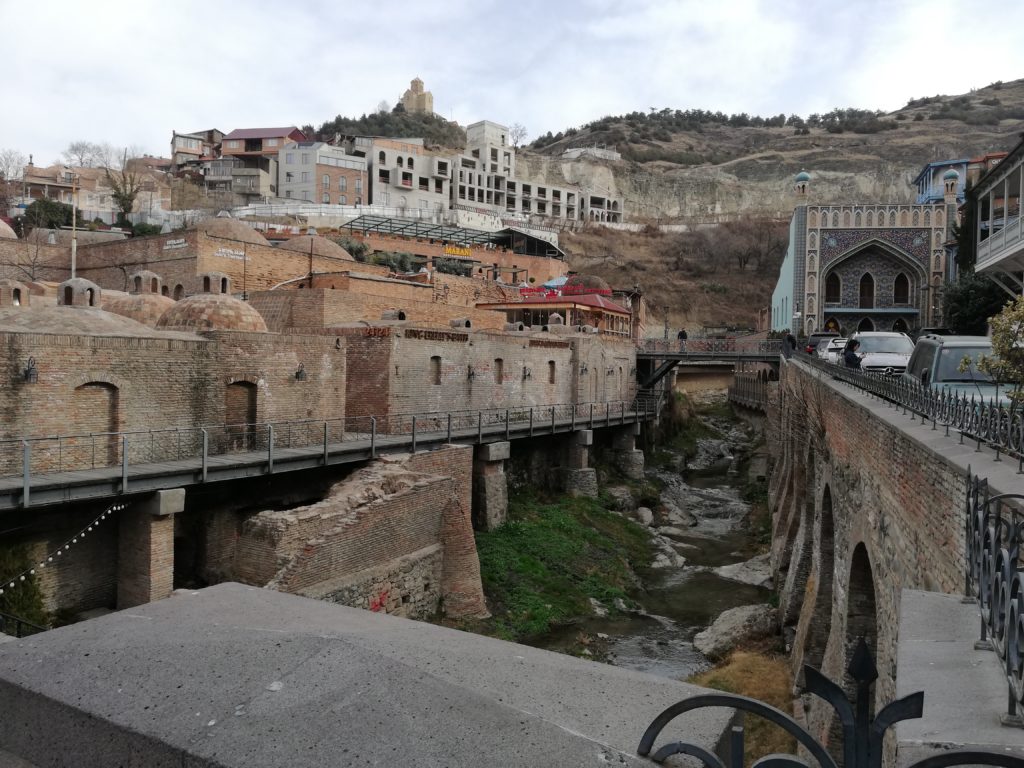 Mtatsminda adventure park
You have already seen this hill, I am sure, the high TV Tower stands on top of it. Unfortunately, the tower is not open for public, but the hill is worth a visit even if you don't enjoy rollercoasters. When we were there, nearly everything was closed as we were there in March, out of season, so I can't judge the prices of refreshments nor attractions. The giant wheel seems to be luckily open all year round and entrance costs only 5 lari/person! The views are amazing! Who needs London Eye, when you can have this? The price of the funicular costs 6 lari.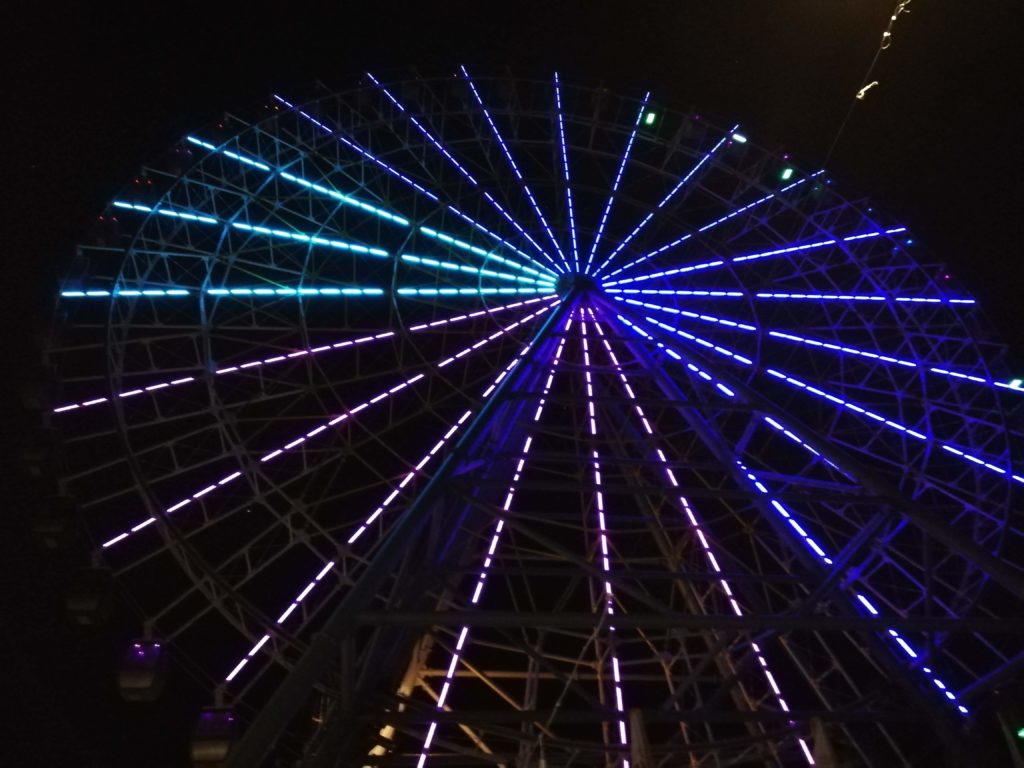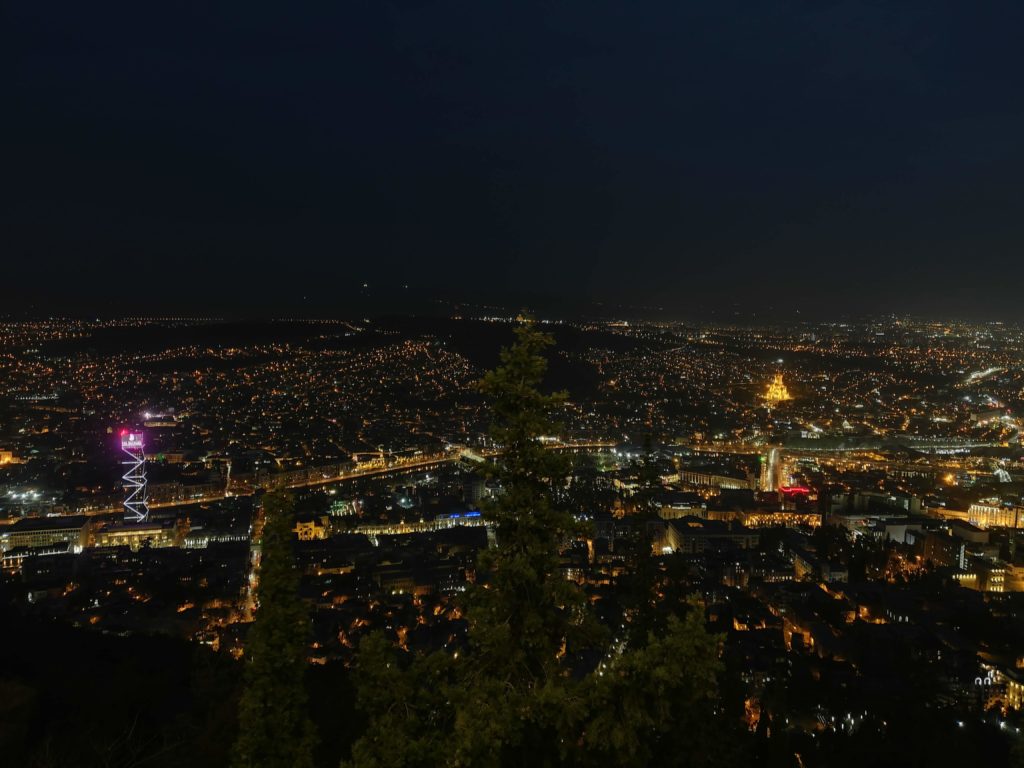 All payments in the adventure park have to be paid by their card, which you can buy at the funicular station for 2 lari. Multiple people can use one card together. If you want to save your money and legs, on the way down, you can take a bus. You will find it easily on the directions on the top of the hill and they cost only 50 tetri. Buses 124 and 90 will take you to Freedom Square.
Where we didn't make it but would have loved to
The places we wanted to see were many, but time didn't play in our favour. Next time! One of them is a lake near Tbilisi, which locals often call Tbilisi sea. Near it, you can also find the Chronicles of Georgia. It looks amazing on the pictures, but you will need at least half a day for it, maybe longer!
For a drink in the evening, we wanted to go to Fabrika. Fabrika is an area full of old factories and warehouses transformed into modern bars, cafés and hostels. It was not exactly close to our accommodation and we were tired and lazy in the evenings to go that far.
On the other hand, the restaurant Culinarium Khasheria we have passed several times, but we have hesitated with the visit because of the prices. We have heard only amazing reviews, but for food and drinks, you have to count at least 12-20 EUR/person. Not terrible but not great, you can eat 3 meals elsewhere for the same price. So hopefully, next time we come around, we have more spare cash to spend 😉
Travel
How to travel around Tbilisi? How much do an underground (metro) and funicular ticket cost?
Use underground around Tbilisi, it comes every few minutes, costs only 50 tetri (ca. 20 cents) and you never have to haggle about the price unlike with taxis. The big green buses cost the same. The small yellow buses (marshrutkas) cost 80 tetri (ca 25 cents). In buses, you can pay also in cash, in the underground only with metrocard. You can get it in any underground station for 2 lari (ca. 80 cents) and more people can share one card. At the same places, you can easily top it up. This card also works for the Rike-Narikala cable car, which costs 2 lari in each direction.
How to get to and out of Tbilisi and how much does a marshrutka cost?
For one day trips (e.g. Mtsketa, Stanlin's birthplace Gori) and to farther destinations (Stepansminda, Borjomi, Achalchike, Kutaisi…), you will leave from bus station Didube. It takes time and patience to find your "platform" there, so always ask around and stress the word marshrutka. Otherwise, the taxi drives will eat you alive 😉 Didube itself has conveniently an underground station. (Which is actually not underground. Don't ask me why.)
Some prices of marshrutkas
Mtsketa – 1,2 lari
Gori – 4 lari
Stepansminda – 10 lari
Borjomi – 8 lari
Kutaisi – 12 lari
If the driver wants significantly more (prices change, but not double), don't give them more than you think it should cost. When they see you don't speak any Georgian nor Russian, they will usually ask double, we got fooled like this twice! It's also a good strategy to watch how much others pay and just give them the exact same amount.
Accommodation
Find a hotel, hostel or apartment near some underground station. We found out that was the most convenient. We stayed at Anton's Green Door Casetta in Old Town through Airbnb. This cosy furnished flat less than 10 min from the underground station (although on a big hill) has not only fully equipped kitchen including a coffee machine, but also a washing machine, which comes especially handy if you have been previously in the mountains or plan to go to the sulfur baths. We stayed there in winter and the heating worked very well (a key selling point for me haha), but there was also airconditioning should you stay there in summer. If you register through my link here, you will get over 25 euros discount, which is more than one night at Anton's for free!
Have you already been to Tbilisi? Were you also so charmed? If I could come for a weekend by train like to Budapest, I would be there all the time!

Btw.: Wanna know how other people enjoyed it? Check Rooben's article here!